CONGRATULATIONS
ON SUCCESSFULLY
RUNNING
AMBEDKAR TIMES
WEBSITE & NEWS
PAPER IN PUNJABI

Amrik Chand Lakha CPA,
Ram Murti Saroay Broker-
Saroay Investment Realty
DR. B. R. AMBEDKAR
WELFARE MISSION
SOCIETY, SPAIN
CELEBRATED
BHARAT RATTAN
BABA SAHIB
DR. AMBEDKAR'S
55TH PRINIRVAN DIVAS.

MRS. KAMLESH AHIR
DELIVERED HER SPEECH
AS A CHIEF GUEST
IN THIS FUNCTION.
READ MORE
IN AMBEDKAR TIMES'S
JANUARY 2012 ISSUE.
COMING NEXT WEEK

Posted on December 24, 2011
Begampura cultural
Society of New York
celebrated
Bharat Rattan Baba Sahib
Dr. B R Ambedkar's 55th
Prinirman Divas celebrated
at Dr Ambedkar library in
Shri Guru Ravidass Temple,
New York

Read more: Balwinder Bhaura's report
in next week coming December issue of
Ambedkar Times

Posted on December 8, 2011
PROF. GIAN SINGH BALL FORMER P.C.S. AND PRESIDENT,
DR. AMBEDKAR MISSION SOCIETY ( REGD.) IS NO MORE

Ambedkartimes.com pays floral tributes to Prof. Gian Singh Ball & sends its condolence to the Prof. Ball

family on their biggest loss. Prof. Ball will live among us through his works for the Mission.

Prem Kumar Chumber, Editor (Ambedkartimes.com)




"It is a matter of extreme sorrow that my friend Prof. Gian Singh Ball former P.C.S. and President, Dr. Ambedkar Mission Society (Regd.),
Punjab, Jalandhar died on November 24, 2011 (Night) after a long illness. He was president and I was the cashier of the Society in 1984 A.D.
He was very much impressed by Adi-Baba Mangu Ram Muggowalia`s socio religious philosophy and he wrote an article on Adi-Baba Ji in the
English section of my Babu Mangu Ram Muggowalia Souvenir 1985 A.D. edited & published by me. We will not let him die in our memories.
Link: http://www.ambedkartimes.com/babu_manguram.htm
C. L. Chumber Ex Tehsil Welfare Officer (Punjab) & (Editor-In-Chief: Kaumi Udarian, Jalandhar)
Posted on December 08, 2011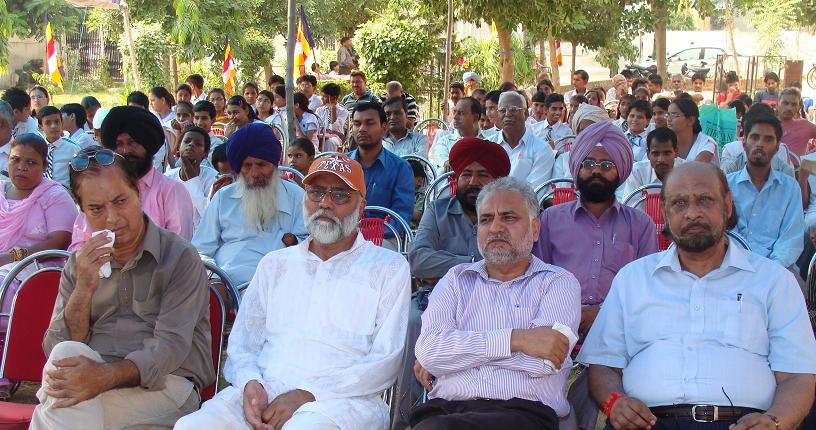 Late Prof. Gian Singh Ball (Rtd. PCS) wearer purple turban & shirt sitting in second row (Second from right to left)
with Dr. Tarsem Lal Sagar, Dr. Avtar Singh & other prominent on October 17, 2010 at Ambedkar Bhavan in Jalandhar.
LAND 'CAPTURED' FOR AMBEDKAR MEMORIAL IN MUMBAI READ MORE
DR. B.R. AMBEDKAR EDUCATIONAL AID SOCIETY, FREMONT (CALIFORNIA)

It is a matter of pride and pleasure to see the remarkable role played by Dr. Ambedkar Education Aid Society, Fremont, California, USA. Ever since its inception about 20 years ago it has successfully provided financial help to thousands of poor and needy students who could not afford to pay for their school and college education in India. The society also extends financial help to needy and helpless widows in India who are struggling to raise their children in the absence of their spouse. The society has made available to us a list of students who have benefited from this financial help to reach their educational goals in life.
The main idea behind the creation of this society was the vision of Bharat Rattan Baba Sahib Dr. B.R Ambedkar who struggled his whole life to alleviate the sufferings of all the down-trodden and economically disadvantaged people of India. Baba Sahib realized the importance of education which is a window to the opportunity to create a distinct and a respectable identity of our own. Ambedkar Education Aid society is helping in that noble effort very successfully.
www.ambedkartimes.com conveys its hearty congratulations and complements to the society for their devoted and sustained efforts in this direction and we hope that this will inspire the establishment of many more initiatives like this in other parts of the world too to help fulfill the ideal dream of Baba Sahib Dr. Bhim Rao Ramji Ambedkar for the liberation of the deprived and unprivileged sections of society in India.
Editor: www.ambedkartimes.com
Posted on November 24, 2011
MUMBAI: Nearly 1,000 activists of the Republican Sena, a Dalit party, Tuesday broke police barricades and "captured" a mill compound in Dadar in central Mumbai, demanding allotment of the land for constructing a memorial for B.R. Ambedkar, police and eyewitnesses said. Republican Sena chief and grandson of B.R. Ambedkar, Anandraj Ambedkar, said the Dalits have been pursuing with the Maharashtra government the allotment of the land, which is under the control of the central government.
"However, neither the state nor central government has initiated any steps in this regard, displaying their bias against us," Anandraj Ambedkar said. Republican Sena is one of the 15-plus factions of the Republican Party of India (RPI) that was founded in 1958 and later fragmented. Anandraj Ambedkar is the younger brother of Prakash Ambedkar, who leads his own faction of the RPI.
Anandraj Ambedkar has apparently taken advantage of the differences to come into the limelight. "We have occupied this mill land and shall immediately take steps to construct an international memorial for Babasaheb Ambedkar, a 'Bhikshu Vihar' for Buddhist monks, and other facilities for his followers who come here all round the year," Anandraj Ambedkar told media persons.
He vowed that the activists "would not vacate" the premises and urged the central and state governments to declare and allot the land for the memorial, near the Chaitya Bhoomi. B.R. Ambedkar, who mentored the drafting of the Indian constitution, died Dec 6, 1956 and his mortal remains were consigned at Chaitya Bhoomi, which is revered as a pilgrimage site by his followers. The move by the Republican Sena followed on the heels of senior Nationalist Congress Party (NCP) leader Vijay Kamble who started an indefinite hunger strike near Chaitya Bhoomi for the same demand Saturday.
Kamble, who heads the Samajik Samata Manch of the NCP, said there are plans to develop a university for social justice dedicated to B.R. Ambedkar, an international level memorial, a library, a hostel and 'bhikshu vihar' on the 12-acre site. Over 500,000 followers of the leader have arrived in Mumbai over the past couple of days for his death anniversary functions Tuesday. Police have deployed tight security all over Mumbai for B.R. Ambedkar's death anniversary functions, Muharram and the Babri Masjid demolition anniversary Tuesday.
APEAL OF DR.BABA SAHIB AMBEDKAR MEMORIAL SOCIETY MHOW
TO SAVE DR.BABASAHAB AMBEDKAR'S BIRTH PLACE MEMORIAL
FROM DESTRUCTIVE ACTION OF THE MILITARY ADMINISTRATION AT MHOW
Apeal to all.
It is very well known to all last year last year the military administration has started construction of fire-brigade station with underground sumptank on just adjoining land of the memorial instead developing garden to beautify the surrouding of the memorial . Despite several representations at highest level the government of India they bent upon to destroy the sacred saintity of the holly memorial .They have now started constructing residencial quarters on Ambedkar ground which is being used since last more than three decades to host the lacs of devotees coming from all over country to pay homage to Babasahab Ambedkar on eve of his birth ceremony.This is the only ground available within more than three kilometer redial distance from the memorial .No ground is left to celebrate the Abededkar birth occasion .On which about one crore rupees being spent every year by the M.P. government.
It is to mention here that as soon as it came to knowledge the plane of the military administration occupation of the Ambedkar ground for some construction , our deligation met to defence minister , defence state minister , Prime mnister , Sonia Gandhi and president of India on 1-11-10 and urged to direct the military administration not go for any construction on Ambedkar ground and keep it open to host lacs of devotees and piligrims .
Knowing our movement the military administration has immediately started digging the ground just after second day.
On our request of intervention the chief minister of M.P . in his appeal to defence minister offered aternate land for military requirement keeping Ambedkar ground open for hostsing the devotees . Understang this development the military administration has stopped its seventeen other sites of construction and construction work of Ambedkar ground accelerated with full swing .
Unfortunately we are compeled to start Nation wide agition agaist the anti-Dalit attitude of the central government. This named as Bheem-janmbhoomi bacho andolan .The andolan started from Ambedkarngar [Mhow] today the 11th of November with rally in the city and dharna in premises of the ambedkar memorial and announced hunger strike from tomorrow the 12th of November in groups every day this will be changed into till upto death at anytime . The same action has been requested to take all over county Dalit and all Ambedkariets .
So now it is felt necessary ,all the democratic agencies audio visual agencies ,print media and all political leaders who believe Dr.Ambedkar deserve to be commemorate for centuries as he devoted his life for social justice and religious revolution and had succeeded in getting included socio-economic and political equal rights as fundamental rights in the constitution, they all should raise the voice country wide on street and in parliament also.
I feel it is the moral duty of the all constitutionally elected public representatives to make the parliament to resolve in this parliament session to not to allow any construction surrounding to safeguard the strength , beauty. Saintity , and sacred importance of the monument. This monument is surrounded by all religious temples. In the east swarg mandir a Jain temple in the west masjid and in the south Ram mandir and Sikh Gurudwara exists .As such this extreme north-east portion of the cantonment naturally situated as secular campus having all religion temples together. By enforcing mismatch development fundamental right of the secularism is being denied.
I am being a Buddhist Monk can only look forward to the media only, which is the most believable part of the democracy, always raises voice of the voiceless with belief that the all parliamentarians will be asked to raise this issue in this parliament session only.
Posted on www.ambedkartimes.com (November 13, 2010)

AMBEDKAR MISSION SOCIETY (PUNJAB) CELEBRATED
ITS 10TH CULTURAL MELA AT AMBEDKAR BHAVAN JALANDHAR ON OCTOBER 17, 2010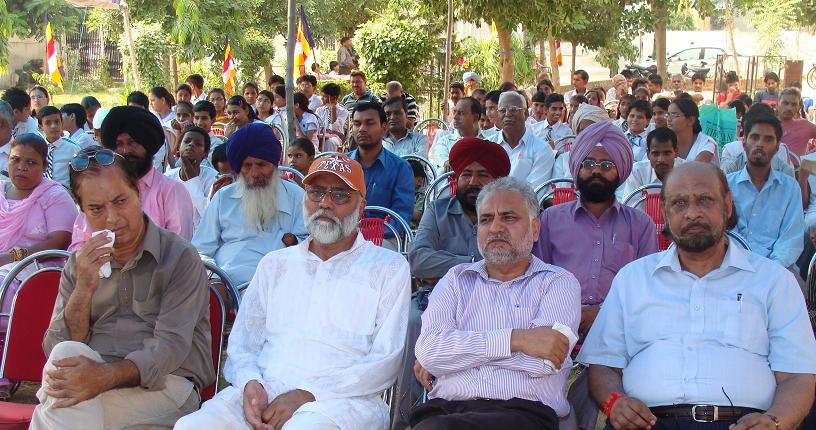 Dr. Avtar Singh, Dr. Tarsem Sagar & Prof. Gian Singh Ball (Rtd. PCS) & others. For report in "Ambedkar Times" news paper, CLICK HERE (OCTOBER, 2010) . Photo & caption: Rasulpuri
DR RAJ KUMAR HANS'S A MEETING
WITH THE AMBEDKARITES OF BAY AREA, CALIFORNIA

Report & Pictures: Ambedkartimes.com News Bureau
Some eminent Ambedkarites met at the Union City of Bay Area after a Punjabi Literary Meet on 25th April. Dr Raj Kumar Hans, Professor of History at the Maharaja Sayajirao University of Baroda and a Fellow at the Indian Institute of Advanced Study at Shimla was already introduced to the select Ambedkarite intellectuals and activists of the area. The spirited hour-long exchanges resulted in the full-fledged 3-hours long intensive discussion three days later on 28th April at Mr. Amrik Chand Lakha's impressive office in Fremont of California. Mr. Lakha is a successful Certified Public Accountant and a proud Ambedkarite. This meeting was specially organized in honor of Dr Hans who is on a missionary trip to America to give lectures and discuss challenges faced by the Dalit movement on several functions organized by local Shri Guru Ravi Dass Sabha in New York and California to celebrate Dr B. R. Ambedkar's 119th Birthday. His visit is sponsored and facilitated by Shri Guru Ravi Dass Sabha of New York.

After introductions the meeting was addressed by Prof Hans where he thanked the organizers and began with a positive note that Dalits have come a long way in the last hundred years, thanks to extraordinary role played by Baba Sahib. It is no coincidence that Chief Justice of Supreme Court, UGC Chairman, Speaker of the Lok Sabha happened to be coming from Dalit families. There are a growing number of bureaucrats and other high officials as well as an increasing number of white-collar Dalits, but Prof Hans chose to highlight the problems afflicting Dalits of the world. He talked in terms of paradoxes saying if Ambedkar tried to bring all the erstwhile untouchable communities together by introducing the powerful concept of 'Dalit', the irony was that even after 54 years of his death, the Dalits continue to be divided on religious and Brahminical caste lines. Rather than breaking castes, Dalits are caught up in perpetuating caste divisions even among themselves. This only shows the stranglehold of Brahminical ideology on the masses despite long waves of anti-Brahminical movements including Sikhism. The biggest challenge for Dalit intellectuals and activists is to free themselves from the deadweight of caste first and then launch a movement to eradicate 'caste' altogether as was advocated by Ambedkar in his seminal tract 'Annihilation of Caste'.

The second problem is the way the national parties have succeeded in diffusing the Dalit unity by incorporating the potential Dalit leaders and thereby exhausting their energies from addressing the issues pertaining to their communities. In this respect he admired the role of Sahib Kanshi Ram who doggedly pursued the Ambedkarite mission of 'Dalit Power'. It is another irony that whereas in Punjab there was a powerful autonomous movement of Ad Dharm conceived and perfected by Ghadri Baba Babu Mangu Ram Mugowalia, the revolutionary thinker and organizer, one fails to understand why Baba Sahib did not think of this powerhouse for all the Dalits of India when the movement was at its peak and Dr Ambedkar had already decided to convert. Paradoxically Sahib Kanshi Ram who hailed from Punjab, where Dalits constitute 30 percent of the total population, did not succeed in striking the roots of Dalit politics but his inclusive strategy borne the fruits for Uttar Pradesh. Is it that Dalits of UP are more conscious than their counterparts in Punjab or there are problems of divisions along religious lines that have weakened the Punjabi Dalits. At times a religion that played an empowering role for Dalits has also played debilitating role in keeping the Dalits servile ideologically as well as politically.

To a reformative question if supporting poor Dalit children would help the community Prof Hans pointed out that it is a systemic problem and piecemeal engineering would not help. The Indian State has progressively withdrawn itself from public welfare schemes such as education and health. The government schools are deliberately left to rot so that the children of Dalits, Adivasis and other poor of the country do not move up educationally, economically and socially whereas the 'Swarna' people send their children to better organized private schools. Privatization has been deliberately promoted to keep the disadvantaged of the country away from the successful avenues and better jobs. Here Dalit political leaders in different parties as a pressure group can play a positive role in pushing the government to ameliorate the educational health but they hardly move as they are overpowered by majority of upper-caste MPs and ministers. Hence, the importance to have one national party of Dalits like the BSP and create a Dalit Power House. But this is easy said than done.

Prof Hans also highlighted the role of organic intellectuals in not only to retrieve our past that is buried beneath the deadweight of elitist academic practices but also in chalking out the roadmap for the future of Dalits in India. Here the role of the community leaders especially in the West who has made good economically by their sheer hard work and entrepreneurship becomes very important. They can mobilize funds to support such intellectuals in India who otherwise face several impediments. He also gave an example from his own experience that being oriented in the elitist-controlled educational system, he did not see the relevance of doing work on Dalit pasts but once he decided he has been able to bring to surface amazing result. He said he is working on literary movement of Punjabi Dalits and his finding take the Dalit literary creativity back to 1700. And there have been powerfully philosophical poets in the nineteenth and twentieth century who remained unknown even when they were known to some intellectuals from the upper-castes but they deliberately avoided talking about them. Sadhu Daya Singh Arif (1894-1946) who hailed from a Dalit family had produced master poetry at a young age that his 'Jindagi Bilas' published in 1917 became the most published, read and listened after Waris Shah's 'Heer' as it saw more than 750,000 thousands copies over sixty years. He had become a household name through width and breadth of the undivided Punjab yet he does not get mentioned in the histories of Punjabi literature in the last 80 years. How is it possible? Were the historians of Punjabi literature blind or deaf to the mass popularity of Arif? The systematic neglect even of the best known and popular poets and writers was nothing but due to caste prejudices, Prof Hans pointed out. Even the well-informed including O. P. Balley, Balvir Thind, Paramjit Bhutta, Ram Murti Saroay, Azad Jullundhary and Prem Kumar Chumber in the meeting were amazed at these facts and acknowledged the responsibility of Dalit scholars and community leaders to support such projects rather than wasting their hard-earned money on meaningless pursuits. Others who also participated quite fruitfully included Prem Kumar Chumber, Sukh Ram Chander, Surinder Sony, Kranthi Zappita, R. K. Sherwal, Rakesh Chander, Ramesh Jadhav, Randhir Suman and Ram Saran. The meeting ended on a positive note as it had begun but obviously with clarity coming through the deliberations.
Posted on May 16, 2010
BIRTHDAY CELEBRATION OF BABA SAHIB AMBEDKAR
AT SHRI GURU RAVI DASS TEMPLE, YUBA CITY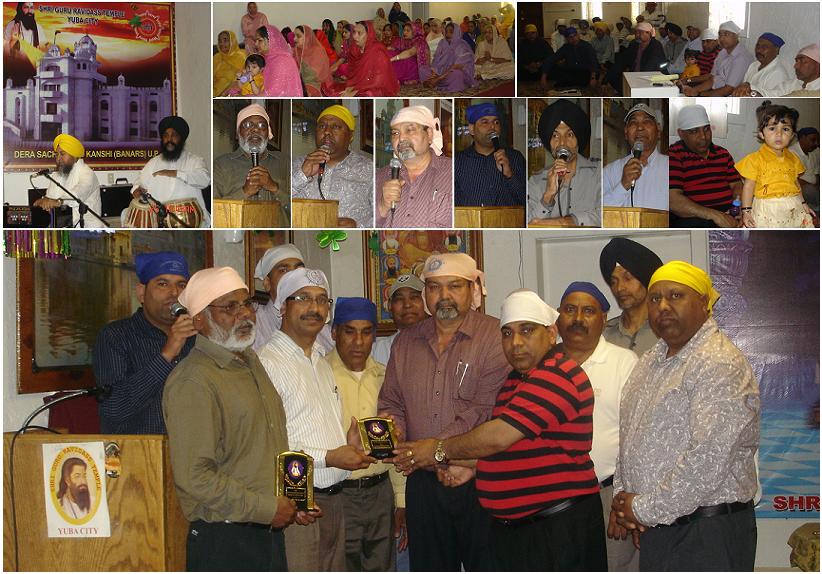 Report & Pictures: Ambedkartimes.com News Bureau
Shri Guru Ravi Dass Sabha of Yuba City organized a special function to celebrate Dr B. R. Ambedkar's 119th Birthday on 25th April after the bhog of Akhand Path at Guru Ravi Dass Temple. The function was compeered by the Stage Secretary Mr. Palvinder Mahi. Dr Raj Kumar Hans who is Professor of History at the Maharaja Sayajirao University of Baroda and currently a Fellow at the Indian Institute of Advanced Study at Shimla was welcomed as special guest speaker for the occasion. While thanking the managing committee for this honor he went into the details of sufferings, hard work and achievements of Baba Sahib. He related his own relationship with Dr Ambedkar through the city of Baroda in the Gujarat State. It was the Maharaja of Baroda who had financed his higher studies at Columbia University but it was also the city that proved to be an oven for Baba Sahib as he was tormented by the ill treatment by 'high-caste' officials including the peons placed much below his position as Defence Secretary of the princely state. Dr Ambedkar' luggage was also thrown out by the Parsis on knowing that he belonged to an 'untouchable' community. This surely tormented the best mind of his times but it only resulted in his resolution to fight against the graded inequality perpetuated by the Brahmanical forces in India.

Dr Hans also stressed the importance of education, seen by Baba Sahib as the best empowering strategy for dalits and adivasis of India. He urged upon the audience to devote at least one hour in a day for studying anything especially the writings of their Masiha to realize the mission and goal set by Baba Sahib to liberate his people from the thousands year old slavery and exploitation by the Brahmanical forces. He also reminded the crucial importance to establish links with Baba Ji Babu Manu Ram Mugowalia who had his revolutionary orientation in California to finally launch Ad Dharm movement in Punjab and Saheb Kanshi Ram who devoted his life to fulfill the mission of Baba Saheb to achieve political power for the real liberation of dalits. Dr Hans also emphasized the importance of unity among all the dalit caste communities to overcome the major stumbling block for achieving the mission of these revolutionary visionaries. Dalits must unite transcending the religious and caste divisions among themselves to be true Ambedkarites. While applauding the achievements of Dalit Diaspora in America Prof Hans urged them to heartily support the dedicated intellectual and journalists engaged in the Ambedkarite mission such as the editor of Ambedkar Times.

Mr. Prem Kumar Chumber Editor-In-Chief of Amdedkar Times also addressed the audience to further sensitize them to rise above petty differences and completely join with the Ambedkar movement. While appreciating the community for its support in his efforts to establish the paper/s dedicated to the philosophy and politics of Baba Sahib, he made an appeal to come out boldly to support (Advertisements) any selfless activity by any member of the community.

Prof Hans and Mr. Chumber were honored with plaques from the Shri Guru Ravi Dass Sabha of Yuba City dignitaries. The former once again thanked the community members for such an honor which he said was the real 'award'.
Posted on May 11, 2010
REPORT ON CELEBRATION OF 119TH BIRTHDAY OF BABA SAHIB
DR. AMBEDKAR AT SHRI GURU RAVI DASS TEMPLE, NEW YORK
Report & Pictures: Ambedkartimes.com News Bureau
S
hri Guru Ravi Dass Sabha of New York, Inc organized Dr B. R. Ambedkar birthday celebrations on April 18th, 2010 where large number of its members had gathered to pay their homage to the Messiah of Dalits of India as they also regularly come to the Shri Guru Ravidass Temple to worship Shri Guru Ravi Dass Ji, the great intellectual/revolutionary Guru of 15th-16th century India. The program was steered by Mr. Hardev Sahai, the able Secretary of the Shri Guru Ravi Dass Sabha of New York, Inc.
Dr. A.M. Gondane, Deputy Consul General at the Consulate General of India, New York who was invited as the Chief Guest for the celebration function also congratulated the Sangat and appreciated the great community work done by the Shri Guru Ravi Dass Sabha of New York, Inc. He reminded them the of the great sacrifice of Baba Sahib Dr. BR Ambedkar in improving the life conditions of Dalits of India and his contribution in the field of human rights. He also highlighted the achievements of Dalits in the western world and attributed their progress to singular struggle of Baba Sahib Dr. BR Ambedkar. He was honored with a Siropa by the management of Shri Guru Ravi Dass Temple of New York.
Among other speakers, Dr Raj Kumar Hans who is Professor of History at the Maharaja Sayajirao University of Baroda and currently a Fellow at the Indian Institute of Advanced Study at Shimla (Himachal Pradesh) India working on his book 'Literary Creativity of Punjabi Dalits and its Exclusion from the Historiographical Praxis' addressed the audience at length. He was invited from India as a Special Guest for the Dr. Ambedkar's 119th birthday celebrations.

Dr Hans highlighted the extraordinarily historic role of Dr Bhim Rao Ramji Ambedkar in shaking the Brahminical Indian society from its deep-seated hierarchical social structure where the large majority of India's indigenous people were subjected to apartheid practice of untouchability. He introduced the intellectual vigor and politics of social justice of Dr Ambedkar with the help of different issues related with his three visits of Punjab in 1932, 1936 and 1951. His first visit to Punjab was in his capacity of a member of the Lothian Committee which was instituted in the wake of the Simon Commission Report and First Roundtable Commission to determine a separate electorate for Dalits, then officially known as 'Depressed Classes', as minority. He was shocked to learn from the misleading attitude of the representatives of Arya Samaj and Sikh religion that there were no untouchables in Punjab whereas the fact was that in the Census of 1931 more than 500,000 people of Punjab who were subjected to the humiliation of untouchability had registered themselves as Ad Dharmis, as separate and independent of all the established religions with the mobilization of a powerful political movement led by a Great Ghadarite revolutionary Baba Babu Mangu Ram Mugowalia. Professor Hans then pointed out to Ambedkar's second visit to attend the Sikh Missionary Conference in 1936 when he was exploring the possibility of conversion of all the untouchables of India to Sikhism as he had already announced that there was no hope for Dalits in the Hindu religion which had crushed them for three thousand years. It was another thing that he found out that even Sikhism was not free from untouchability and hence he deferred the question of conversion till 1956. Moreover, the upper-caste Sikh leadership did not want the teeming millions of Indian Dalits to become Sikhs and jeopardize their hold over Sikh masses and institutions.

The last visit of Dr Ambedkar to Punjab, as per Dr Hans' address, was in 1951 a month after his resignation from the Nehru Cabinet as he did not see any point in continuing working with the Congress government which was dominated by the conservative Hindu minds who did not even want to extend full rights to the women of India. The issue was the fall of the Hindu Code Bill which Dr Ambedkar as law minister had introduced to ameliorate the wretched condition of Hindu women and which even the 'secular and progressive' Nehru could not rescue from the hands of the Brahminical MPs. He addressed a more than 200,000 strong gathering of Punjabi Dalits in Jalandhar in which he made clear how he way betrayed by Gandhi after the Puna Pact and Dalits must strive to achieve political power for their liberation from the Brahminical shackles as in no other way the Hindu majority would allow them to get out of their clutches.

The Birthday program concluded that evening with the community dinner hosted by the President of 'Begumpura Cultural Society of New York' Mr. Paramjit at a Punjabi restaurant. In the wonderful cultural evening three books recently published in India were released by Dr Raj Kumar Hans: 1st the English version of Balbir Madhupuri's autobiography 'Chhangiya Rukh: Against the Night' published by the Oxford University Press; 2nd Madhopuri's latest book 'Ad Dharm De Bani: Ghadri Baba Mangu Ram Mugowalia; and 3rd Professor Ronki Ram's 'Dalit Chetna: Sarot Te Sarup: Punjab De Sandrabh Vich'. Two periodicals devoted to Dalit movement, namely 'Hashia' by Gurmeet Kallarmajri and 'Indo-Punjab' by Gurnam Aqida, both published from Patiala were also introduced. Dr Hans said the appearance of three quality books and two journals covering different facets of Dalit life-world of Punjab is an indicator good enough to show that Dalits have come a long way, thanks to the contribution and sacrifices of Baba Sahib Dr. B R Ambedkar, Ghadri Baba Babu Mangu Ram Mugowalia Ji and Sahib Kanshi Ram Ji, to show the time of Dalits has come and no one can prevent the onward march to Dalit power. Messrs Chuhar Singh the Chairman, Balbir Chand Chumber, the President, Hardev Sahai the General Secretary and other executive members of the Sabha. and Mr. Anand Balley joined in the launch of the books.
Posted on May 08, 2010

FLORAL TRIBUTES TO DR B. R. AMBEDKAR AT COLUMBIA UNIVERSITY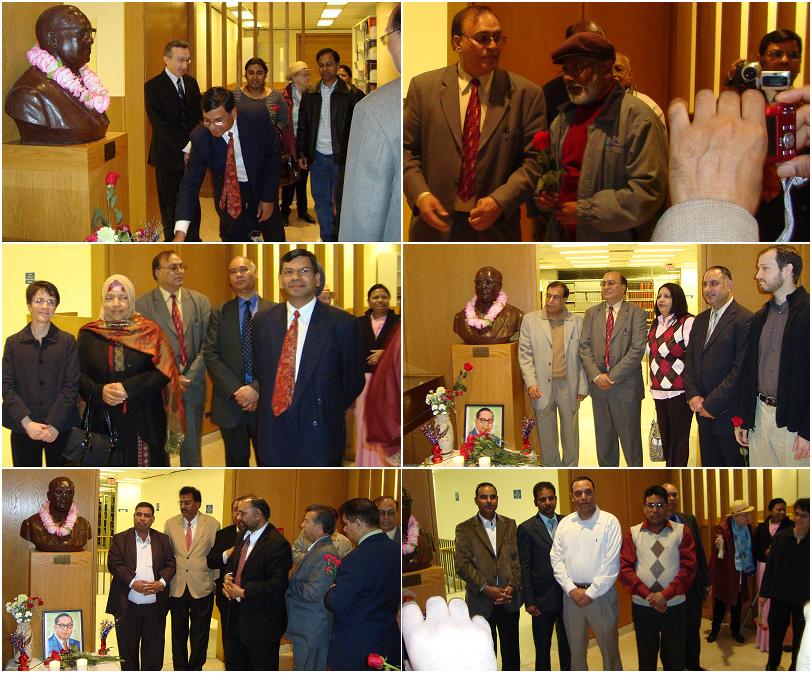 Report & Pictures: Ambedkartimes.com News Bureau
A significant number of followers assembled at Lehman Social Sciences Library of Columbia University where the bust of Baba Sahib Dr B. R. Ambedkar adores the premises of International Affairs. The program of paying floral tribute began at 11 in the morning of April 18, 2010. Besides Assistant Director of South Asia Institute William Carrick and others from the university there were numbers of community leaders living in New York who paid their homage to Baba Sahib and made short speeches. Mr. Hardev Sahai, Secretary of Shri Guru Ravi Dass Sabha of New York, Inc (New York) USA, steered the program. He called to say a few words on the occasion Dr Raj Kumar Hans, Professor of History at the Maharaja Sayajirao University of Baroda (Gujarat) India who had been specially invited by the Shri Guru Ravi Dass Sabha of New York, Inc (New York) USA, for their Baba Sahib birthday celebrations said of Dr Ambedkar is rightly counted among the few world intellectuals who relentlessly fought against racial discrimination especially for the liberation of Dalits, the erstwhile untouchables of India. Educated in Columbia University, Dr Ambedkar was highly impressed by the American democracy to dedicate his life for the cause of the teeming poor Dalits and Adivasis of the subcontinent. He made a sharp comment that much before the white racism came to be talked about India was cursed by the Aryan racism against the indigenous people who were subjected to all kinds of exploitation, oppression and injustice to such an extent that even their shadow on the Aryan Hindus, the upper castes of India was considered polluting. It was against this three thousand years' Brahminical oppression that Dr Ambedkar raised his voice and sought constitutional rights for his people. He was a true social democrat. Mrs. Chanchal Mall and Anand Bali who had reached from Canada also paid their tributes to the towering personality. Mrs. Mall specially highlighted the way Dr Ambedkar also fought for the dignity and rights of women of India but whose Hindu Code Bill which was meant to give equal rights to women was forced to fall by the dominant but highly conservative majority of Hindu MPs. The liberal Nehru as Prime Minister helplessly succumbed to the dogmatic Brahminical minds. Dr Ambedkar could not compromise and he instantly resigned from Nehru's cabinet. The Shri Guru Ravi Dass Sabha of New York, Inc (New York) USA, members had also organized high-tea party for all the present on the occasion.
Posted on May 05, 2010
Chetna Association of Canada, Vancouver, Canada
Presents Reflections on the legacies of Ambedkar and Douglas
Wednesday, April 14, 2010, 6:45 PM – 9:30 PM Room 7200, WAC Bennett Library, Simon Fraser University (Burnaby Campus)
While Dr. Ambedkar and Sir Thomas (Tommy) Douglas originated from the two opposite sides of the planet, what they had in common to one another was passion – passion to provide equal opportunities for all. At the seminar, Burnaby's Mayor, Derek Corrigan will highlight the achievements of these towering personalities and discuss the relevance of their thinking in addressing issues and challenges faced in the current socio-political economic environments. Other speakers and guests will also contribute to the discussion. All are welcome to attend the seminar. "Equality may be a fiction but nonetheless one must accept it as a governing principle" – Dr. Ambedkar. "Courage, my friends; 'tis not too late to build a better world" – Thomas Douglas.
Posted on March 18, 2010
SHRI GURU RAVIDASS SABHA OF NEW YORK, INC CELEBRATING
THE 119TH BIRTH ANNIVERSARY OF BABA SAHIB DR. AMBEDKAR
Shri Guru Ravidass Sabha of New York, Inc congratulates to all and celebrating Bharat Rattan Baba Sahib Dr. B.R. Ambedkar's 119th birth anniversary on Sunday (April 18th, 2010) at Shri Guru Ravidass Temple in New York (61-01 Broadway Woodside NY 11377. Contact: Ph (718) 898-8150 Fax: (718) 898-0932) Professor Raj Kumar Hans (Department of history at Maharaja Sayajirao University of Baroda, Vadodara, Gujrat, India) will be the Chief Guest.
Raghi Jathas: Mr. Ashwinder Singh Reddy, Mr. Sheetal Singh, Mr. Mukhtiyaar Singh
Special Speakers: Mrs. Chanchal Mall, Mr. Major Mall, Mr. Anand Balley Mr. Prem Kumar Chumber (Editor-In-Chief : Ambedkar Times)
Posted on April 11, 2010


BAMCEF INTERNATIONAL NETWORK - NSW CELEBRATING
COMMON BIRTH ANNIVERSARY OF ALL "BHAUJAN MAHAPURUSH"
Subject: We are beneficiary of "Phule-Shau-Ambedkar" movement which provides us fundamental right of education, to practise any profession & carry on any occupation, trade or business, which is resulted an opportunity to work abroad also. Place : Purple and Pink hall.1 St Floor, Liverpool Library, 170 George St, Liverpool - 2170, Date : 18th April 2010 (Sunday)., Time : 12.00 pm to 3.00 pm.
Inaugurator : Arjun Barde., Special : Harjit Salhan (President of Guru Ravidass Sabha), Guest : N A Gaikwad (B. Tech., MBA)
Baljindar Singh (Sales Manager), Speakers : Hemant Tate, Ramakant Gawai, Presided by: Kapil Thokal (Adeliade)
Posted on April 11, 2010
CASTE & SINGLE EQUALITY BILL
WORKSHOP ON SATURDAY 15TH AUGUST, 2009
Since its formal launch in July 2004, CasteWatchUK has worked on a broad front, to raise awareness of caste-based discrimination in the UK . We sought consultation with the Department for Education & Skills; provided input into consultations on the Home Office's White Paper Strength in Diversity; provided feedback to the Government's Community & Faiths Unit; made submissions to the Discrimination Law Review. We have also networked with a number of organisations and continue to raise the profile of Caste based discrimination and its impact on British society.
You will be aware that CasteWatchUK has been leading the campaign to have Caste Based Discrimination addressed in the Single Equality Bill. On Monday, 11 th May 2009 , the Government unveiled the second reading of the Single Equality Bill and a number of MPs raised the Caste issue on the floor of the House. Despite our campaigning on the issue, Caste Discrimination was not included in the first draft of the Single Equality Bill. Our work amongst the affected communities reveal dearth of evidence that clearly demonstrates how the practice of Caste has been imported into Britain, its modus operandi and the need for Government to take effective legal measures to stop Caste practices embedding into British society.
Single Equality Bill proceeded to the Committee stage in June, 2009 in which a team of eighteen MP's considered the Bill in details to assess if any changes were needed. CasteWatchUK lobbied MP's and also submitted a memorandum as evidence to the Scrutiny committee overseeing the Single Equality Bill. The Bill Committee concluded its deliberation on Tuesday 7 th July & "Caste" has now been tabled as an amendment to the draft bill. It is a great news because Government had decided that caste would not be included in Single Equality Bill whereas Parliament, through its Bill Committee, has now proposed an amendment to the initial draft bill and it now seems possible that caste can appear in the Single Equality Bill. The amendment was proposed by Ms Lynn Featherstone MP and Dr Evan Harris MP - both are members of Bill Committee. The Committee stage has now come to a close. The Single Equality Bill will now proceed to the Report Stage and then 3rd reading, after that onto the House of Lords. We will continue to eagerly monitor the passage of the Single Equality Bill.
As part of our future strategy, CasteWatchUK is now working with Parliamentary Outreach Team to present a half day free workshop as per attached programme. This workshop has been developed and will be delivered by the Houses of Parliament Outreach Service and is intended to provide a greater understanding of Parliamentary procedure including how laws are made and the work of Select Committees. This workshop would raise awareness about how communities can influence the process of law making. It should still be possible for us to ensure that "caste" is included as an amendment to the bill and appear in the new Anti-discrimination legislation.
Yours sincerely,
Davinder Prasad / General Secretary
Posted on July 30, 2009
108th Birthday of Messiah of Humanity - Dr. Bhim Rao Ramji Ambedkar -
On 14 th April 2009 Celebrated with gaiety and fervor by Dr. Ambedkar Chetna Manch (Regd.), Aryanagar, Dinanagar, Punjab-India
Dina Nagar ((Ambedkartimes.com News Bureau): 108 th Birthday of Messiah of Humanity - Dr. Bhim Rao Ramji Ambedkar - On 14 th April 2009 Celebrated with gaiety and fervor by Dr. Ambedkar Chetna Manch (Regd.), Aryanagar, Dinanagar, Punjab-India. Birthday celebrations on the eve of 108 th Birthday of Dr. Bhim Rao Ramji Ambedkar, Messiah of humanity, who dedicated his whole life for the cause of depressed and downtrodden was celebrated with gaiety and fervor at Dinanagar in District Gurdaspur in Punjab-India on 14 th April 2009.

On this momentous occasion hundreds of people from the area throng together to pay floral tribute to their Messiah. Shri Sohan Sehjal an eminent writer, social activist and thinker released an Audio CD in Punjabi, containing missionary songs sung of Shri Sukhdev Singh Azad, a missionary singer. Shri Sushil Kumar Kashyap, an eminent Ambedkarite, wrote the lyrics of this Audio CD.

On this occasion, Shri Sohan Sehjal, a writer and poet of eminence addressed the gathering and exhorted them to expedite their struggle for attainment of their rights. Shri Sehjal told the audience that the whole struggle of Baba Sahib Ambedkar was not for attaining wealth or riches but it was a towards reclamation of human personality so as to enable untouchables to have a dignified living in this society. Shri S.S. Azad also inspired the present gathering to act upon the guidance and advice of Baba Sahib Ambedkar and follow the reading the literature created by Baba Sahib. It was venerable Baba Sahib Ambedkar who could attain a dignified existence for his brethren in this stratified and vicious Hindu society.
The Children who participated in the programme and recited essay and poems were honored. The Dinanagar Center winner of State Level Competition on one of the Books of Baba Sahib Ambedkar organized under the aegis of Sri Guru Ravidas Sabha, Phagwara during 2008 was presented a winner prize by Shri Sohn Sehjal.
Top in the both pictures (Front and back view of Audio CD titled "Aaj Baba Sahib Ji Kithe Ne") amd (S/Shri Sohan Sehjal, S.S. Azad, Susheel Kashyap, Dr. Rakesh, President, Dr. Ambedkar Chetna Manch, Dr. R. K. Attri, Jagdish Raj, Er. Manmohan Sarangal releasing the Audio CD titled – "Aaj Baba sahib Ji Kithe Ne".
Posted on June 23, 2009
NAMO BUDDHA JAI BHEEM JAI BHARAT,
DR AMBEDKAR MEMORIAL COMMITTEE OF GREAT BRITAIN,
Cordially Invites You to Celebrate ,
118 TH BIRTH ANNIVERSARY OF DR. B. R. AMBEDKAR
Men are mortal. So are ideas. An idea needs propagation as much as a plant needs watering. Otherwise both will wither and die. Dr.B.R.Ambedkar
My final words of advice to you are educate, agitate and organize. Have faith in yourself. With justice on our side I do not see how we can loose our battle. The battle to me is a matter of joy. The battle is in the fullest sense spiritual. There is nothing material and social in it. For our is a battle not for wealth or for power. It is a battle for freedom. It is the battle of reclamation of human personality. Dr. B.R. Ambedkar
Dr Ambedkar Community Centre Upper Zoar Street, WV3 0JH
Sunday 19 th April 2009, Time: 2.00pm-6.00pm
Guests: High Commissioner of India from London , M.P. Rob Marris ( Wolverhampton ), Cllr. Elias Mattu, Cllr. John Reynolds, Mrs D.P. Paval Consulate of India from Birmingham .
Dr B.R.Ambedkar was born on 14th April 1891 in Mhow. (Presently in Madhya Pradesh). He was the fourteenth child of Ramji and Bhimabai Sakpal Ambedkar. Dr. B.R. Ambedkar is viewed as messiah of dalits and downtrodden in India . He was the chairman of the drafting committee that was constituted by the Constituent Assembly in 1947 to draft a constitution for the Independent India . He played a seminal role in the framing of the constitution. Bhimrao Ambedkar was also the first Law Minister of India . For his yeoman service to the nation, B.R. Ambedkar was bestowed with Bharat Ratna in 1990. On 0ctober 14, 1956 he embraced Buddhism along with many of his followers.
Food will be offered by the NIGHT INN at the Ambedkar Buddhist Centre 12 noon onwards
Entertainment: Mr Ravi Chahal London, Mr Jagdish Dhadra & Many more
For further information contact: General Secretary Mrs Kamla Chumber on 07817483471
Publicity Secretary Mr Khusvinder Kumar on 07886780331
DR AMBEDKAR MEMORIAL COMMITTEE OF GREAT BRITAIN
UPPER ZOAR STREET , PENNFIELDS
WOLVERHAMPTON, WV3 0JH ,01902715094
The function organised by the All India OBC Federation in memory of
V.P. Singh was conducted at Chennai on 27.12.2008.

G. Karunanidhy
Posted at 4:25 am on January 1, 2008

For the first time, function had been organised at Patna in memory of Periyar. The function was attended by eminent academicians and political Personalities held at RBI auditorium, Patna and organised by Bihar OBC Federation, an affiliated body of our All India OBC Federation. -G. Karunanidhy

Posted at 4:25 am on January 1, 2008
PERIYAR INTERNATIONAL USA AND OMNI DEVELOPMENT RELIEF FUND USA
Invites you with family and friends
To celebrate Periyar Memorial, Pongal and Tamil new year day
Date: On January 10 th 2009 Venue: Regency at Northampton , 1, Keenan Drive , Southampton , PA 18966 USA, Time: 12 Noon to 5 PM Programme PONGAL and LUNCH 12-1 PM, Welcome: Kayal Ponnusamy Ramesh, Pongal : Tamil Thanksgiving Dr.Saroja Ilangovan, Periyar Great Humanist: Dr Soma Ilangovan, Buddha and India: Michael Thevar, PAUSA, Babasaheb Ambedkar Song: Dr Sakya Mohan, Thiruvalluvar and Periyar: Prof.Pirabakaran, Maryland. Periyar in US: Dr. S. T. Sambandam, RhodesIsland
Key Note Address: Socrates and His Life, Prof. Andrew Lamas, Univ. of PennsylvaniaUSA
Discussion. Vote of Thanks: Dr Ram Ranjan
RSVP: Dr Ilangovan ilangovan@msn.com; periyarinternational@yahoo.com
Posted on January 08, 2009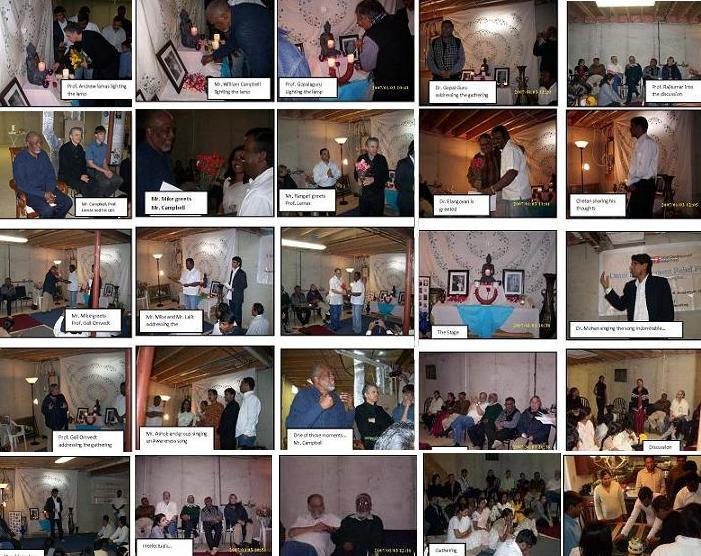 On December 6th 2008,Omni Development Relief fund USA observed the death anniversaries of Mahatma Jyotiba Phule and Bodhisatva Dr Ambedkar.A programme was organised at 126, New Port Lanes, North Wales, PA USA to pay tributes to the great emancipators.On this occassion ODRF family invited eminent scholars from India and USA.Mr. Michael Thever, the president of ODRF had welcomed everyone and talked about objectives of the programe. He welcomed the eminent personalities who were present on this occasion like Mr and Mrs Campbell,Dr Gail Omvet, Dr Parmar, Dr Gopal Guru, Dr Rajkumar Hans, Dr Andrew Lamas.Mr Michael Thevar said "The revolutions have started at the basements. We are celebrating the 118th death Anniversary of Mahatma Jyothirao Phule and 52nd the Death Anniversary of Dr. Ambedkar who liberated millions of oppressed people."Dr. Sakya Mohan and Dhammamitra Vikas led the group in Buddha Vandana. After the Buddha Vandana,Mr. William Campbell, the mentor of Mr. Mike Thevar MSW, Gail Omvet and Prof. Andrew Lamas lighted the lamp. While introducing Mr. William Campbell, Mr Mike Thevar said,"Mr Campbell is not only my mentor but he is the person who had given me the platform to root in America and all the memories are still fresh". Pratibha Kamble,member ODRF family houred Mr Campbell with a bunch of flowers.

Mr. Lalit Khandare a research fellow in Indiana university USA briefed the gathering about how he met Mr. Mike Thevar and as the result of it now the professionals belonging to Scheduled Catses,Scheduled Tribes,Other Backward Castes and Converted minorites from India are working in highly reputed mental health institutes in USA. He also talked about the difference when one could fine lots of Indian students move out of india for their higher studies as well as job? The only difference is Mr. Mike had taken the road less travelled by many Non resident Indian company owners here by promoting professional from the disadvantage communities and specially Dalits, Tribals and OBC communities. All the students exhibit their comittement toward the society from where they come from. They have not forgotten their rootes. Mr. Lalit Khandare introduced Prof. Gail Omvedt and Mr. Mike Thevar honored her with a bunch of flowers. Prof. Gail Omvedt has an MA and PhD in sociology from the University of California, Berkeley. An Indian citizen sice 1983 but her life journey has started way back in 1978 in a village Kasegaon in southern Maharashtra, India. She is the research director of the Krantivir Babuji Patankar Lokshatriya Samshodhan va Prabodhan Sanstha, or Krantvir Trust and a Fellow at the Indian Institute of Advanced Studies, Shimla. Gail Omvedt has authored numerous books focusing on social and economic issues and especially in Dalit and Anti-caste movements, environmental movements and formers movements.
Dr. Gopal Guru is a professor in social and political theory in the centre of Political Science at Jawaharlal Nehru University. He moved from actual activism to Intellectualism because it is the need of the hour. He has authored many books on Dalits, women, politics and philosophy.
Rajkumar Hans: Born to a dalit Christian family of the rural Panjab, India., was the first person in his family to get educated beyond primary education. He was introduced to English only after his completion of under graduation and when he went for his masters. In the late 1970's a doctoral fellowship moved him from Punjab to Gujarat, where he began research in the economic history of south Gujarat in the nineteenth centuary. Prof. Rajkumar hans has been engaged in a comparative study of Punjab and Gujarati cultures for the last twenty years. Now his focus has been narrowed down to Dalit focus in specific.
Andrew T. Lamas is a Professor at the Wharton School, University of Pennsylvania. A graduate of Davidson College in North Carolina, where he was elected a member of Phi Beta Kappa, Professor Lamas received his Masters degree in Economic Development from the University of London, and his J.D. degree from the Law School of the University of Pennsylvania. Professor Lamas has extensive consulting experience with employee-owned businesses, community development corporations, religious and cultural organizations, and alternative investment. He is Co-Director of a project that supports faculty and curriculum development at two new business schools in the Ukraine, and he is a founding Board Member of the Center for Community Self-Help (Durham, NC) and the Reinvestment Fund (Philadelphia, PA). Montgomory county representative & Dr. Elangovan from Periyar International USA were honored with the bunch of flowers by Mr. Mike Thevar.
Then Prof. Gail Omvedt spoke on Liberation movement of Dr. Ambedkar and Mahatma Phule. There are two domines in India, Brahmanism the construct of Aryan civilization which conflicted with the counter ism based on Love and brotherhood and more of a inclusive ideology. Brahmanism was countered by Jainism and Buddhism. Brahmanism denied these two counter isms. Buddhism is hegemonic. Bhakti movement is said to be an movement of Hinduism but bhakti movement was different and it had to counter Brahmanism. Since Brahmanism was not able to counter it, it had adopted the co-option policy. Caste is there everywhere in India. Caste is there in Christianity, islam, Jainism Sikhism and etc. Dr. Ambedkar and Mahatma Phule had a different kind of vision of India compared to that of Gandhi's Hindustan and Communists based on class. Phule was dreaming of Balistan. They fought against Hinduism in India itself. They have contributed a lot to the counter tradition in India.The talk by Gail Omvedt inspired the gathering and the ODRF members thanked prof.Gail for very insightful and thought provoking talk.This was followed by ODRF song "The indomitable leader Dr Ambedkar" which was composed and sung by Dr. Mohan.
Dr. Gopalguru presented the challenges of the intellectuals in the modern era. December 6th is not a time to enjoy and to concentrate on the concerns, because we need to constantly oppose Hinduism and caste system. We should make Be-gam-pura which believes in horizontal equality, libery and fraternity. We need to disorient the state. Don't allow the state to take over but you take over the state and that is the challenge. Seva is not done by the state but it is a moral responsibility of the individuals. Ego is the life line of dalits and adivasis. He also spoke about the african american movement and civil rights. The intellectuals write about poverty but they have not experienced poverty. And that is one of the challenges. The other challenge would be re-signification of the term Dalit. Our life is full of contradictions and challenges.
Mr Ashok Khairnar and group sang an awareness song on superstition. One of the questions was why do you say that we are not this… we are not that… then who are you? Answering to this question Prof. Rajkumar Hans raj said that No has got lots of meaning. It is a process of defining what you are not… then automatically this will lead to who you are. It is a process. Prof. Andrew Lamas gave and interesting and shocking statistics. 50% of world's population comprises of women and they do 67% of world work and they are paid only 10% of the wages and their land owning is just 1%. The issues discussed were affirmative action,Human Rights,Women empowerment,Social Justice. The programme ended with the lunch and screening of a movie on Dr. Ambedkar.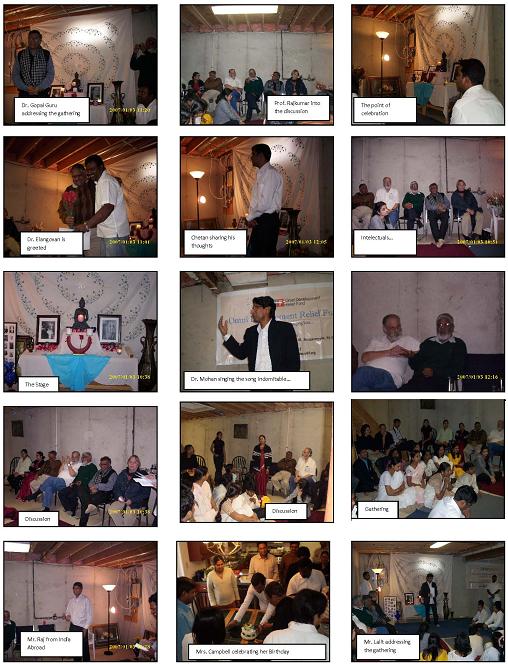 (Posted on December 15, 2008)
DR. AMBEDKAR'S 52ND
MAHA PARINIRVAN DIVAS CELEBRATED IN SUNNYVALE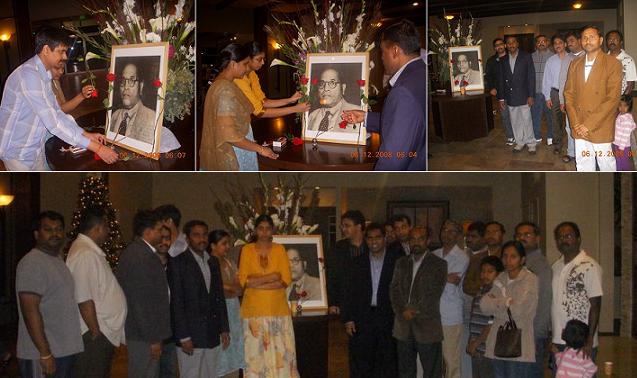 Mr. Buchanna Gajula who organized this event, said "Bharat Rattna Dr. B.R. Ambedkar predicted in 1954 that there could be potential terrorism from Pakistan and China ". Then leaders would have taken enough measures to prevent terrorism, we would have lived in a better society. In recent Mumbai attacks government took about 9 hours to react to the incident. This shows failure of current leadership. The need of the hour for the country is patriotic, young and dynamic leadership to safeguard our motherland and overall development. While remembering Obama's victory, change is inevitable that the next Prime Minister would be from weaker section society as dreamed by Dr. B.R. Ambedkar".

Speaking on this occasion Guest Speaker Mr. Ram Kumar, Director of Ambedkar International Mission, USA remembered key events of Dr. B.R. Ambedkar. He reminded that Babasaheb was the father of Indian Democracy and his contributions to our country where every body gets equal right specially "Hindu Woman Act" for providing equal right to Hindu Women, reservation for weaker to provide them representation in every sphere of country development and help India develop uniformly. Mr. Ram Kumar also showed concern that due to biased reasons against him, Babasaheb has been known as weaker section reservation leader only inspite of accepting the truth that he is Nava Bharat Nirman leader and belongs to everybody and as his statues are more than any body in India, now world is recognizing his extraordinary contribution to world and for example Romania people are following Ambedkarism, Black Movement in America started after getting inspired by Baba Saheb. Dr. B. R Ambedkar ideas/literature was adopted by world leaders to bring change in helping weaker sections of the society.

Kiran Ponnuru thanked the attendees Ravi Tirkovila, Mr. Sadanandam, Gajula Srinivas (Siricilla), Kranthi Tappati, Mrs. Sampath, Mayur Reddy etc presented.
(Posted on December 14, 2008)
The photographs of newly constructed
"Dr. Baba Sahib
B.R. Ambedkar Bus Stand, Phagwara."
The photographs sent by
S. L. Virdi Advocate, Phagwara, Punjab .

Posted on October 22, 2008
My final words of advice to you are Educate, Agitate and Organize; have faith in yourself. With justice on our side I do not see how we can loose our battle. The battle to me is a matter of joy. The battle is in the fullest sense spiritual. There is nothing material or social in it. For ours is a battle not for wealth or for power. It is battle for freedom. It is the battle of reclamation of human personality?
Bodhisattva, Dr. B. R. Ambedkar, The Great Revivalist of Buddhism in modern India
Forwarded by: Sakya Sangha, Chennai (India)