Dr. Ambedkar song written by Gurdass Ram Alam & Lyric Chandan Singh USA

(Special # www.ambedkartimes.com)
Ambedkar Times & Desh Doaba
congratulate to everyone
on Happy Birth Anniversary of
Great Revolutionary E.V.R. Periyar



Prem Chumber
www.ambedkartimes.com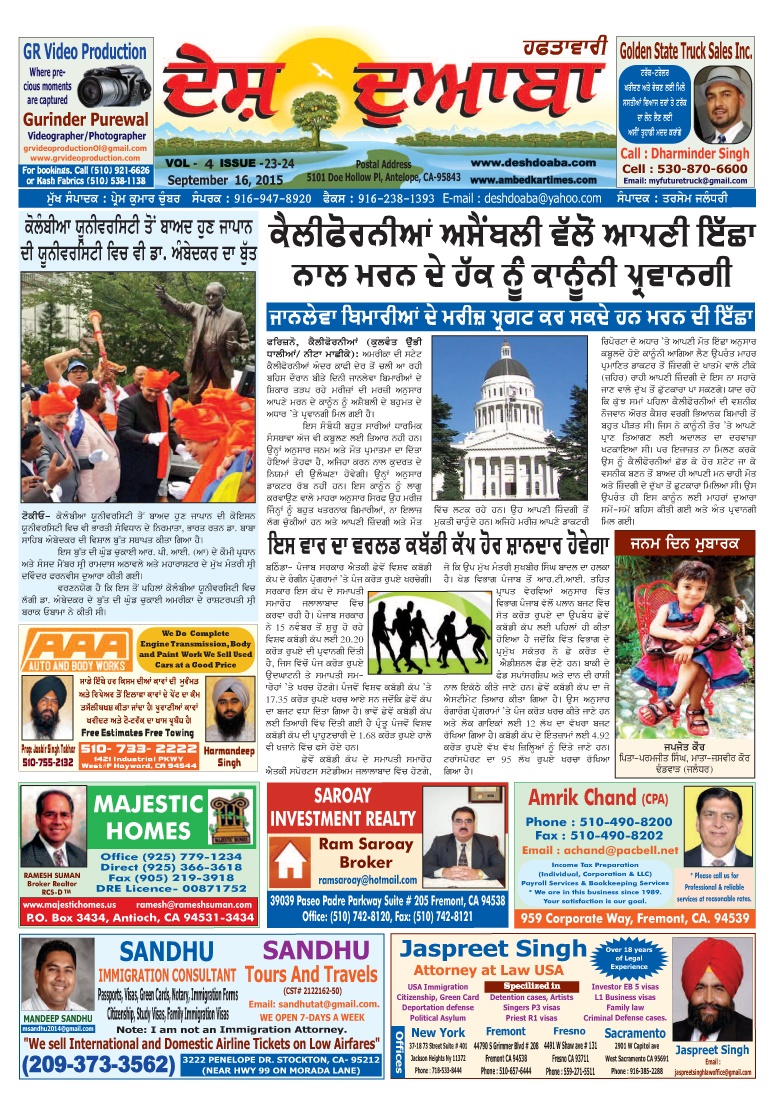 AMBEDKARTIMES.COM
CONGRATULATES THE FABO TEAM
Ambedkartimes.com congratulates the entire FABO team, especially Ms. Santosh Dass, Mr. Arun Kumar and Mr. Gautam Chakravarty, for completing all the formalities to buy Dr. Ambedkar House in London.
The contracts was exchanged on August 26, 2015 by Mr Raj Kumar Badole, Minister for Social Justice and Special Assistance at Government of Maharashtra (India), via the High Commission of India in London (10 King Henry's Road, NW3). This House, located near Primrose Hill in north London, was the one where Dr. Ambedkar stayed during 1921-22. It was in this very house that Dr. Ambedkar enriched his academic studies and strengthened his resolve to challenge the impact of the Caste System and British Rule in India.
www.ambedkartimes.com takes great pride in sharing its happiness with all the Ambedkarites the world over for this great act of converting the stay house of our Babasaheb Dr. B.R. Ambedkar into a heritage center.
Prem Kumar Chumber
Editor-In-Chief
www.ambedkartimes.com
www.deshdoaba.com
Ambedkar Times (Weekly Newspaper in English)
Desh Doaba (Weekly Newspaper in Punjabi)
Posted on www.ambedkartimes.com , September 2, 2015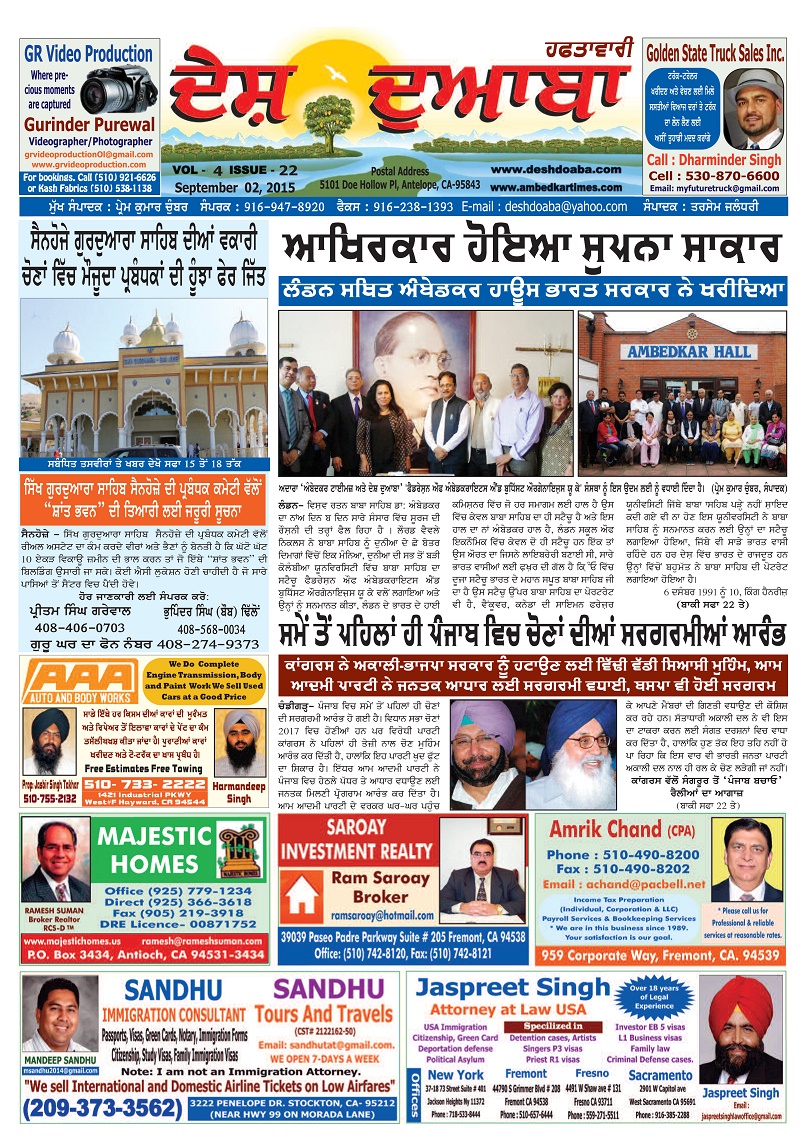 A DREAM FINALLY COMING TRUE –
AN INTERNATIONAL MEMORIAL TO
DR BHIMRAO RAMJI AMBEDKAR IN LONDON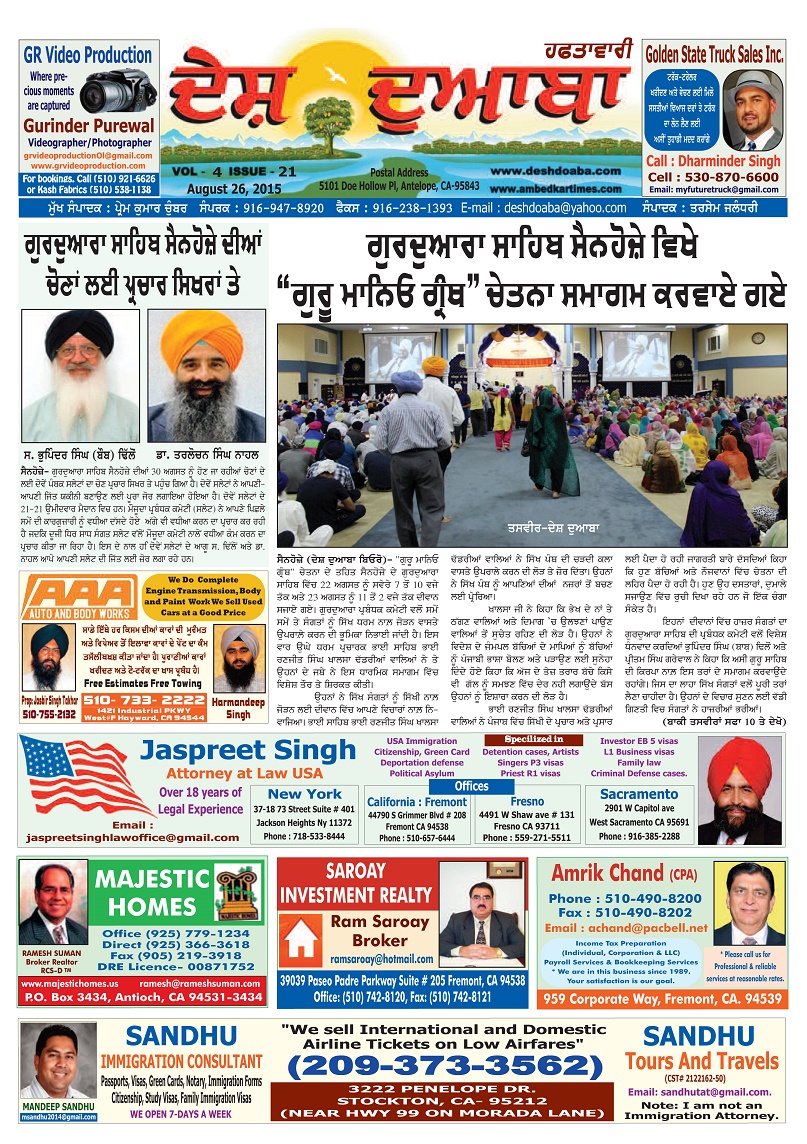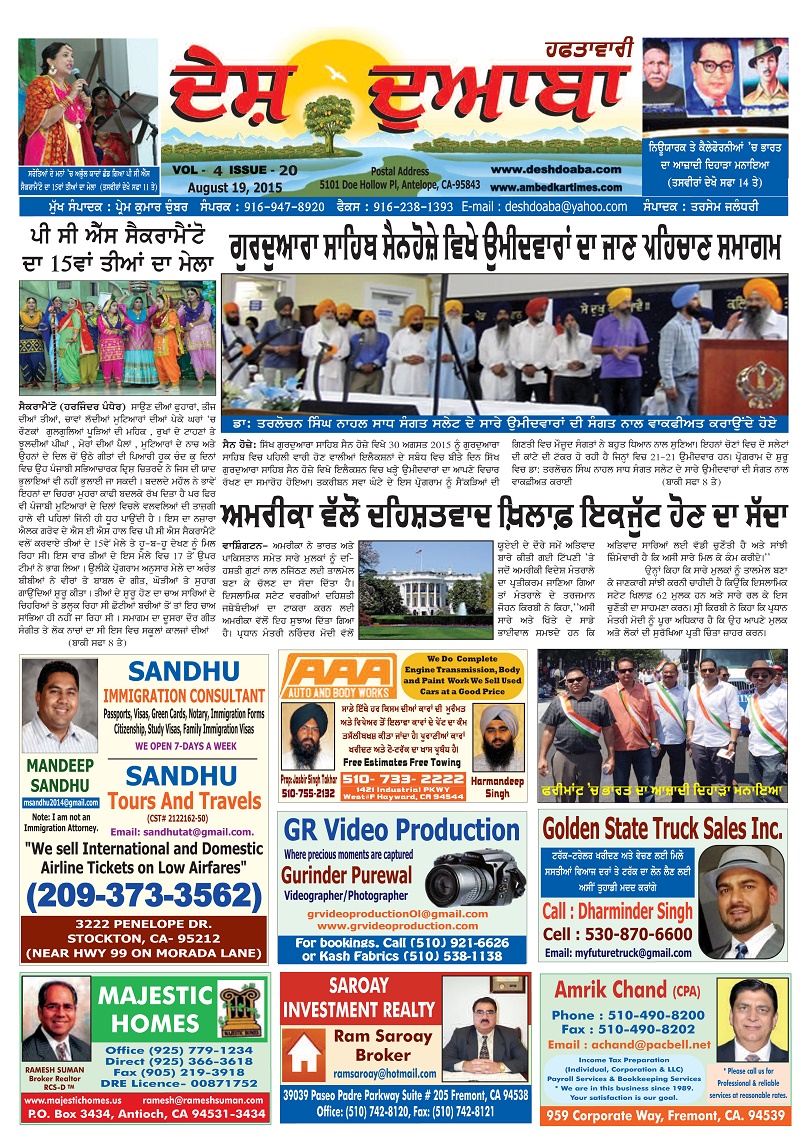 | | |
| --- | --- |
| | |
| | |
| --- | --- |
| | |
Mr. Arun Kumar Singh –
Indian Ambassador to US
Sunnyvale Hindu Temple on July 24, 2015

After assuming the charge of the Indian Ambassador to US about 3 months ago, H.E. Mr. Arun Kumar Singh, visited the San Francisco Bay area from July 24-26, 2015. During the visit, he addressed a media conference on 24.7.15 at Sunnyvale Hindu Temple, in which, he spoke on the present scenario of Indo-US relations and also responded to various questions from the media persons on the subject.
In his remarks, Hon'ble Ambassador has stated that he looked forward to enhance the opportunities for engagement between India and the United States in the economic sector as well as in other areas. Describing the present day Indo-US relationship as very strong, he cited the visit of Prime Minister Modi to the US in September 2014 and President Obama's visit to India in January this year as the outcomes of the same. He added that this is the first time that US President has visited India twice in his tenure and the first time that an US President has gone to India on Republic Day. He described this as a clear reflection of progress of the current day relationship between the two countries. Ambassador Singh referred to the US President's statement that 'the Indo-US relationship can be one of the defining partnerships of this century', and the Indian Prime Minister's statement that India and the US are 'natural allies'. Ambassador Singh added that both the countries share in common democracy, pluralism and rule of law and there is a huge opportunity in different areas of cooperation including in the economic sector.
Ambassador Singh said that the current level of the trade between the two countries is $100 billion and added that the leaders of both the nations have sought to increase it to $500 billion. He stated that during the last five years, Indian companies have invested more than $15 billion in the US thereby creating in the USA about a 100,000 jobs directly and several more indirectly. Conveying that US companies have been present in India for a long time, Ambassador Singh emphasized that there are great economic opportunities in India, like Make in India, Digital India and other schemes, in addition to opportunities in infrastructure, renewable energies, and education.
Appreciating the West Coast of the US for its focus on innovation and entrepreneurship, the Ambassador informed that, in India also, a lot of work on innovation and entrepreneurship is taking place at present. He said that the startup sector in India is growing and as per the estimates, in the last two years, almost $4 billion has been invested into startups in India. Highlighting India's recent Mission to Mars in the last September, Ambassador Singh stated that India is the 4th country in the world to send a vehicle to the Mars and the first country to succeed in the first attempt. He added that the cost for this Mission was only $ 65 million, which is less than the cost of production of a Hollywood film focusing on space and it highlights the cost effective innovation and research happening in India, at present.
Ambassador Singh said that the most important fact that provides firm basis to the Indo-US relationship is the 'people to people interaction'. He conveyed that today, India has the strongest relationship with the United States. He mentioned that at present, there are more than 3 million Indian-Americans in the US and with about 110,000 Indian American doctors, one in every 7 patients in the US is being treated by the Indian American Doctors. Also about 100,000 Indian students are pursuing studies in various US universities and approx. 40 percent of the hotels in the US are owned or managed by the Indians. He stated that the situation reveals that there is a huge engagement at people to people level with the US and it is on this basis that India wants to take forward the relationship with the US.
Later, the Ambassador has answered several questions from media persons on Indo-US relations.
Q.1: Though the Indo-US nuclear deal was signed in 2005, why has nothing happened in a decade's time on that front, and whether US is creating barriers for the same ?
Response: There has been progress as far as the Indo-US nuclear deal is concerned. The announcement of the deal was made in 2005 and the agreement was signed in 2008. During the visit of President Obama in January this year, the pending issues were resolved, and now two companies in the US that have the capacity in this area are discussing the commercial and technical aspects with the Indian operators. They will take the discussion forward on that basis. So clearly, our aim is to find different opportunities to expand the trade and economic relationship between the two countries.
Q. 2: As the entrepreneurs are facing a number of difficulties to start a company in India, what about the Indian government's efforts to create a 'single window clearance facility' to obtain all the necessary clearances with less effort?
Response: Since May last year, a whole series of new measures have been brought in and the permissions required have been reduced and most of the things one need to do can be done online. There is ease and much more transparency in the process. Secondly, an Inter-ministerial group has been setup to address the problems the US investors might be facing. If an US investor invested in India and if he is facing any problem, he can bring the same to the attention of the Inter-ministerial group which would address the issue. The Inter-ministerial group is located in the office of the Secretary, Department of Industrial Policy and Promotion. It is the organizing body and the secretariat for the group. In addition, there is another organization called 'Invest India' (the details of which are available on the web). It is a public private partnership with the Government of India and apex industrial organizations like FICCI etc. and they have been now revitalized to help investors.
Q. 3: What is the level of Indo-US defense cooperation and the joint military exercises?
Response: The defense cooperation with the US is strong and during the last 4 years, India has bought about $10 billion worth of defense supplies from the US, which is more than from any other country. It is the reflection of our relationship but what is new is that the two governments have announced to move away from the buyer-seller relationship with co-development and co-production. We have identified 6 path finder projects for co-development and once that is in progress that will further deepen defense cooperation. As far as the joint military exercises of India and the US, it has been said that the largest number of military exercises both India and the US had with any country in the world, is with each other.
Q. 4: Racial discrimination is being faced by some members of the Sikh community in the US and it is not being considered as "Hate Crime" by the US authorities.
Response: From the perspective of the Government of India, whenever an issue of discrimination of an Indian-American in the US, comes to the notice of the Indian Embassy or the Indian Consulates, the same is brought to the attention of the US authorities and beyond that, we all need to work together to try and address this issue by increasing awareness in the society where we are living.
Q. 5: Whether there is any future plan of opening a Consulate in the West Coast like Seattle or any other place for consular services.
Response: At this moment, there is no immediate plan to open any another Consulate in the west coast and we are trying to do things more online for consular services. Already, the US has 5 Indian Consulates apart from the Embassy in Washington DC.
Q. 6: When will be the Indian PM's expected visit to the West Coast?
Response: Planning is being done in this direction and whenever details are available with us to share, the same will be shared.

Posted on www.ambedkartimes.com July 29, 2015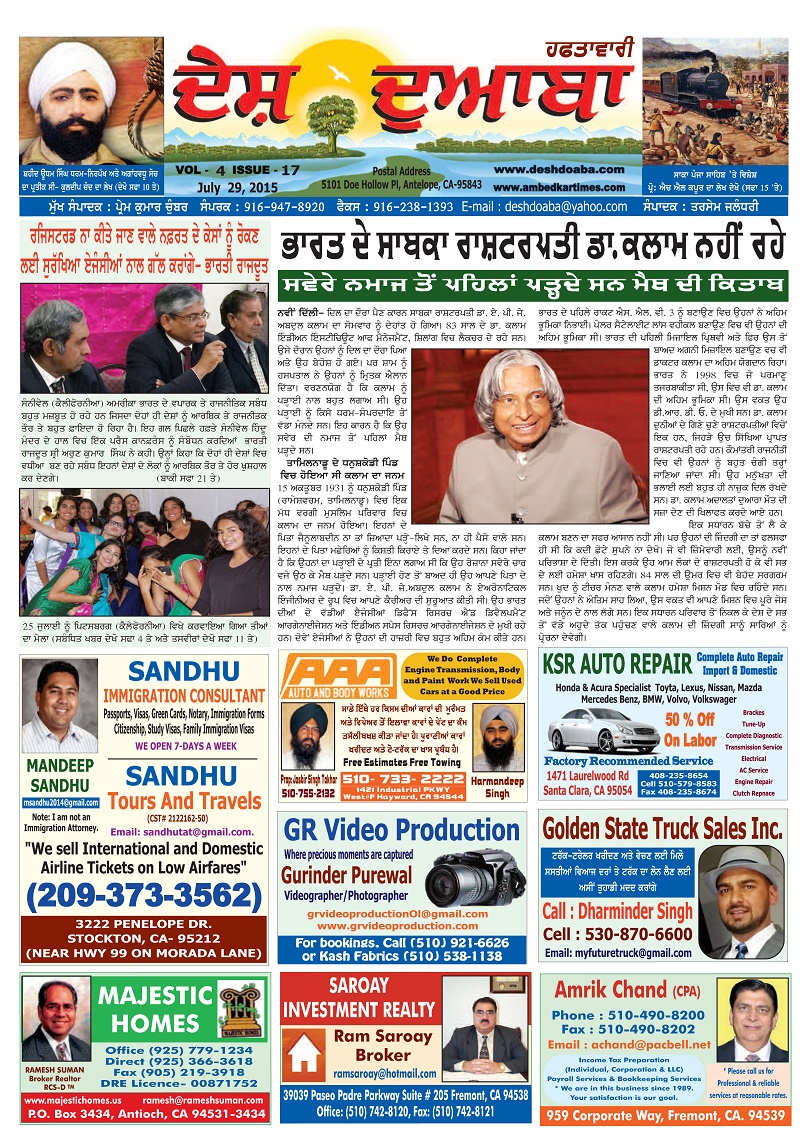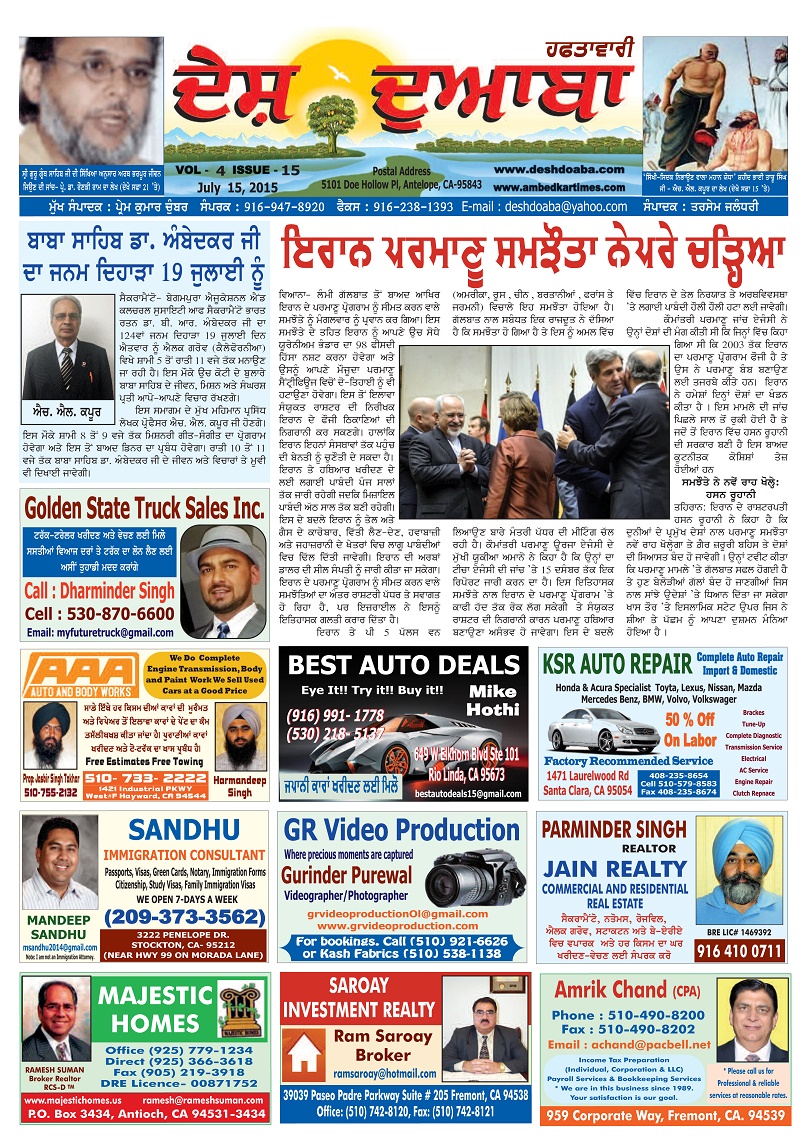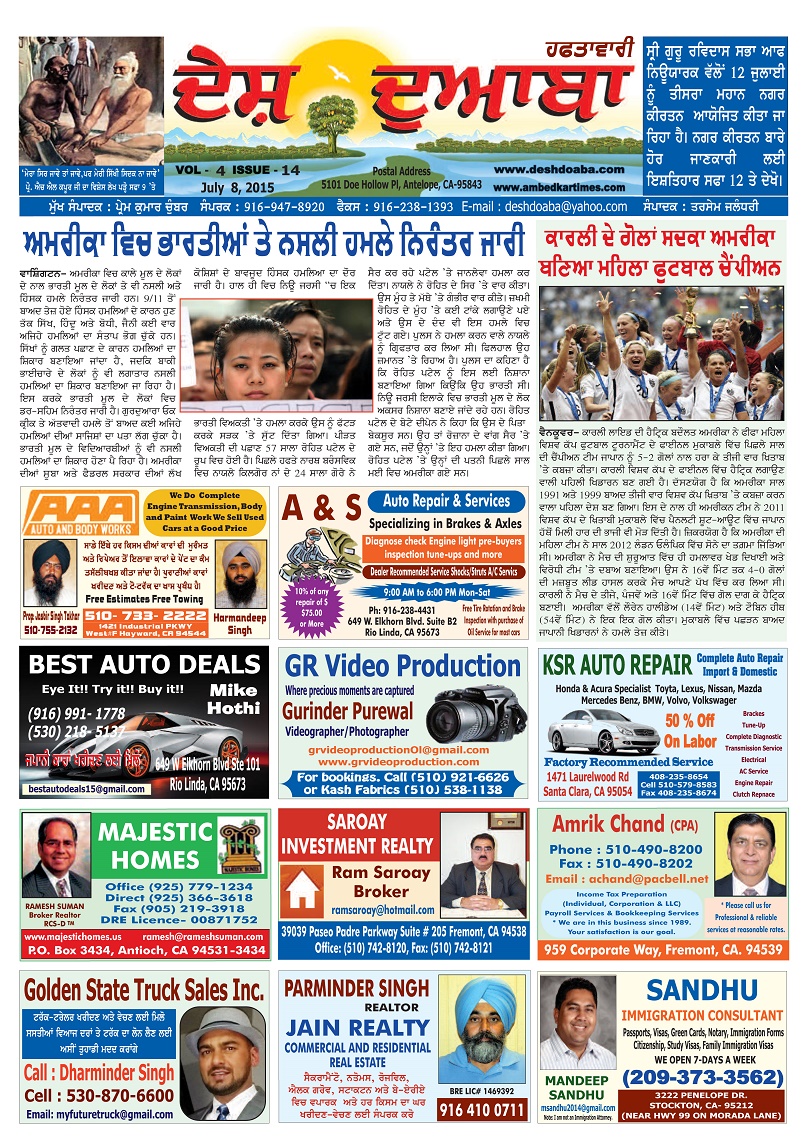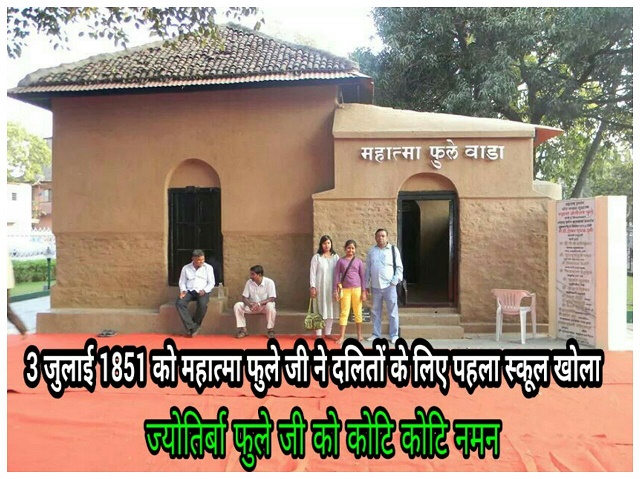 ON THE DAY OF 'AD DHARM MOVEMENT'
JUNE 11-12, 1926 AT MUGOWAL
Ronki Ram (Dr.)
Fellow & Syndic
Hon. Director, ICSSR (NWRC) , Dean, (Arts Faculty)
Shaheed Bhagat Singh Prof. of Political Science Panjab University, Chandigarh
ronkiram@yahoo.co.in
Jack and
Paul Ram
(Both Attorney-
at-Law sons of
Commissioner
late Lahori Ram)
celebrate
California
Speaker Pro
Tempore Kevin
Mullin birthday
in San Carlos.
Kevin Mullin
represents
District 22
which covers
San Mateo
County.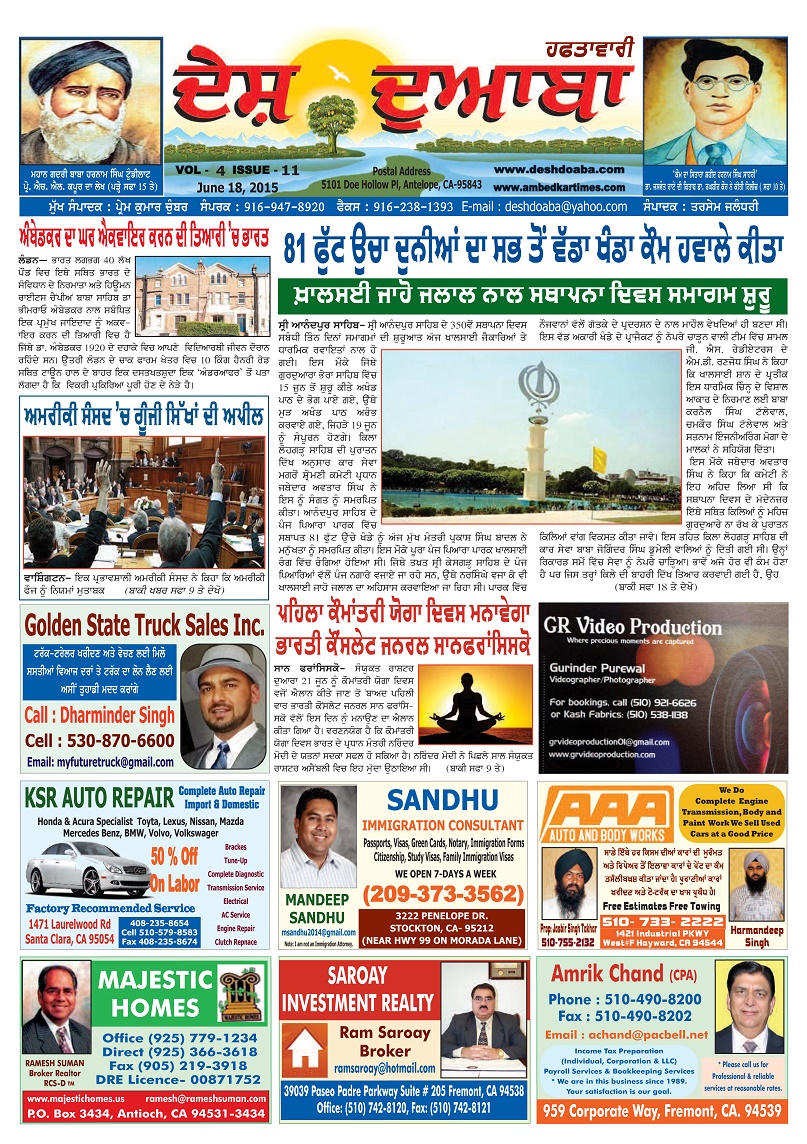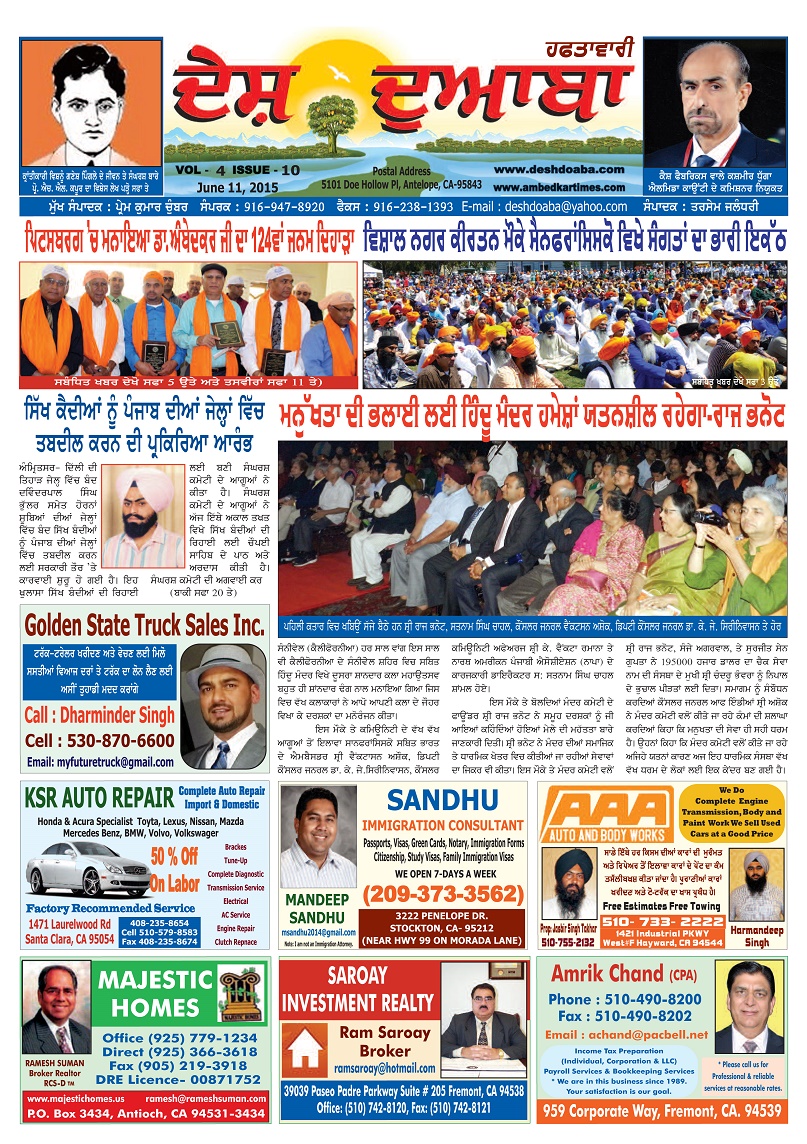 Editor's mail:
Wrongly written
Educate Agitate Organise
Dear Sir,
I was searching some content on Manusmriti and by chance, I visited your website ambedkartimes.com. There i saw message of Baba Saheb which is wrongly written Educate Agitate Organise. In my opinion, it should be written as Educate Organise Agitate. Hope you will respond to my mail very soon.
Regards
Kaushal Gautam
Dated June 7, 2015
Educate Agitate Organize
Editor's Response
Dear Gautam Ji,
Jai Bhim!

Kindly refer to Baba Sahib Dr. B.R. Ambedkar's own words: "My final words of advice to you are educate, agitate and organize; have faith in yourself. With justice on our side, I do not see how we can lose our battle. The battle to me is a matter of joy. The battle is in the fullest sense spiritual......." Dhananjay Keer, Dr. Ambedkar: Life and Mission, Third Edition, 1971, Page 351). Kindly see also: Dr. Babasaheb Ambedkar Writings and Speeches Vol. 1 (Education Department, Govt. of Maharashtra, 1979,) Specially the Chapter on Communal Deadlock and a way to solve it.
Thank you so much for visiting www.ambedkartimes.com. I am so happy that you read the website carefully and I respect your comments towards the site. Please keep in touch.
With regards,
Prem Kumar Chumber
Posted on www.ambedkartimes.com Dated June 8, 2015
Thus the real sequence of the slogan is:
Educate, Agitate and Organize
Prem Kumar Chumber (Editor-In-Chief) chumbermedia@yahoo.com
www.ambedkartimes.com , www.ambedkartimes.org, www.deshdoaba.com
Educate, Organize and Agitate is the most misquoted slogan of Baba Sahib Dr. Ambedkar. Its true version is: Educate Agitate and Organize. Baba Sahib uttered these precious words at the end of his historic speech delivered at the All-India Depressed Classes Conference (July 18-19, 1942 at Nagpur), convened to create an All-India organization with distinct aims and purposes in co-operation with all the inter-provincial forces. It was at this very conference that a declaration was made about the formation of the All-India Scheduled Castes Federation. Below are given the exact words of the concluding part of this historic speech of Baba Sahib, as cited in his 'fascinating biography' authored by Dhananjay Keer:
"My final words of advice to you are educate, agitate and organize; have faith in yourself. With justice on our side, I do not see how we can lose our battle. The battle to me is a matter of joy. The battle is in the fullest sense spiritual. There is nothing material or social in it. For ours is a battle, not for wealth or for power. It is a battle for freedom. It is a battle for the reclamation of human personality" (Bombay: Popular Prakashan, 3rd ed. 1971, p: 351, emphasis added).
Baba Sahib' struggle for the uplift of the socially excluded was precisely spiritual in the sense that it intends to restore their lost dignity and make them equal with all the other sections of the rest of the society. For that the method he chooses was democratic-constitutional. Being educated in the oldest democracies in the world, Dr. Ambedkar imbibed the true spirit of democracy and constitutionalism. He wanted his fellow –beings and his countrymen to follow democratic ways for the peaceful resolution of all one problems including the most fatal one – the Untouchability.
In his democratic scheme of conflict resolution, education figures at the very beginning of the social struggle. Hence "educate" comes first in his three stepped slogan of educate, agitate and organize. By education Baba Sahib did not mean merely certificates and degrees. For him to educate means to become aware of ones real life conditions; to be conscious of ones surroundings; to raise objection to the inhuman existence in the society; and to ask for change for the better. "Tell the slaves he is a slave and he will revolt", that is the real meaning of education.
It is such education that will stir agitation within, leading to what Baba Sahib called "agitate". To "agitate" does not mean to organize guerrilla warfare, to do murda bad – murda bab. On the contrary, it means to become aware about ones social conditions and to seek viable steps for the eradications of the causes of the problems. Baba Sahib told us that only real and true education could only make us to "agitate".
And it is this agitation, which is within, that would ultimately help us to "organize". The true example of which is Baba Sahib himself, who after obtaining critical and rational sense through his education felt toofan within and consequently organized three political parties (Independent Labor Party, Scheduled Caste Federation and Republican Party of India) to secure Dalit human rights.
Thus the real sequence of the slogan is: Educate Agitate and Organize. (Mobile: USA 916-947-8920)
SARDAR MAHAN SINGH DHESI ANNUAL LECTURE 2014
SOCIO-RELIGIOUS IDEAS IN NORTH WESTERN INDIA
DURING THE EIGHTEENTH CENTURY:
ANALYZING THE VERSES OF THREE MAJOR POETS

Mahan Singh Dhesi Annual Lecture delivered by
Prof. Surinder Singh, Panjab University, Chandigarh.
It has been published in Journal of Regional History, Guru Nanak Dev University.
Please click here for Sardar Mahan Singh Dhesi annual lecture 2014
SRI GURU RAVIDASS SABHA PITTSBURG (CA) CORDIALLY
INVITES THE ENTIRE SANGAT TO GRACE THE FOLLOWING
FUNCTIONS WITH THEIR PRESENCE AT THE TEMPLE
May 31, 2015 - Sukhmani Sahib Path Langar Sewa by Bhai Joginder Singh
Sri Sukhmani Sahib Path and Langar sewa will be hosted by Bhai Joginder Singh ji (Delhi Wale) and family in the loving memory of their parents. May Waheguru keep HIS blessing on the family. Family is requesting entire Sangat to join them in Ardas.
June 7, 2015 - Baba Sahib Dr. Ambedkar's Birthday
Gurughar committee in cooperation with entire Sangat is celebrating Dr. Bhimrao Ramji Ambedkar's Birthday. He was Independent India's first Law-minister and the principal architect of the Constitution of India. Sri Sukhmani Sahib Path and Langar Sewa will be hosted by Gurughar. Entire Sangat is requested to participate whole heartedly.
June 14, 2015 - Sukhmani Sahib Path by Gurughar
Sri Sukhmani Sahib Path and Langar Sewa will be hosted by all board members in cooperation of entire Sangat. Entire Sangat is requested to attend the function.
June 21, 2015 - Sukhmani Sahib Path and Langar
Sri Sukhmani Sahib Path and Langar Sewa will be hosted by Sangat. Entire Sangat is requested to attend the function
June 26-27-28, 2015 - Pittsburg Gurughar's 30th Anniversary
Sri Guru Ravidass Temple Pittsburg's 30th anniversary will be celebrated on June 28, 2015. Akhand Path will start on Friday 6/26/2015 at 10am and will be concluded with Bhog ceremony on Sunday 6/28/2015. Path and langar Sewa will be hosted by Gurughar with the help and cooperation of entire Sangat. Jatha Bhai Baljeet Singh ji San Jose wale, Ragi Jatha Giani Ompal Singh, Giani Gurnam Singh Ji will adorn the occasion along with Giani Parkash Singh. Entire Sangat is requested to attend the function.

July 05, 2015 - Sukhmani Sahib Path and Langar Sewa by Bhai Rashpal Rattu
Sri Sukhmani Sahib Path and langar Sewa will be hosted by Bhai Rashpal Rattu and Bibi Tosha Rani Rattu along with their son Michael Rattu in celebration of their daughter Manisha Rattu's High School Graduation and going to Stanford University for further education. Family is requesting the entire Sangat to participate.

July 12, 2015 - Sukhmani Sahib Path and Langar Sewa by Bhai Surjit Singh & Kamaljit Kaur Rattu
Sri Sukhmani Sahib Path and Langar Sewa will be hosted by Bhai Surjit Singh Rattu and Bibi Kamaljit Kaur Rattu in celebration of their daughter Harpreet Kaur's (Granddaughter of Harbans Singh and Gyan Rattu) 18th Birthday. May Waheguru bless Harpreet Kaur with happy helathy and long life. Entire Sangat is requested to attend the function.
Selection of the new committee for 2015-2016
will be in July so please renew your membership.
SEWADARS:
Faqira Mehmi Chairman & Ramesh Suman President
Dilbag Singh General Secretary & Narinder Chahal Treasurer
Posted on www.ambedkartimes.com Dated May 29, 2015
| | |
| --- | --- |
| | |
AMBEDKAR MEMORIAL IN LONDON COMES TO REALITY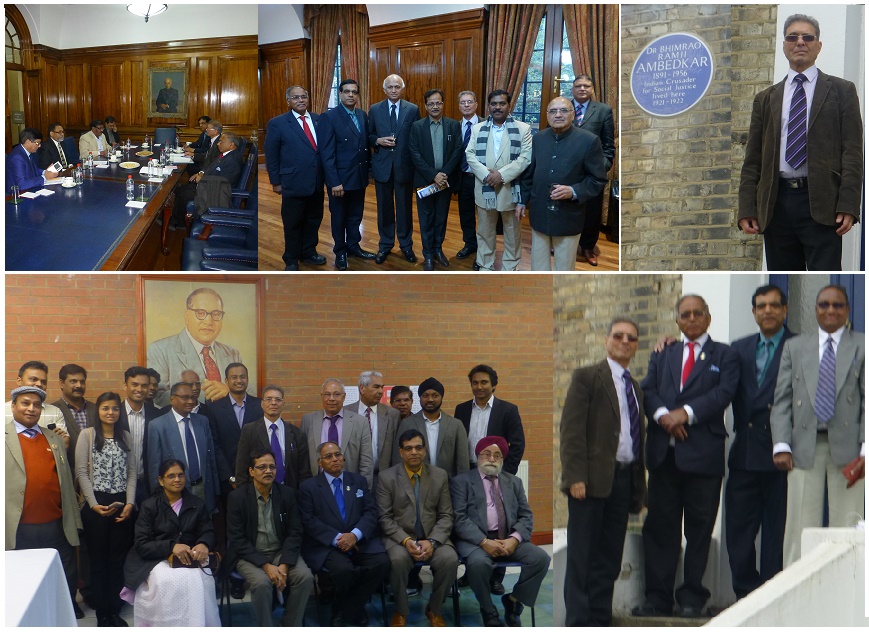 A three member delegation of the government of Maharashtra (GOM) including Minister for Social Justice and Special Assistance, Raj Kumar Badole, Minister of State, Dilip Kamble and Principal Secretary Ujjwal Uke visited London from 23rd to 28 April to hold talks with the Indian High Commissioner (IHC), solicitors and evaluators to finalise the purchase of the house 10 King Henrys Road, in North London where Dr Ambedkar stayed during his studies at the London School of Economics during 1921-22.
Proposal to buy this house and turn into a memorial to Dr Ambedkar, his life and works was submitted by the Federation of Ambedkarite and Buddhist Organisations UK (FABO UK). It was proposed to convert the property into a cultural and educational centre that generations of Indians in the UK and visitors interested or inspired by Dr Ambedkar's key roles in furthering social justice, human rights and equal treatment issues could visit. After visiting the house, the delegation had discussions with the Indian High Commission officials and the solicitor firm to complete the legal formalities. Read more
GREAT GADRI BABA MUGGOWALIA'S
36th ANNIVERSARY CELEBRATION

Shri Guru Ravidass Sabha Fresno (California) celebrated birth anniversaries of Great Bahujan Leader Sahib Shri Kanshi Ram Ji and Bharat Rattan Babasaheb Dr. Bhimrao Ramji Ambedkar respectively on March 29, 2015 & April 26, 2015 and now Shri Guru Ravidass Sabha Fresno (California) will celebrate Great Gadri Baba Mangu Ram Muggowalia Ji's 36th death anniversary on Sunday, May 2, 2015 at Shri Guru Ravidass Temple Fresno (California). The Sabha cordially is inviting entire Sangat on this celebration.
GLORIOUS VICTORY OF CURRENT MANAGEMENT
COMMITTEE IN THE RECENT ELECTION OF
SIKH GURDWARA SAHIB SAN JOSE
(Read More)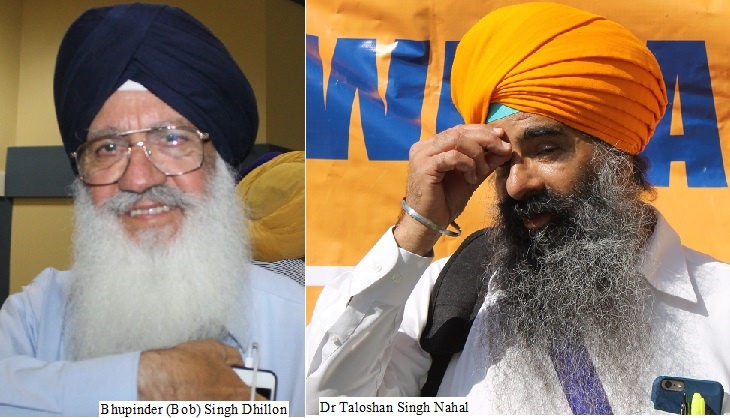 Ambedkartimes.com and the so-called Upper Castes
Read more
This site has been dedicated to Bharat Rattan Baba Sahib Dr. Bhimrao Ramji Ambedkar in the memory of Babu Mangu Ram Muggowalia, Gadharite and founder of Ad Dharm Movement in Punjab. The sole aim of this site is to highlight the plight of the Mulnivasis (Inhabitants) of India who have not only been deprived of their due share in the wealth of their own country, but had also been subjected to untold miseries over centuries. Atrocities against them are still rampant in almost all the parts of the country. Hardly a day passes when there is no news about the social boycott or physical repression of all sorts on them. Ambedkartimes.com is duty bound to highlight all such incidents as well as to seek and articulate some solid perspective for the amelioration of this age-old problem old social exclusion and blatant violation of the basic human rights of the Dalit brethren.
I once again thanks for your kind support and also expect the same in future too so that this modest attempt would continue in the service of our community. www.ambedkartimes.com deeply welcome your suggestions for its better functioning. This is your web site and it is you who have to make it successful. Kindly send your valuable articles, news reports, and opinions regularly, we would be pleased to carry them gratefully.
Prem K. Chumber (Editor: ambedkartimes.com)