Dr. Ambedkar song written by Gurdass Ram Alam & Lyric Chandan Singh USA

(Special # www.ambedkartimes.com)
CALIFORNIA WILL SAVE KIDS'
LIVES AT SCHOOLS BY MANDATING
THE STOCKINGOF EPINEPHRINE AUTO INJECTORS
Sacramento (Sept. 16, 2014). As per press release of Senate Republican Leader Bob Huff, the Senate Bill 1266 was signed into law on 9/15/2014 by California Governor Jerry Brown. Introduced by Sen. Bob Huff on 2/21/2014, it went through 35 steps before reaching the Governor. It will require schools to stock Epinephrine auto injectors on campus, effective January 1, 2015. The school nurse or a well-trained volunteer teacher or staff will be able to administer this critically important medicine quickly and safely within a few minutes, if a student suffers from a serious anaphylactic allergy reaction during school hours, and save his/her life. "SB 1266 will help save lives by ensuring emergency medication is available at schools, especially helping students who don't know they have an allergy," Senator Huff has said.

The press release adds, "This issue recently drew the attention of President Barak Obama, who signed federal legislation that rewards states who require stocking Epinephrine in schools, by giving them possible preferential treatment in the awarding of certain grants (HR 2094 – School Access to Emergency Epinephrine Act). Current California law allows schools to stock epinephrine, but does not require it."

Many organizations and numerous individuals, including, Prof. Onkar S. Bindra, a Sikh educationist, testified before the various committees of the State Assembly and the Senate. He is thankful to the Sikh Sangat, his friends, and their friends, who supported the SB 1266 (Huff) through letters, faxes or phone calls to the Governor's office. Bindra adds that, we should continue supporting SB 1057 (Corbett) -revision of Content Standards for History-Social Science by phone (916-445-2841), fax (916-558-3160) or e-mail (governor@governor.ca.gov
Posted on www.ambedkartimes.com September 16, 2014
ASSEMBLYMEMBER WIECKOWSKI APPLAUDS
FEDERAL LAWSUIT AGAINST CORINTHIAN COLLEGE
Consumer Financial Protection Bureau says students were lured in by false job prospects and sold high-cost loans
Fremont – Assemblymember Bob Wieckowski (D-Fremont), a strong-supporter of reforms to reduce student-loan debt, today said he supports the federal Consumer Financial Protection Bureau's lawsuit against Corinthian Colleges and its effort to eliminate over half a billion dollars in outstanding private debt held by students.
"For too long, some irresponsible institutions in the for-profit higher education industry have ripped off taxpayers and loaded enormous amounts of debt on some of our most vulnerable students and their co-signers," Wieckowski said. "These institutions benefit from a disproportionate level of loans given the amount of students they serve and they often provide far too little educational value in return. The students and their families are left heavily in debt and it's a debt that will burden them financially for decades. This adversely affects our economy and benefits no one except the individual companies and their shareholders. I applaud the bureau's action and the steps it is taking to protect consumers and taxpayers."
The CFPB alleges that Corinthian lured tens of thousands of students to take out private loans to cover expensive tuition costs by advertising bogus job prospects and career services. It also alleges the use of illegal debt collection tactics to get students to pay back loans while still in school. The bureau is demanding the school forgive more than $500 million in private loans.
Wieckowski has battled for-profit colleges in the past, seeking to tighten eligibility requirements on higher education institutions that receive Cal Grant funds. Tougher eligibility standards were adopted through the state budget process by Governor Brown and have improved accountability of Cal Grant funds, ensuring that students are using them at higher-performing institutions. The Assemblymember also authored AB 233 to prohibit the garnishment of student wages on private loans. The bill passed the Assembly, but was defeated in the Senate last month in the final days of session.
The Associated Students of University of California, Davis and the Children's Advocacy Institute of the University of San Diego School of Law named him Legislator of the Year for his work on student debt issues.
Posted on www.ambedkartimes.com September 16, 2014
THE TJX COMPANIES, INC. TO PAY $2,777,500
SETTLEMENT FOR ENVIRONMENTAL VIOLATIONS
Alameda County District Attorney Nancy E. O'Malley, along with 34 other California District Attorneys and two City Attorneys, announced today that Monterey County Superior Court Judge Thomas W. Wills has ordered Massachusetts-based retailer The TJX Companies, Inc. to pay $2,777,500 million as part of a settlement of a civil environmental prosecution. The TJX Companies, Inc. operates throughout California as T.J. Maxx, Marshalls and HomeGoods brands.
"The unsafe and unlawful handling and disposal of hazardous waste allows pollutants to seep into the ground and the waterways, putting our communities at risk," states D.A. O'Malley. "Today's settlement marks a victory for the environment and should also serve as a strong message to other companies and individuals that engage in illegal disposal practices. My Office remains vigilant in its efforts to ensure that those who commit offenses that are harmful to the environment are brought to justice."
The judgment is the culmination of a civil enforcement action filed on September 10, 2014 in Monterey County and led by the District Attorneys of Alameda and Monterey counties, claiming that more than 286 T.J. Maxx, Marshalls and HomeGoods stores throughout the state unlawfully handled and disposed of various hazardous wastes and materials over a five and a half year period. Those hazardous wastes and materials included electronic waste, cosmetics, batteries, mercury lamps, personal care products, aerosol spray cans and other toxic and ignitable materials.
During 2012 and 2013, inspectors from the Alameda County District Attorney's Office Environmental Protection Division, investigators from the Monterey County District Attorney's Office and the California Department of Toxic Substances Control, conducted a series of waste inspections in Alameda and Monterey counties of dumpsters belonging to Marshalls and T.J. Maxx stores. The inspections revealed that The TJX Companies, Inc. was routinely and systematically sending hazardous wastes to local landfills that were not permitted to receive those wastes.
The TJX Companies, Inc. was cooperative throughout the investigation and, as a result of the investigation, has now adopted and implemented policies and procedures designed to eliminate the disposal of hazardous waste products in California. Stores are required to retain their hazardous waste in segregated, labeled containers so as to minimize the risk of exposure to employees and customers and to ensure that incompatible wastes do not combine to cause dangerous chemical reactions. Hazardous waste produced by California TJX Companies, Inc. stores through damage, spills and returns is now being collected by state-registered haulers, taken to proper disposal facilities and properly documented and accounted for.
There are four T.J. Maxx stores, four Marshalls stores and one HomeGoods store in Alameda County. All nine stores were found to be mismanaging hazardous waste.
Under the final judgment, TJX Companies, Inc. must pay $2.4 million in civil penalties and costs. An additional $375,000 will fund supplemental environmental projects furthering consumer protection and environmental enforcement in California. The retailer will be bound under the terms of a permanent injunction prohibiting similar future violations of law.
Contact:Assistant District Attorney Ken Mifsud, Alameda County District Attorney's Office (510)777-2230
Ken.mifsud@acgov.org www.alcoda.org Posted on www.ambedkartimes.com September 16, 2014
SHRI GURU RAVIDASS SABHA
PITTSBURG (CA) NEW COMMITTEE
For more informatio, may be contact:
Mr. Ramesh Suman (President) 925-366-3618
OR Mr. Faqira Mehmi (Chairman) 925-698-1341
EXECUTIVE
COMMITTEE:


Chairman:
Faqira Mehmi
Vice Chairman:
Harmesh Bangar
President:
Ramesh Suman
1st Vice President: Som Nath Bhatia
2nd Vice President: Kulwant K Banga
General Secretary: Dilbag Singh
Assistant Secretary: Abhishek Pal
Treasurer: Narinder Chahal
1st Assistant Treasurer: Jarnail Dugh
2nd Assistant Treasurer: Jagtar Bhatia

BOARD OF DIRECTORS
Abhishek Pal (Assistant Secretary)
Dilbag Singh (General Secretary)
Faqira Mehmi (Chairman)
Gurdev Singh Sidhu
Gurnam S. Rattu
Harmesh Bangar (Vice Chairman)
Jagtar Bhatia (2nd Assistant Treasure)
Balbir Paul Bagha
Jarnail Singh Nambardar
Karnayal Singh Narabat
Kashmir Bali
Kulwant Kaur Banga (2nd V President)
Narinder Chahal (Treasure)
Ramesh Suman (President)
Rani Narabat
Simar Kaur Singh
Som Nath Bhatia (1st Vice President)
Taro Bhatia
Vijay K. Paul

CO OPT MEMBERS
Jarnail Dugh (1st Assistant Treasure)
Jindo C Ralh
Kalwant Kaur
Madan Banga
Harbagh Jagur

ADVISORY COMMITTEE:
1) Balvir Chand Mal
2) Jack Ram
3) O.P. Balley
4) Sohan Singh Damria
5) Sukhraj Chopra

LEGAL COMMITTEE
1 Ajay Paul Ram
2 Hem Raj Rattu
3) Shashi K. Paul
Posted on
www.ambedkartimes.com
September 09, 2014
RELIGIOUS LIBERTY COMMISSION
Evangelical Fellowship of India
805/ 92, Deepali Building, Nehru Place, New Delhi, India
Kandhamal: Never Again
On the 6th anniversary of the Kandhamal carnage, the Evangelical Fellowship of India stands in solidarity with the victims of the violence in Kandhamal district of eastern Indian state of Orissa in 2008. Orissa has a long history of anti Christian violence including the attack on the villagers of Kattingia in Kandhamal (1986), a series of burning of 19 churches in Kandhamal (1986-87), the Catholic Health Centre of India near Latur (1996), burning of Bibles and attacks on the Christian congregations and the burning alive of Pastor Graham Steward Stains along with his two sons, Philip and Timothy, aged 9 and 7 years, who were sleeping in a jeep after a village festival. (1999, January).

However, August 25, 2008 started the worst ever violence against the minority Christian population in the history of independent India. Between 75 and 123 people were killed in the violence – though the government has confirmed only 54 deaths in all. The majority of those killed were Christian dalits or adivasi. Many more were injured, close to 5,000 houses belonging to Christians were destroyed partially or fully, and at least 264 churches and prayer halls were desecrated and demolished. An unestimated number suffered severe physical injuries and mental trauma. While there were a few media reports of women being sexually assaulted, many more such victims were threatened into silence. Although Kandhamal was the epicenter of the attacks, the violence spread to over 14 districts of Orissa and a few other states.

Though the Orissa government claims it took strict action against the accused, statistics show that out of the 827 FIRs filed, charges against the accused were framed in only 512. And only 75 cases ended in convictions, in which only 477 persons were convicted but primarily for smaller or "petty†offences such as burning of houses and damaging property. Only nine people have been convicted for their role in killing of the Christians. The failure to effectively prosecute those accused of carrying out violent attacks against the Christian community and the apathy of the state machinery has left victims vulnerable to threats, discrimination and social isolation. The impunity enjoyed by the mobs in Orissa has also emboldened other fundamentalist groups to attack the community elsewhere in the country.

The compensation received by the victims is paltry at best and many victims have complained that they have yet to receive even the full compensation declared by the government. There are petitions pending before the Supreme Court calling for an increase in the compensation payable.

The Evangelical Fellowship of India calls upon the central government and the government of Orissa to take active steps to ensure the protection of the rights of religious minorities in India and strict action is taken against those responsible for violence and hate crimes against religious minorities.


Rev. Dr. Richard Howell,
General Secretary, Evangelical Fellowship of India, New Delhi, India
Evangelical Fellowship of India (established 1951) is a charter member of World Evangelical Alliance, an accredited NGO with the Economic and Social Council of the United Nations
Posted on www.ambedkartimes.com September 06, 2014
STATEMENT ABOUT PM'S TEACHER'S DAY ADDRESS
We are disturbed by the circulars issued by the CBSE and other authorities dealing with different systems like the Central Board of Secondary Education (CBSE), Directorate of Education, Delhi, Kendriya Vidyalaya Sangathan, etc. asking schools to make arrangements to ensure that all the school children across the country listen to the Prime Minister's address to the children in their school premises on the occasion of Teacher's Day on September 5.
It is an extraordinary and unprecedented step in the history of school education in independent India. Not only does this order treat children as passive and captive elements who do not have a view of their own, it also violates the international convention of Child Rights which says that children have a right to form opinion and therefore they need to be asked whether they would like to be part of such an extra-school activity beyond their usual school hours.
Although the MHRD has clarified verbally that this is a voluntary activity and not binding on the schools and children, yet the written orders by the authorities are still in vogue asking the schools to furnish the status report by 2nd September and remain prepared for surprise inspections in this regard. Moreover schools are being asked to spend from their own resource pool which in itself is very poor and inadequate. The resources identified for school related activities are sought to be diverted for an extraneous activity, not intrinsic to the curriculum.
The Prime Minister is taking over the day, which belongs to the teaching community and pushing them off stage. This attempt to hegemonize social spaces needs to be condemned and resisted. The Prime Minister is not the Teacher-in-Chief of the country and he should leave the children alone.
We demand that the orders issued in this regard be withdrawn immediately and the solemnity and gaity of the day be left untouched.
1. Apoorvanand, Delhi University, 2. Mukul Priyadarshini, Miranda House, Delhi University, 3. Prachi Kalra, University of Delhi, 4. Laxmi Murthy, Journalist, Bangalore, 5. Jenny Rowena, Dept of English, Miranda House, University of Delhi, 6. Hany Babu, Dept of English, University of Delhi , 7. Dvijendra Nath Kalia, University of Delhi, 8. Firoz Ahmad B-8, Neelkanth-1, Burari Main Road, Sant Nagar, Delhi- 110084 , 9. Ira Singh, Deptt of English, Miranda House, 10. Preeti Chauhan, Lakshmibai College, 11. Om Prakash, Zakir Hussain Delhi College, 12. Ashu Threja , 13. Radhika Menon, University 0f Delhi, 14. Naveen Gaur, , 15. Dr Yasser Arafath, Dept of History, University of Delhi, 16. Asmita Aasaavari, CORD, New Delhi, 17. Abha Dev Habib, Physics Department, Miranda House, University of Delhi, 18. Nidhi Seth, Delhi, 19. Nandini Dutta, Miranda House, University 0f Delhi, 20. Nidhi Gulati, University 0f Delhi, 21. Sadhna Saxena, CIE, University 0f Delhi, 22. Prabhat Kumar, Ankur Society for Alternatives in Education, Delhi, 23. Tultul Biswas, Bhopal, 24. Dr. Rohini Hensman, writer and independent scholar, Mumbai, 25. Dr) Jairus Banaji (historian, Mumbai/SOAS London, 26. Kasim Sait, 27. Manisha Sethi, JMI, 28. Sanghamitra Misra, DU, 29. Rahul Govind, DU, , 30. Tanweer Fazal, JNU, 31. Mona Das, DU , 32. Ahmed Sohaib JMI, 33. Aparajay, student from MIDS, Chennai 34. Mohammad Imran, 35. Nivedita Menon, Professor, JNU, 36. Kamayani Bali Mahabal, Feminist and Human Rights Activist, Bombay, 37. Nandini Manjrekar, TISS, Mumbai, 38. Smriti Sharma, University 0f Delhi, 39. Senganglu THaimei, Dept of English, Miranda House, University of Delhi, 40. Shweta Sachdeva Jha, Dept of English, Miranda House, University of Delhi, 41. Parul Bharadwaj, Dept of English, Miranda House, University of Delhi, 42. Yemuna Sunny, Eklavya, Hoshangabad, MP, 43. Tanvir Aeijaz, Ramjas College, University of Delhi, 44. Janaki Nair, JNU, 45. Janaki Rajan, Jamia Millia Islamia, 46. Sukla Sen , Mumbai, 47. Shrenik Mutha, MKSS, Rajasthan, 48. Yemuna , 49. Mukul Dube, Delhi , 50. Kiran Shaeen, Journalist,Delhi, 51. Nasiruddin H Khan, Journalist, Delhi, 52. Dr. Manoj Kumar Jha,Professor and Head'Department of Social Work University of Delhi, 53. Kasim Sait, 54. Dinesh Patel, Eklavya, Bhopal, 55. Uday Kumar, Professor, Department of English, DU, 56. Firoz Ahmaed, Delhi, 57. Reyazul Haq, Writer, Delhi, 58. Aamir Edresy, President, Association of Muslim Professionals, 59. Tejaswini Niranjana, TISS, Mumbai, 60. Vineet TiwariGen. Secretary, Madhya Pradesh Progressive Writers Association, 61. Mohammad Imran, 62. Dhwal Jaiswal, Researcher, Delhi University, 63. Sandeep Dube, Ellavya, Bhopal, 64. Laxmi Murthy, Journalist, Bangalore, 65. Shabnam Hashmi, 66. Bhavna Sharma
Posted on www.ambedkartimes.com September 05, 2014
DEPUTY CM CONSTITUTES HIGH POWERED COMMITTEE
FOR DEVELOPMENT OF UPCOMING SECTORS IN MOHALI

(Zirakpur and Dera Bassi urban areas to be developed as satellite towns)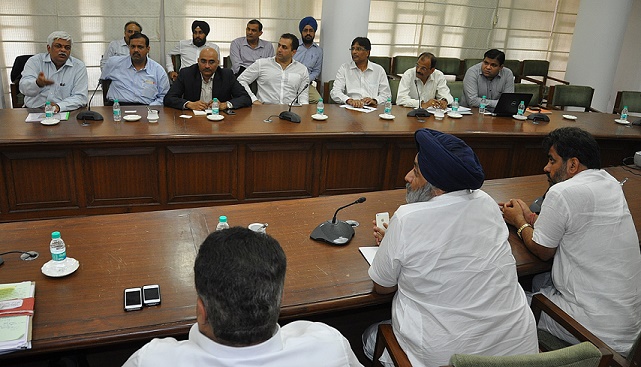 Punjab Deputy CM Mr Sukhbir Singh Badal presiding over a review meeting
on expansion plan of New Sectors of SAS Nagar (Mohali) on 25-08-2014 at Chandigarh.
Chandigarh August 25: Punjab Deputy Chief Minister Mr. Sukhbir Singh Badal has constituted a high powered committee under the chairmanship of the state Chief Secretary to develop upcoming sectors in SAS Nagar with the ultra modern civic amenities and world class infra structure.
Presiding over a meeting especially convened to study the development plan along with the senior officers of the concerned departments Mr. Badal said that the Principal Secretaries of the departments of Urban Housing Development, Local Bodies, heads of PUDA, GAMADA, PIDB and one representatives from consultant company IF&LS would be the members of the newly constituted committee. The committee has been asked to submit its report after a thorough study of the blue print prepared to develop these new sectors strictly in accordance with the laid down norms of the Punjab government by October 1.
Mr. Badal also said that these sectors would be developed under design-built-operate (DBO) basis and the project could be handed over to IF&LS under Swiss challenge system after scrutinizing the suggestions of the high powered committee. The Deputy Chief Minister has asked that the company responsible for the development of these new sectors would ensure the scientific technique of the disposal of solid waste material, uninterrupted water supply system, power backup structure, road network, transport facilities, adequate street lighting facilities and clean and green environs to the populace.
The Deputy CM added that entire expansion of SAS Nagar city including its lay out, landscaping and development would be developed as the world class town with the ultra modern civic amenities and infra structure. He also directed the housing department to develop and ensure efficient planning of Zirakpur and Dera Bassi urban areas as satellite towns of SAS Nagar in a phased manner. Deputy CM also said that the housing company would be responsible for providing the basic amenities to the residents and would also be responsible for any lapse in this regard.
Prominent amongst others present in the meeting included Chief Parliamentary Secretary Mr NK Sharma, Chief Secretary Mr. Sarvesh Kaushal, Principal Secretary Housing A. Venu Prasad, Principal Secretary to Deputy Chief Minister Mr. P.S. Aujla, Secretary Transport Mr Anurag Aggarwal, Secretary Local Bodies Mr Ashok Gupta, Mr. Rahul Tiwari, Manvesh Singh Sidhu and Ajay Mahajan (all Special Principal Secretaries to Deputy CM), Chief Administrator GAMADA, Mr. A.K. Sinha and representatives of IF&LC group.
Posted on www.ambedkartimes.com August 25, 2014
This site has been dedicated to Bharat Rattan Baba Sahib Dr. Bhimrao Ramji Ambedkar in the memory of Babu Mangu Ram Muggowalia, Gadharite and founder of Ad Dharm Movement in Punjab. The sole aim of this site is to highlight the plight of the Mulnivasis (Inhabitants) of India who have not only been deprived of their due share in the wealth of their own country, but had also been subjected to untold miseries over centuries. Atrocities against them are still rampant in almost all the parts of the country. Hardly a day passes when there is no news about the social boycott or physical repression of all sorts on them. Ambedkartimes.com is duty bound to highlight all such incidents as well as to seek and articulate some solid perspective for the amelioration of this age-old problem old social exclusion and blatant violation of the basic human rights of the Dalit brethren.
I once again thanks for your kind support and also expect the same in future too so that this modest attempt would continue in the service of our community. www.ambedkartimes.com deeply welcome your suggestions for its better functioning. This is your web site and it is you who have to make it successful. Kindly send your valuable articles, news reports, and opinions regularly, we would be pleased to carry them gratefully.
Prem K. Chumber (Editor: ambedkartimes.com)