| | | |
| --- | --- | --- |
| | | |

Happy Republic Day (January 26, 2015)
Freedom, Caste and Nation
Prem Kumar Chumber
Editor-In-Chief: Ambedkar Times & Desh Doaba
Babasaheb Dr. Ambedkar said that "He who is not a slave of circumstances and is always ready and striving to change them in his favour, I call him free. One who is not a slave of usage, customs, of meaningless rituals and ceremonies, of superstitions and traditions; whose flame of reason has not been extinguished, I call him a free man." On the freedom of India while expressing his joy he said "Independence is no doubt a matter of joy. But let us not forget that this independence has thrown on us greater responsibilities. By independence, we have lost the excuse of blaming the British for anything going wrong. If hereafter things go wrong, we will have nobody to blame except ourselves. There is a greater danger of things going wrong. Times are fast changing." The evil of caste system continues to stay with us even after sixty-eight years of India's Independence! We have to blame ourselves for this bad deed. But the first question is who are these 'ourselves'? Why they did not put the caste to an end? On the contrary, caste seems to be rather getting further strengthened given the distribution of tickets for elections to the state assemblies and the national legislature. Even grassroots electoral bodies are not spared. Babasaheb Dr. Ambedkar views that "There is no nation of Indians in the real sense of the world; it is yet to be created. In believing we are a nation, we are cherishing a great delusion. How can people divided into thousands of castes be a nation? The sooner we realize that we are not yet a nation, in a social and psychological sense of the world, the better for us", sound perfect with the current ground realities in India.
To tackle the menace of caste and to put an end to it, Babasaheb struggled with full determination and courage. He did whatever possible within his reach to root out the caste system from the social soils of India. One of his seminal contributions in that regard is the drafting of the constitution of Independent India. In his own words, "I feel that the constitution is workable, it is flexible and it is strong enough to hold the country together both in peacetime and in wartime. Indeed, if I may say so, if things go wrong under the new Constitution, the reason will not be that we had a bad Constitution. What we will have to say is that Man was vile." He further said "On 26th January 1950, we are going to enter into a life of contradictions. In politics, we will have equality and in social and economic structure, continue to deny the principle of one man one value. How long shall we continue to live this life of contradictions? How long shall we continue to deny equality in our social and economic life? If we continue to deny it for long, we will do so only by putting our political democracy in peril. We must remove this contradiction at the earliest possible moment else those who suffer from inequality will blow up the structure of democracy which this Constituent Assembly has so laboriously built up."
Let us take a lesson from the warning of Babasaheb and join our hand to annihilate caste from India and usher in a new era of social democracy which facilitates the fulfillment of his dreams India: free from the evil of caste and vibrant with social justice and peace all around.
Posted on www.ambedkartimes.com January 26, 2015

Dr. Ambedkar song written by Gurdass Ram Alam & Lyric Chandan Singh USA

(Special # www.ambedkartimes.com)

PURCHASE OF DR. AMBEDKAR'S FORMER RESIDENCE IN LONDON
It is our pleasure to inform our worthy contributors, readers & well-wishers that the Maharashtra Government has given a go ahead to buy Bharat Rattan Babasaheb Dr. Bhimrao Ramji Ambedkar house in London where he stayed during his studies in London. It has been confirmed by the Education Minister, Govt. of Maharashtra. The legal procedure to buy the house has already begun. This is a biggest tribute to the Father of the Indian Constitution on the Republic Day of India.
Brother Mr. Arun Kumar, General Secretary, Federation of Ambedkarite & Buddhist Organizations UK sent us this information with great pleasure to publish in Ambedkar Times group of websites & newspapers. We will publish his special press note soon and thank him, for his regular and timely contribution.
Following week, we are going to publish more details in "Ambedkar Times" and "Desh Doaba" newspapers. If anyone has information or want to write something regarding this good news, please contact @ 001-916-947-8920 OR email us at chumbermedia@gmail.com by this Sunday.
Regards,
Prem Chumber
Posted on www.ambedkartimes.com January 24, 2015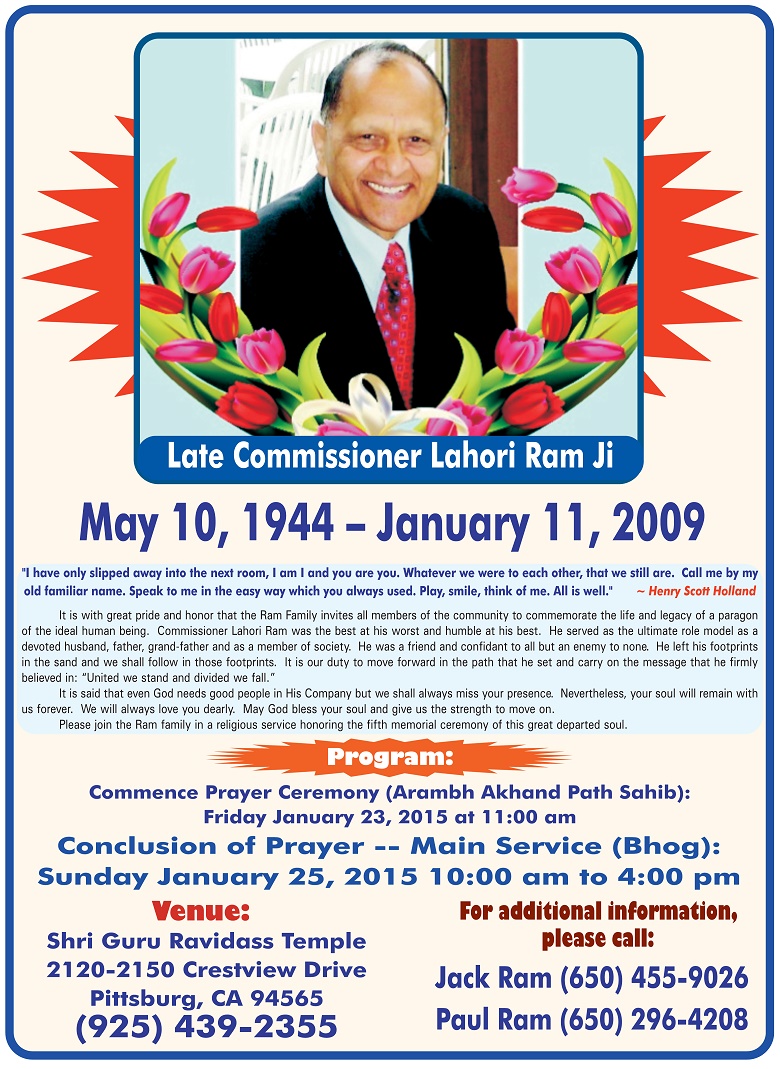 Special on his birth anniversary
BABU MANGU RAM MUGGOWALIA
AND DALIT IDENTITY IN PUNJAB
Prem Kumar Chumber
Editor-In-Chief: Ambedkar Times & Desh Doaba
Babu Mangu Ram Muggowalia founded Ad Dharm movement for the emancipation and empowerment of his people. He organized all the ex-untouchable castes falling under the then category of the Depressed Classes in Punjab and reminded them of their rich heritage. He told them how they were reduced into worse than slaves in their own land by the alien Aryans who brought with them their sick social system called caste and oppressed them with the whip of untouchability. He told his people that for them the real battle is the battle against the Chaturvarna system of Brahminical Hinduism. He reiterated that Scheduled Castes are neither Hindu nor Sikh. They are also neither Muslim nor Christian. They are the original inhabitants of this ancient land called Bharat (he called it Hind). Their real religion (Ad Dharm) was much older than Hinduism, Buddhism, Christianity, Islam and Sikhism. All these religion are born after Ad Dharm, the real religion of the original inhabitants of India. He said that the Hindus did not only subjugate them but also made their religion oblivious; and thus made the ex-untouchables their slaves. He said that real freedom for the indigenous people will be to liberate themselves not only from the British rulers but also from Brahmanism.
He struggled hard to convince British rulers to include Ad Dharm in the Census list of 1931 as a separate religion of the Depressed Classes in Punjab in 1931. A great victory of the Dalits indeed! Babu Mangu Ram Mugowalia became the pioneer of seeking political power as a key to all the problems of the community. In 1937, his Ad Dharm won 7 out of all the 8 reserved seats in Punjab. He also stood like a rock with Dr. Ambedkar in his tirade against caste annihilation at the national level. During Dr. Ambedkar's fight with Gandhi at the Roundtable Conferences in London (1930-32), Babu Mangu Ram Mugowalia sent telegrams in support of the former as the leader of the untouchables in India against Gandhi. In 1946, Babu Mangu Ram Mugowalia was elected to the Punjab Legislative Assembly from Hoshiarpur.
Through his consistent efforts, people of Punjab became aware of their rights. They started recognizing their true position in the given circumstances which helped them shape their identity in a distinct way. Ad Dharm gave them their true Gurus, cultural symbols, prayers, organizations and religion, which they are very proud of. On the day, January 14, 2014, Ambedkartimes.com, Ambedkartimes.org,Deshdoaba.com and Ambedkar Times & Desh Doaba newspapers fondly remember Babu Mangu Ram Ji Muggowalia Ji, the architect of distinct Punjabi Dalit identity.
Posted on www.ambedkartimes.com January 14, 2014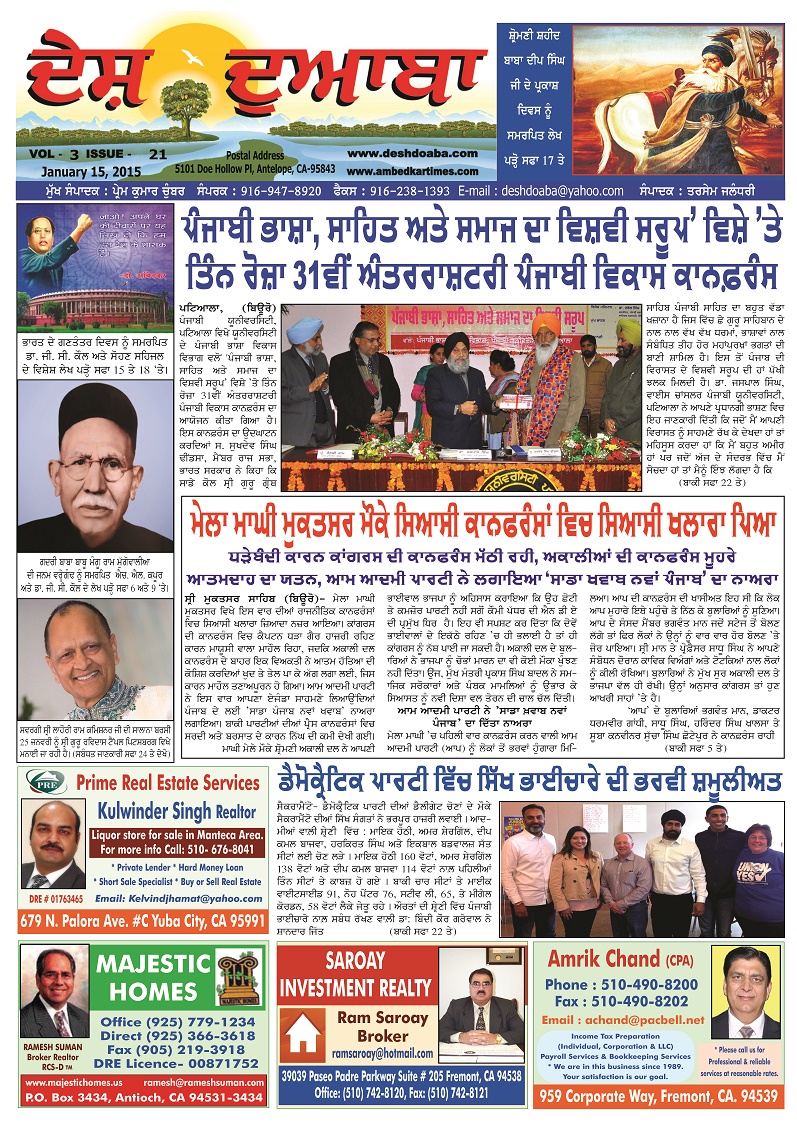 CALIFORNIA'S GOVERNOR
EDMUND G. BROWN JR. SWORN IN
Read more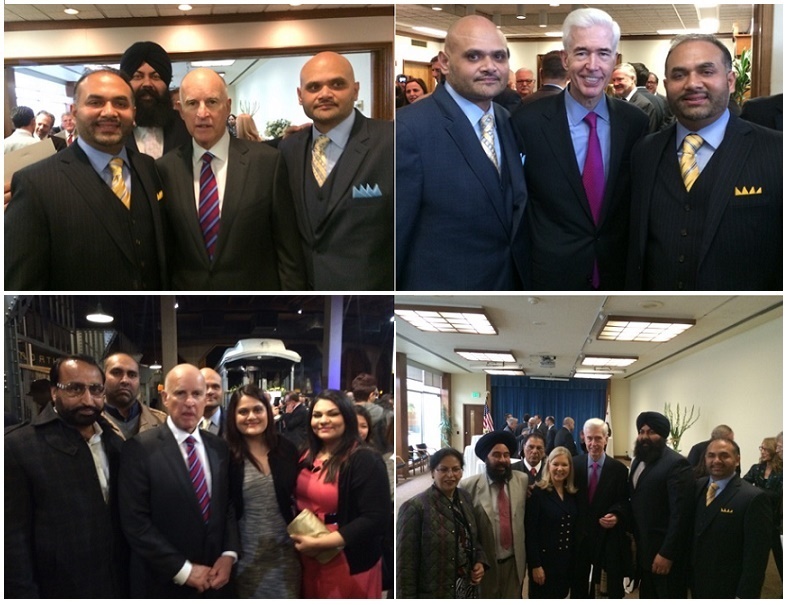 Dear Editor Prem Chumber,
I am writing this to wish you and the Ambedkar Times Group of Publications a Happy New Year and success and prosperity in the years to come.

I have observed, of late, that the Ambedkar Times and Desh Doaba have improved its presentation, content and schedule. It is gratifying to note that more and more people are benefitting from these papers. It was nice to meet and discuss with you matters of mutual and community interest during your visit to India in October/November last year. I take this opportunity to wish you personal good health.
With regards
(Ramesh Chander)
Ambassador-IFS (Retired)
Posted on www.ambedkartimes.com January 1, 2015
DR. MARTIN LUTHER
KING JR.'s
MESSAGE
AMBEDKAR TIMES CONGRATULATES TO ALL
ON BIRTH ANNIVERSARY OF SAVITRI BAI PHULE
ELEVEN QUARRIES
TO BE FULLY OPERATIONAL
BY COMING MONDAY-

SUKHBIR BADAL
AMBEDKAR TIMES PAYS FLORAL TRIBUTE TO OUR FOREFATHERS
WHO COURAGEOUSLY FOUGHT THE BATTLE OF BHĪMA KOREGAON
AMBEDKAR TIMES GROUP
wishes very very Happy New Year 2015
to all its contributors, readers and well-
wishers and eagerly sought their continuous
support to widen and improve the quality of
the soft and print copies of our newspapers:
Ambedkar Times (English & Punjabi)
Desh Doaba (Punjabi).
Prem Kumar Chumber(Editor-In-Chief)

MANUSMRUTI DAHAN DIN

Dr. K. Jamanadas Read more
AMBEDKARTIMES.COM PAYS ITS GLOWING TRIBUTE TO
Bharat Rattan Babasaheb DR. AMBEDKAR ON HIS 58th PRINIRVAN DIVAS DEC. 6TH, 2014
EDUCATION, SOCIAL TRANSFORMATION
AND EMPOWERMENT Read more

Ambedkartimes.com and the so-called Upper Castes
Read more
AMBEDKARTIMES.COM
TRIBUTE TO THE GREAT
SAHIB KANSHI RAM JI
March15th, 1934 - October 09th, 2006

Prem Chumber
Editor-in- Chief www.ambedkartimes.com
Sahib Kanshi Ram Ji was born on March 15, 1934, in Khawas Pur village of Ropar District of Punjab. He belonged to the Ramdassia community (Ad Dharmi) of the Scheduled Caste group, which is the largest group in Punjab. He was named Kanshi because after his birth the midwife placed him in a tray made of kansa metal. His father owned some land and his uncles were in the armed forces. In Sahib Shri Kanshi Ram's own words, "I was born and brought up amongst those who sacrificed themselves but never betrayed the country..." Despite his low caste background, he earned a bachelor's degree in science from the Government College at Ropar ( Punjab). Soon after, he joined the research staff of Kirki's Explosive Research and Development Laboratory (ERDL) in Pune 1957. While working in Pune, he quit his job after becoming involved in the famous Deena Bhan case. Deena Bhan, a Rajasthani Scheduled Caste employee and senior colleague of Sahib Shri Kanshi Ram was suspended. His fault was that he protested against the decision of ERDL management for the cancellation of holidays for Dr. Ambedkar and Lord Buddha Jayantis and their replacement by the Tilak Jayanti and one additional holiday for Diwali. Sahib Shri Kanshi Ram decided to fight against such a caste ridden and dictatorial behaviour of the management. The fighter in Sahib Shri Kanshi Ram got the suspension orders of Deena Bhan revoked and Dr. Ambedkar and Lord Buddha Jayantis holidays were restored.

This was the beginning of the long battle for the emancipation of the Dalits in the country that Sahib Shri Kanshi Ram had to lead till his last breath. He resigned from his job and totally dedicated his entire life for the cause of the community. He never married nor visited his home since then. His struggle was not for the home and family. He devised a new strategy to regain the lost glory of the original (Adi) inhabitants of Bharat. He gave utmost importance to the culture of work and democratic method of struggle. He also expanded the circle of the Dalits by incorporating other Backward Classes and Minorities into it.
He criticised the post-Ambedkar leadership of Dalits in India. For that he declared Poona Pact as the main reason. He said that "Poona Pact made dalits helpless. By rejecting separate electorate, dalits were deprived of their genuine representation in legislatures. Several and various kind of chamchas were born in the last fifty years. As and when India's high caste Hindu rulers felt the need of chamchas and when the authority of the upper castes got endangered by real and genuine Dalit leaders, chamchas were brought to the fore in all other fields".

In his "The Chamcha Age", a well argued and polemical tirade against the pseudo Dalit leaders, Sahib Shri Kanshi Ram sharpen the contradiction for the legitimate acquisition of political power by the downtrodden in electoral democracy in India. In, the Chamcha Age, "he focused very much on the Poona Pact which was a point of a rather decisive Gandhian victory over Dr. Ambedkar after a long duel between the two at the Round Table Conference". Ambedkartimes.com pays tribute to The Great Sahib Shri Kanshi Ram Ji on his eighth death anniversary.
Prem Kumar Chumber Editor-in- Chief www.ambedkartimes.com (Posted on October 9, 2014) OK

BABASAHEB DR. B.R. AMBEDKAR,
POONA PACT AND THE CURRENT SITUATION

Babasaheb Dr. B. R. Ambedkar devoted his entire life for the emancipation and empowerment of the Scheduled Castes of India who for centuries have been compelled to live in deplorable situations. He tried different ways for this noble cause while setting the goal of annihilation of caste. First, he did his best to improve upon the situations through reforms within Hinduism. But soon, he realized that reforms within Hinduism will not work for the annihilation of caste because without caste the whole structure of Hinduism would come down like a house of cards and that would not be acceptable to its protagonists at all. Annihilation of caste at the first instance requires doing away with the Hindu Sastras (sacred scriptures/law books), which Hinduism would never agree to comply with. Thus the other way and rather the only way open to seek casteless social order was to say good bye to Hinduism and construct a new society under a different religion for the Ex-Untouchables. Dr. Ambedkar finally left Hinduism and established a new social-religious order popularly known as Navayan-Buddhism (Buddha and His Dhamma) where no one is subjected to any social discrimination based on accretive and primordial notions of caste and creed. In between, Dr. Ambedkar battled many struggles for the betterment of living conditions of the Scheduled Castes. Poona Pact was one of such major struggles.
It was through this historic Pact that Dr. Ambedkar got voice for his people in the provincial legislative structures in the form of certain fixed number of seats. That was 1932. A lot has changed now in 2014. State in India is fast withdrawing from its responsibilities towards the people. It firmly believes that market can save them from all the hardships they face. In other words neo-liberalism is being projected as the messiah of the Scheduled Castes. In such a changed scenario downtrodden has to rethink rather critically about the nature of struggle that they have to wage for the acquisition and protection of their rights. Quite interestingly, there is also fast emerging a viewpoint from within the academic circles of the Scheduled Castes which says that neo-liberal market economy offers lots of opportunities to the former untouchables who no-longer face any social exclusion in the aftermath of 1991 Globalizing India. This view-point also talks about Dalit billionaires and their own chambers of commerce. What it forgets is that in the free market economy only those are welcome who have the capital to invest. And the capital in India used to be the prerogative of the upper castes only. Lower castes were deliberately kept out of reach of the capital by all possible means under the garb of a discriminatory and hegemonic religious social order. What about the millions of lower castes who do not have requisite capital to enter into the so-called non-discriminatory market economy in India. Would they be not discriminated in this new economic order? Neo-liberalism is no more different from capitalism. We must not forget that the two main enemies of the lower castes are, as cautioned by Babasaheb Dr. B. R. Ambedkar, Capitalism and Brahmanism. Both of them are once again busy in fashioning new permutations and calculations to keep their hold intact. Thus to face the realities of current situation in contemporary India, the teachings of Babasaheb Dr. B. R. Ambedkar are of utmost value as they have been ever.
Prem K. Chumber Editor-in Chiefwww.ambedkartimes.com
Posted on www.ambedkartimes.com September 24, 2014 OK
This site has been dedicated to Bharat Rattan Baba Sahib Dr. Bhimrao Ramji Ambedkar in the memory of Babu Mangu Ram Muggowalia, Gadharite and founder of Ad Dharm Movement in Punjab. The sole aim of this site is to highlight the plight of the Mulnivasis (Inhabitants) of India who have not only been deprived of their due share in the wealth of their own country, but had also been subjected to untold miseries over centuries. Atrocities against them are still rampant in almost all the parts of the country. Hardly a day passes when there is no news about the social boycott or physical repression of all sorts on them. Ambedkartimes.com is duty bound to highlight all such incidents as well as to seek and articulate some solid perspective for the amelioration of this age-old problem old social exclusion and blatant violation of the basic human rights of the Dalit brethren.
I once again thanks for your kind support and also expect the same in future too so that this modest attempt would continue in the service of our community. www.ambedkartimes.com deeply welcome your suggestions for its better functioning. This is your web site and it is you who have to make it successful. Kindly send your valuable articles, news reports, and opinions regularly, we would be pleased to carry them gratefully.
Prem K. Chumber (Editor: ambedkartimes.com)