DEPUTY CM CONSTITUTES HIGH POWERED COMMITTEE
FOR DEVELOPMENT OF UPCOMING SECTORS IN MOHALI

(Zirakpur and Dera Bassi urban areas to be developed as satellite towns)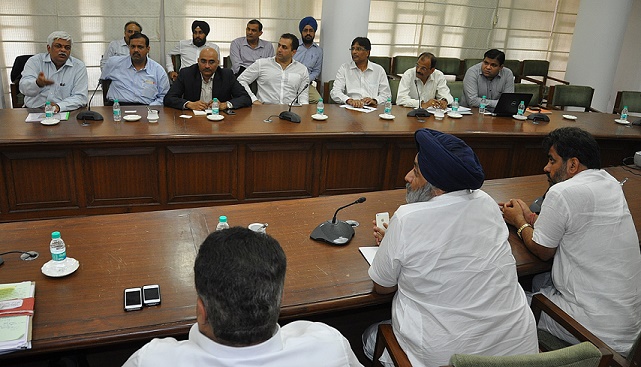 Punjab Deputy CM Mr Sukhbir Singh Badal presiding over a review meeting
on expansion plan of New Sectors of SAS Nagar (Mohali) on 25-08-2014 at Chandigarh.
Chandigarh August 25: Punjab Deputy Chief Minister Mr. Sukhbir Singh Badal has constituted a high powered committee under the chairmanship of the state Chief Secretary to develop upcoming sectors in SAS Nagar with the ultra modern civic amenities and world class infra structure.
Presiding over a meeting especially convened to study the development plan along with the senior officers of the concerned departments Mr. Badal said that the Principal Secretaries of the departments of Urban Housing Development, Local Bodies, heads of PUDA, GAMADA, PIDB and one representatives from consultant company IF&LS would be the members of the newly constituted committee. The committee has been asked to submit its report after a thorough study of the blue print prepared to develop these new sectors strictly in accordance with the laid down norms of the Punjab government by October 1.
Mr. Badal also said that these sectors would be developed under design-built-operate (DBO) basis and the project could be handed over to IF&LS under Swiss challenge system after scrutinizing the suggestions of the high powered committee. The Deputy Chief Minister has asked that the company responsible for the development of these new sectors would ensure the scientific technique of the disposal of solid waste material, uninterrupted water supply system, power backup structure, road network, transport facilities, adequate street lighting facilities and clean and green environs to the populace.
The Deputy CM added that entire expansion of SAS Nagar city including its lay out, landscaping and development would be developed as the world class town with the ultra modern civic amenities and infra structure. He also directed the housing department to develop and ensure efficient planning of Zirakpur and Dera Bassi urban areas as satellite towns of SAS Nagar in a phased manner. Deputy CM also said that the housing company would be responsible for providing the basic amenities to the residents and would also be responsible for any lapse in this regard.
Prominent amongst others present in the meeting included Chief Parliamentary Secretary Mr NK Sharma, Chief Secretary Mr. Sarvesh Kaushal, Principal Secretary Housing A. Venu Prasad, Principal Secretary to Deputy Chief Minister Mr. P.S. Aujla, Secretary Transport Mr Anurag Aggarwal, Secretary Local Bodies Mr Ashok Gupta, Mr. Rahul Tiwari, Manvesh Singh Sidhu and Ajay Mahajan (all Special Principal Secretaries to Deputy CM), Chief Administrator GAMADA, Mr. A.K. Sinha and representatives of IF&LC group.
Posted on www.ambedkartimes.com August 25, 2014