| | | |
| --- | --- | --- |
| | | |
OUR NEW PHONE NUMBER 916-947-8920
instead of
510-219-8920
Prem Chumber
Educational Guidance Series in the year of 100th year of educational visit to USA
Dr. Ambedkar Student Federation
Venue: Shivaji Park,ChaityaBhoomi, Dada, December 6 2013
Dr. Ambedkar Student Federation believes Dr. Ambedkar brings inspiration and hope amongst the Dalit youth of the nation, who is otherwise in the desperate situation where the atrocities, humiliations, depression is the part and parcel of everyday life.

The year 2013 marks the 100th year of his visit to USA. It was in July 1913 that the young Bhimrao Ramji Ambedkar (14 April 1891 – 6 December 1956) went to Columbia University, New York, USA for pursuing his higher studies (MA and Ph.D.).It was this period that made a formidable impact in his intellectual journey. It was this period that prepared him not only to face courageously the onslaught of caste based oppression but also to attempt to transform Indian society in his own terms.

To rescue communities from age-old oppression Dr. Ambedkar gave the mantra of "Educate, Agitate, Organize". Ambedkar Student Federation believes that "educate" played a crucial role in transforming the life very small section of population. Dr. Ambedkar also encouraged education with the Shila (ethics) to encourage pay back to society. Education with ideals played an integral role in grooming sensitive class (although very small) who can help other brethren in their struggle of upliftment. December 6th marks an important event in India, when millions of Dalits and other oppressed class population visit Chaitya Bhoomi, Dadar Mumbai.

In this 100th year of Dr. Ambedkar US study visit, on the occasion of death anniversary of Dr. Babasaheb Ambedkar, ASF along with other several students forums are organizing series of events to provide educational guidance for higher studies in India and abroad.
Education is the only hope for democratic progress of the nation, where majority of them are in despair.

Majority of politicians from across parties give their speeches, Chief Minister and other dignitaries give lot of promises on this day. They are widely covered by media however the crucial issues and work of young youths on Educational guidance program are ignored every year.
It is so crucial to report this event of hope and inspiration for youths, the guidance centre includes experts from USA, India and other countries, who will provide guidance and training to students who are coming from remote parts of India.
Posted on www.ambedkartimes.com December 7, 20132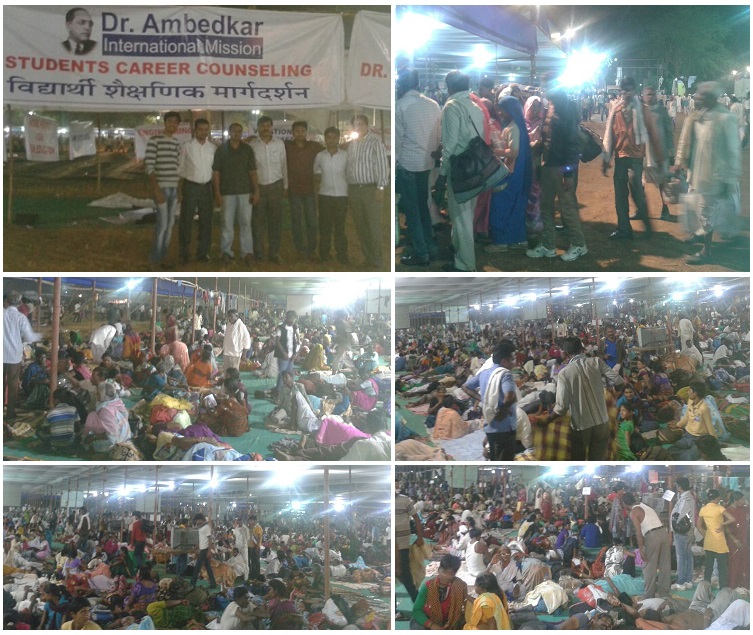 Baba Saheb Dr. Ambedkar and His People

Prem K. Chumber




Editor-in-Chief (www.ambedkartimes.com)
Babasaheb Dr. Bhimrao Ramji Ambedkar devoted his entire life for the creation of inclusive social set up in India where there should be no place for caste and similar social hierarchies leading to entrenched discrimination in all walks of life. He termed his struggle spiritual and not economic or for political power per se. His sole objective was to restore the lost dignity and self-respect to the millions of downtrodden in the society and to prepare them to stand for equal rights on their own strength. He firmly believed that liberty, equality and fraternity should become the real strengths of India, which would lay the true foundations of India democracy. For him political democracy should be based on social democracy. Social democracy in turn is dependent on equal opportunity available to all in the society where there should be no hierarchies and hereditary claims and special rights.

He was a practical visionary who produced voluminous of well-documented literature to put across his viewpoint and egalitarian social order. He participated meticulously in expanding democracy of India and founded two political parties (Labor Party of India and Scheduled Castes Federation of India) and prepared a blueprint for the third (Republican Party of India). To give a practical shape to his social vision, Babasaheb tried all possible ways to bring social reforms within Hinduism in order to make it an all-inclusive religion where the Shudras and Ati-Shudras should not suffer on account of their so-called lower birth. He launched satyagrahas (non-violent struggles) for the entry of lower castes (then known as Depressed classes) in to public places of utility and religious sites; organized common kitchen eatings; and advocated inter-caste marriages. When such measures failed to bring fruit, he put forward the idea of changing religion. After giving it a deep thought (more than twenty years), he embraced Buddhism as a way to egalitarian social order in India.
His people for whom he struggled throughout his life eagerly wait for the true realization of his goal. Their enthusiasm can be seen from the way they throng the Mahaparinirvan Bhoomi of their beloved Babasaheb who had died on 6th December1956. Large crowds of people from all over the country gathered at the "Chaitya Bhoomi" (Dr. Ambedkar's memorial) at Dadar in order to pay reverence to the Messiah of downtrodden. They offered their love-laced feelings by touching the "Chaitya Bhoomi" reverently. This shows his great legacy that his people carrying forward to make his dream come true.
Prem K. Chumber
Editor-in-Chief (www.ambedkartimes.com)
Posted on December 6, 20132
| | |
| --- | --- |
| The Ad Dharm Movement and Dr. Ambedkar | |
AMBEDKAR – A Tribute

Ramesh Chander
(Ambassador, IFS Rtd.)
Today, December 6, is the death anniversary (Parinirvan Diwas) of Babasaheb B.R. Ambedkar (April 14, 1891 – December 6, 1956), the greatest son of India in contemporary times. It is a matter of gratification to note that as time passes, the relevance of Ambedkar becomes more pronounced both in the realm of India as a nation and also Indians as a society. He was a visionary in the true sense. Ambedkar may have been an iconic dalit leader but he belongs to the whole nation rather than just the dalits.

I would like to bring one point of Dr. Ambedkar's thinking into focus. The political life in India is increasingly getting dirty and criminalized. It is a matter of concern and worry to all. Ambedkar while commenting on the qualifications of a Member of Parliament said "The education can hardly be the sole qualification for membership of parliament. If I may use the words of Buddha he said that man required two things, one is Gyan and the other is Sheel. Gyan without Sheel is very dangerous. It must be accompanied by Sheel by which we mean character, moral courage, ability to be independent of any kind of temptation and truthful to ones ideals. I am very keen to see that no member enters this august assembly who does not possess Sheel in an adequate degree" One may easily see the relevance of Ambedkar in the light of present day's requirement of cleansing politics in India. Our social and political activists like Anna Hazare should take some clue from Ambedkar's thoughts in spearheading their struggle for a clean administration.

India is yet to pay its debt of gratitude to Babasaheb Ambedkar in full measure. Some of the foreign organizations have started doing so. According to media reports, which did not get much attention in India, recently Columbia University of the USA, in celebrating its 250th anniversary, has issued a list of 100 personalities worldwide who were the alumni of the University and made their mark in shaping the destiny of millions in their own countries and otherwise. The name of Ambedkar tops the list and rightly so. Dr. Ambedkar studied at Columbia University from 1913-1915. It is a great tribute to India and its greatest son.
(Ramesh Chander)
Posted on December 6, 2013
Safeguarding the interests of SC/ST Students & Employees against hostile attitude and autocracy of Dr. Lalji Singh, Vice-Chancellor,
BHU who has shown high handed disrespect towards the NCSC, a constitutional body
Senator Corbett Named County Veterans Service Officers' 2013 "Legislator of the Year"

Honored for Supporting California's Veterans, CVSO's


READ MORE

Press note released on November 7, 2013


by

Sergio Reyes

(916) 651-4010
SENATE APPROVES WIECKOWSKI BILL
GIVING PATIENTS DIRECT ACCESS
TO PHYSICAL THERAPY AB 1000 would eliminate long-standing delay for consumers Read more

Press note released by


Jeff Barbosa




September 10

, 2013
This site has been dedicated to Bharat Rattan Baba Sahib Dr. Bhim Rao Ramji Ambedkar in the memory of Babu Mangu Ram Mugowalia, Gadharite and founder of Ad Dharm Movement in Punjab. The sole aim of this site is to highlight the plight of the Mulnivasis (Inhabitants) of India who have not only been deprived of their due share in the wealth of their own country, but had also been subjected to untold miseries over centuries. Atrocities against them are still rampant in almost all the parts of the country. Hardly a day passes when there is no news about the social boycott or physical repression of all sorts on them. ambedkartimes.com is duty bound to highlight all such incidents as well as to seek and articulate some solid perspective for the amelioration of this age-old problem old social exclusion and blatant violation of the basic human rights of the Dalit brethren.
I once again thanks for your kind support and also expect the same in future too so that this modest attempt would continue in the service of our community. www.ambedkartimes.com deeply welcome your suggestions for its better functioning. This is your web site and it is you who have to make it successful. Kindly send your valuable articles, news reports, and opinions regularly, we would be pleased to carry them gratefully.
Prem K. Chumber (Editor: ambedkartimes.com)