GURSHARAN BAINS AND HER ACHIEVEMENT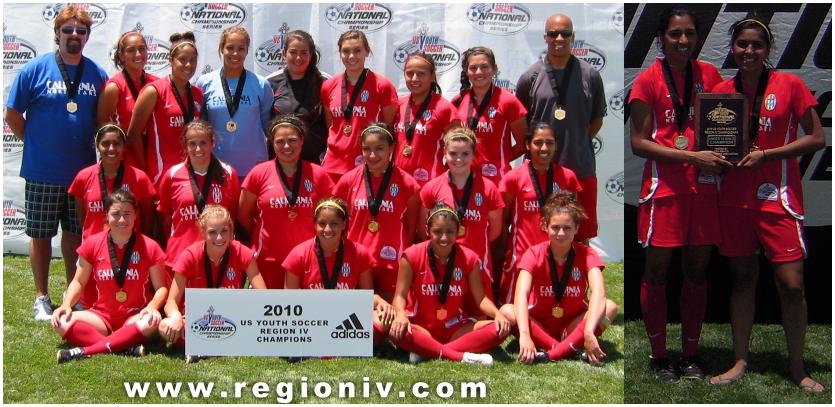 We are proud to upload about Ms. Gursharan Bains (Daughter of Mr. Makhan Bains, Owner of Raja Sweets, Union City)
and her success in Soccer. We congratulate her and her parents for making the Soccer team to USA National level.
If any one would like to share any success stories on Ambedkartimes.com
please feel free to e-mail us and it will be our pleasure to publish on the website. Thank you. Takshila Chumber (Editor)
Hello. I'm Gursharan Bains d/o Mr. Makhan Bains. I've been playing soccer with Amrun Singh since we were twelve years old. We both just graduated from high school, and our soccer team made it to Nationals this summer, placing third amongst the top teams across the country. We won our State Cup, and went to New Mexico for Regionals, and won that as well. It has required a lot of hard work all these years to make it this far—going to practice, doing school work, and struggling with the urge to do something more relaxing like just sleeping or talking to friends. I think we've both learned a lot from playing soccer, and the most important things I've learned are dedication, and not giving up when things get hard.
Sometimes things may seem so hard, such as getting good grades in school or just having enough courage to try new things, but from my experience starting something new might just be the most difficult part. I started playing when I was 8 years old, and at first I did not want to even play at all. I was too scared, but I soon realized that soccer was one of the most fun activities I had ever done. As I kept playing I kept moving up levels, with more difficult competition each year. When you play a team sport you have to deal with a number of things, like getting used to teammates, coaches, and making the most of your experience. I admit that at times I got angry at things that may seem minor now like having to play a position I did not like, or somebody on the other team saying something rude or mean. These things are just things you have to learn to work with and deal with. I've still enjoyed all the years I've been playing, and made it through the tough parts with the support of my family and friends, and the support of other players on my team. The way I got better each year was by pushing myself to do the best that I could with teammates who were very talented.
All you have to do is find something you enjoy doing, and stick to it. I found soccer, and love it, but I know others who found something else as a passion. It could be music, education, or something else like helping others, or a combination of them all. By playing soccer I have learned a lot more than just playing the sport, I have learned to be a motivated individual, while doing the things I enjoy most. Amrun and I have both played soccer since we were very young, playing on separate teams before we both played on the team that took us to nationals. She has played ODP soccer, played on the state team, made it to regional team tryouts, played varsity soccer all four years of high school, and was captain of her team at Mission San Jose High School this past year. She is going to Notre Dame de Namur University this fall and is playing Division II soccer for her college team. I also played ODP, played four years of high school varsity soccer, and was captain of my high school team at American High School this past year. I am going to UC Santa Barbara this fall, and hope to continue playing soccer. We have both worked very hard to get as far as we have in school and in soccer.
We played together on our league team, California Northstars, and have won many tournaments with the team over the past six years. The team has had a number of talented players from around the Bay Area, and seeing all their accomplishments individually and as a team, along with the support of my family and friends is true motivation to be the best that I can be at whatever I hope to achieve in life. I know that anybody can achieve as much as I have achieved and more just by finding something they love and sticking with it.
Posted on September 08, 2010