Please click below for more Lord Budha files/matter

POSTAGE STAMP ON ANAGARIKA DHARMAPALA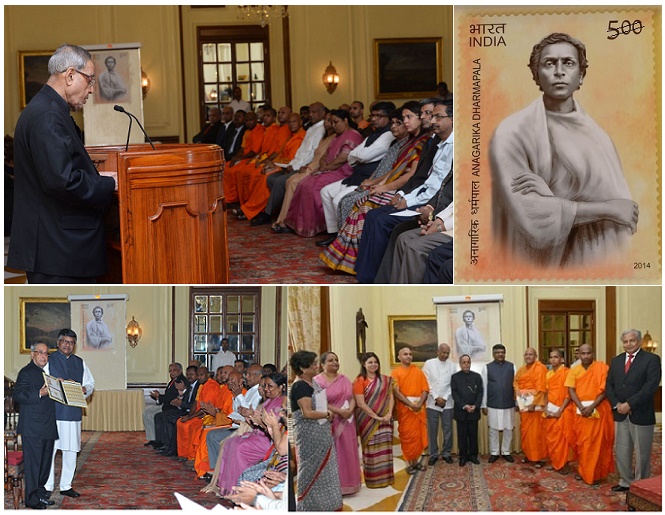 SPEECH BY THE PRESIDENT OF INDIA SHRI PRANAB MUKHERJEE ON
THE OCCASION OF RELEASE OF A COMMEMORATIVE POSTAGE STAMP
ON ANAGARIKA DHARMAPALA (Rashtrapati Bhawan, Delhi : 25.10.2014 )
It gives me great pleasure to be present here today to release a Commemorative Postage Stamp to pay tribute to the great Sri lankan Buddhist revivalist and writer Anagarika Dharmapala.
2. I congratulate the Department of Posts for taking this initiative of bringing out a Commemorative Postage Stamp on Anagarika Dharmapala. I hope that this gesture will contribute towards further strengthening the bilateral ties between India and Sri Lanka and bring the two nations closer. Historically, India and Sri Lanka have remained natural allies. The relations between the two countries have withstood the test of time and socio-cultural exchanges for centuries have fostered further close cooperation in various fields. Both the countries have much to learn and imbibe from each other in order to resolve various issues which are the legacies of a protracted period of colonial rule. I am confident that the relations between the two countries will continue to further strengthen in the coming years to the mutual benefit of our two peoples.
Ladies and Gentlemen,
3. Buddhism, one of the major religions in the world began in India and is a faith based on non-violence and pursuit of spiritual excellence rather than material aggrandizement. It's principles continue to have great relevance even in this age. Buddhism promotes peace and stability and strongly advocates the spirit of compassion and tolerance. It aims to wean the humanity away from war and skirmishes and inspires people to channelize their collective energy towards the betterment of society.
4. This stamp release on one of the apostles of Buddhism, once again reminds us to work relentlessly and collectively to ensure an era of peace, stability and friendly bilateral and multilateral ties in order to create an enabling environment for the rapid socio-economic development of the people.
5. In this backdrop, it becomes much more imperative to recall the achievements and safeguard for posterity the memories of the great Buddhist thinker and preacher, Anagarika Dharmapala who practically lived and breathed Buddhist ideals and worked till the last to revive Buddhism.
Ladies and Gentlemen,
6. Anagarika Dharmapala, was one of the founding contributors of Sinhalese Buddhist nationalism and was also a pioneer in the revival ofBuddhism in India. He not only embraced Buddhism but also lent it Sinhalese nationalist character. He waged a protracted struggle to protect and conserve the foundations of Buddhism in it's place of birth, India. He joined the Theosophical Society and spearheaded the reform and revival of Ceylonese Buddhism and it's propagation. He later entered the order of Buddhist monks as Venerable Sri Devamitta Dharmapala and is considered a Bodhisattva in Sri Lanka. He was ordained a bhikkhu at Sarnath in 1933 and he died there in December of the same year.
7. In 1891, Anagarika Dharmapala went on apilgrimageto the Mahabodhi Temple at Bodh Gaya, where the Buddha had attainedenlightment. He decided to work towards restoring it's glory. Accordingly, theMaha Bodhi Society at Colombowas founded in 1891 and one of its primary aims was the restoration to Buddhist control of the Mahabodhi temple at Bodh Gaya.
8. Many people remember Anagarika Dharmapala for his religious zeal. But there was another aspect to this towering figure - his practical vision regarding the alleviation of poverty.The voice of Anagarika Dharmapala was also a significant factor in Ceylon's historical struggle for freedom from the British Raj. He spoke of the importance of a firm educational and economic foundation if the struggle for freedom was to succeed. He also concentrated on establishing schools and hospitals in his country. He had a vision of a newly emerging Ceylon, which could effectively link up with other countries and forge ahead.
9. In 1893 Dharmapala was invited to attend the World Parliament of Religions in Chicago as a representative of "Southern Buddhism" - which was the term applied at that time to the Theravada. There he met Swami Vivekananda and like him, he was also a great success at the Parliament.
Ladies and Gentlemen,
10. On this occasion, as I pay my humble homage to this towering personality, I once again congratulate the Department of Posts for bringing out the Commemorative Postage Stamp on Anagarika Dharmapala who worked selflessly all his life with a missionary zeal to propagate Buddhist ideals and to restore the glory of Buddhism.
Posted on www.ambedkartimes.com November 25, 2014
Dhamma Chakra Pravartan Day Celebrted in Canada

To commemorate embracement of Buddhism by Dr. B.R. Ambedkar on October 14, 1956, Dhamma Chakra Pravartan Din (Mass conversion Ceremony) was celebrated on October 25, 2014 in Edmonton, Alberta, Canada. Indian, Vietnamese Buddhist families from Edmonton, Calgary and Red Deer gathered on occasion. The function was marked by the blessing from Vietnamese Monk;Thich Phap Hoa(Thay) with open prayer, followed by Buddha Vandana and discussion on Buddhism. Various aspects of Buddhism such as diminution and revival of Buddhism in India by Mr. Viswanath Meshram, followed by 'why Dr. B.R.Ambedkar embraced Buddhism' by Mr. Vijay Bagde was discussed. Various guests from Calgary namely, Mr. Mathura Prasad Mahey, Mr. Major Mall and Mr. llangovan Anamalai briefly discussed the various aspects of Buddhism. Mr. Phan Aung, the President of Vietnamese Alberta Buddhist Society reiterated the history and importance of Buddhism. Cultural activities and early supper, followed post-function discussion on Buddhism, concluded the function. The program was presided over by Dr. Raj Narnaware, followed by vote of thanks by Mr. Amarjit Sandhu.
(Report & pictures by Satvendar Madara) Posted on www.ambedkartimes.com November 25, 2014
Dear Dayakes and Friends of the Temple,
Since the time of the Buddha, each year at the end of the three months of Rainy Retreat (Vas), the monks and lay community of every Theravada Buddhist Temple gather to celebrate the merit accumulated in the previous three months. A significant part of the ceremony is the offering of a specially prepared robe to the Maha Sangha. It is a day for devotees to shower the Temple with monetary and material gifts to sustain the temple. The Buddhist practice of Dana or generosity is a major source of generating merit (punna). Punna is positive mental energy that promotes happiness and contentment in this life and hereafter.
Saturday evening, October 27th: The most auspicious ceremony of the evening is offering obeisance to 28 past Buddhas including the present Gotama Buddha. This ancient devotional practice increases our affinity with infinite virtues of Buddhas and deepens and our commitment on the Path. In this ceremony we recite the names of past 28 Buddhas and make offerings to them individually. Traditionally this is performed to bring health, prosperity and success to devotees. Sponsoring an offering to one of the 28 Buddhas brings wellbeing to you and your family. If you wish to be a sponsor please contact the Temple. Please bring your family and friends to participate. Please arrive at the temple by 5:30PM.
Sunday, October 28th: Kathina Celebration begins early in the morning when lay sponsors bring the materials needed to prepare the Kathina Robe. The cloth is carefully cut and sewn by the lay followers with assistance of the monks. The finished Kathina Robe is ready to be offered by midday. The Kathina Robe and other articles brought by lay followers are ceremonially offered to the Sangha immediately after lunch. The ceremony for the general public starts at 10:30 A.M. You are encouraged to bring a dish, if you wish, to offer to Sangha (community of monks and nuns) and to share with other participants.
The main sponsors of the Kathina Ceremony this year are the Sunil and Carmencita Perera family. Traditionally it is a great privilege to sponsor a Kathina Ceremony. It is regarded as one of the most meritorious deeds that lay followers can perform. If you wish to sponsor Kathina in the future, please contact the Temple to register. The monks and the Dayaka Sabha (body of members) of ABS Temple warmly invite you, your family and friends to participate both days to benefit in the activities. May the Triple Gem shower blessings upon you for good health and happiness.
Monks and the Dayake Sabha
ABS Temple at Sacramento
Annual Kathina (Robe Offering) Ceremony
Saturday, Oct. 27, 2012: 06:00 P.M. Auspicious Atavisi Buddha Pooja (Offering to 28 past Buddhas), 07:00 P.M. Special Traditional Blessings ceremony (Maha Pirita), 08:15 P.M. Refreshment for every one Sunday, Oct. 28, 2012: 05:30 A.M. Sponsors bring the robe and material, 07:00 A.M. Buddha Pooja and morning Dana/Meal to monks, 07.15 A.M. Sewing of the Kathina Robe from the new material, 10:30 A.M. Arrival of all members and other visitors, 10:45 A.M. Buddha Pooja (Offering to Buddha), 11:30 A.M. Offering Dana for Monks, 11:45 A.M. Lunch for all Participants, 01: 00 P.M. Offering the Kathina Robe & Dhamma Desana, 02:30 P.M. Conclusion and Tea Time. The monks and the Dayaka Sabha (body of members) of ABS Temple warmly invite you, your family and friends to attend both days and be benefited by participating in these activities. May the Triple Gem showers blessings upon you for your good health and happiness.
Monks and the Dayake Sabha
ABS Temple: 423 Glide Avenue, W. Sacramento, CA 95691
Tel: (916) 371 8535, Fax: (916) 372-7650, September 15, 2012
Posted on www.ambedkartimes.com dated October 21, 2012
"I am not the first Buddha to come upon this earth; nor shall I be the last.
Previously, there were many Buddhas who appeared in this world. In due time, another Buddha will arise in this world within this world cycle.
WHEN the Buddha was about to pass away, Ven. Ananda and many other disciples wept. The Buddha said, 'Enough, Ananda. Do not allow yourself to be troubled. Do not weep. Have I not already told you that it is in the very nature of things that they must pass away. We must be separated from all that is near and clear to us. The foolish man conceives his idea of self; the wise man sees there is no ground on which to build the Self. Thus the wise man has a right conception of the world. He will conclude that all component things will be dissolved again; but the Truth will always remain.'
The Buddha continues: 'Why should I preserve this body when the body of the excellent law will endure? I am resolved. I have accomplished my purpose and have attended to the work set upon me. Ananda, for a long time you have been very near to me in thoughts, words and acts of much love beyond all measure. You have done well, Ananda. Be earnest in effort and you too will soon be free from bondages! You will be free from sensuality, from delusion and from ignorance.' Suppressing his years, Ananda said to the Buddha, 'Who shall teach us when you are gone?' And the Buddha advised him to regard His Teaching as the Master.
The Buddha continued again: 'I am not the first Buddha to come upon earth; nor shall I be the last. In due time, another Buddha will arise in this world, a Holy One, a Supremely Enlightened One, endowed with wisdom, in conduct auspicious, knowing the universe, an incomparable leader of men, a master of devas and men. He will reveal to you the same Eternal Truths which I have taught you. He will proclaim a religious life, wholly perfect and pure; such as I now proclaim.'
'How shall we know him?' asked Ananda. The Buddha replied, 'He will be known as Maitreya which means kindness or friendliness."
Buddhists believe that those people who at present are doing meritorious deeds by leading a religious life will have a chance to be reborn as human beings in the time of Maitreya Buddha and will obtain Nibbbana identical with that of Gautama Buddha. In this way they will find salvation through the guidance of His Teaching. His Teaching will become a hope of the remote future for everybody. However, according to the Buddha devout religious people can gain this Nibbanic bliss at any time if they really work for it irrespective of whether a Buddha appears or not.
'As long as my disciples lead a pure religious life, so long the world will never become empty of Arahantas.' (Maha Parinibbana Sutta)
*In Buddha Vansa, 28 names of the previous Buddhas are mentioned, including Guatama the Buddha. (What Buddhists believe.)
Posted on www.ambedkartimes.com dated October 14, 2012
GREETINGS ON THE BUDDHA PURNIMA

Ambedkartimes congratulates all its worthy writers,
readers and well wishers on Lord Buddha's Jayanti
and wish you all happy, healthy and peaceful life.

Prem Kumar Chumber
www.ambedkartimes.com
(Posted on May 05, 2012)
Our new website www.deshdoaba.com in Punjabi coming soon
HOMAGE TO D.C. AHIR Report by Balram Sampla (UK)

A prayer meeting was held on 22/07/2012 at SAMTA BUDH VIHAR, Paschim Puri, New Delhi. The prayer meeting began at 10.00 A.M. Around 150 people gathered to pay their homage. A Buddhist Ceremony was performed by Bhikkhu Gyan Ratan and two other Bhikkhus. Many prominent members of Buddhist community, Dr. Sanghasen, Dr. Dharmakirti, Shri Shanti Swarup spoke there about Shri D. C. Ahir's achievements and his vast literally and social contribution to Buddhism. His ashes have been kept in a urn at Samta Budh Vihar. A donation of Rs. 31,000/- was made by the family to Samta Budh Vihar. The meeting was concluded at 12.30 P.M with a thanks speech from his eldest son Nirmal Kumar,
"Shri D.C. Ahir did a tremendous amount of work for Buddhism and Ambedkarism but he never neglected his responsibility towards his family. He had been a great source of inspiration and guidance to all of us. The world may remember him for his great literary works but for his children, he was a loving father and a good husband to his wife. He loved us all and we love him dearly and shall miss him a great deal. We have received many condolences messages from across the world. I take this opportunity to thank all his well wishers and all those who have gathered here to pay homage to a great son of Punjab who will be remembered not only in India but throughout the world through his contribution to Buddhist literature. May he rest in peace and attain Nirvana." Thereafter vegetarian meal was served to all.
Posted on www.ambedkartimes.com dt. July 23, 2012