This website is dedicated to our great savior Dr. B. R. Ambedkar in the memory of Babu Mangu Ram Mugowalia, our great freedom fighter & the founder of Ad Dharm
O. P. Balley
(925) 822-6416
Email: omballey@yahoo.com
MR. O. P. BALLEY's UNCLE PASSED AWAY
It is with sadness that Mr. Jai Ram Balley, the real uncle (Chacha Ji) of Mr. O. P. Balley, General Secretary of Supreme Council, Shri Guru Ravidass Sabhas, USA passed away on March 6th, 2013 at his residence in Nawanshahr Doaba (Shaheed Bhagat Singh Nagar) Punjab where he lived all his life. His funeral services were performed the same day at Nawashahr. Mr. Jai Ram who was 87 years old, was very well known in his native community and lived an abundant and respectable life , leaving behind a large family and a trail of sweet memories.
We are proud to learn that Mr. Jai Ram Balley had an rare opportunity to meet Babasaheb Dr. B. R. Ambedkar at his residence in New Delhi in 1956 along with Mr. O. P. Balley and late Mr. Nanak Chand Rattu,private secretary of Baba Saheb.
Ambedkartimes.com sends its profound condolences to the Balley family, friends and relatives for this great loss with prayers for peace and tranquility of the departed soul.
For more information please contact Mr. O. P . Balley (925) 822-6416.
Prem Kumar Chumber
Editor-In-Chief: www.ambedkartimes.com
Posted on www.ambedkartimes.com , March 09, 2013

BABA MANGU RAM MUGOWALIA
JAN.14, 1886 - APRIL 22, 1980

I congratulate Ambedkartimes Group and the followers of Ad-Dharam movement on the commemoration of Babu Mangu Ram Mugowalia's 127th Birth Anniversary which falls on January 14th, 2013. On this historic day I feel an imperative urge inside to vent my impressions about the legacy of this great leader who was a freedom fighter and founder of glorious Ad-Dharam movement which gave the Dalit community in Punjab, a distinct and a separate identity to live a life of respect and dignity like other communities of Hindus, Sikhs, Muslims and Christians. To understand Babu Mangu Ram Muggowalia's vision to achieve his goal we have to evaluate the role played by him in totality for the upliftment of the Dalit community as a whole. Some of the glimpses of his struggle and sacrifices which speak for themselves are shared as under:
Babu Mangu Ram Muggowalia, as he was affectionately called by his followers, was born on January, 14th, 1886 in village Muggowal (Near Mahilpur), District Hoshiarpur, Punjab, India. He had acquired a very good grasp of the social inequalities, inherently built in India's social hierarchy as codified by Manu's Smiriti and Chaturvarna.
TRAVEL TO USA AND ROLE IN GADHAR MOVEMENT: - After completing his school education he helped his father for a while in promoting his family business in tanned leather. In 1909 he was persuaded and encouraged by his father, Mr. Harnam Dass to go to USA at the young age of 23. After working for a few years in Agricultural farms in Fresno and adjoining areas of California, he came in contact with the Gadhar movement established in San Francisco to support the liberation of India from British colonialism. During his years in USA Mangu Ram developed a new insight and a revolutionary spirit of liberation and dignity. At the instance of Lala Hardyal and Sohan Singh Bhakna, the senior leaders of the Gadhar movement, he undertook a very dangerous mission of shipping weapons to India in support of the liberation movement. He along with his other companions was captured by the British but he managed to escape under very difficult conditions.
After a sojourn of almost 16 years abroad Mangu Ram Muggowalia arrived back in Punjab in 1925 and found that the lower sections of society still had to live under carping humiliations and slave-like conditions at the hands of the upper caste people. This made Mangu Ram Muggowalia realize that that liberation from British colonialism would not serve the real purpose until the down-trodden are not freed from the shackles of social injustice, prejudice and discrimination.
BIRTH OF AD-DHARM MANDAL WITH A DISTINCT IDENTITY: - Babu Mangu Ram Muggowalia's agenda was very candid and clear that we were the original inhabitants (Ad Dharmi/Mulnivasis) but with the invasion of India by Aryans, our culture and civilization, which once thrived, was completely erased and obliterated from the pages of ancient history of India and was rewritten as per the dictates ofManusmriti. This led to the birth of a new and a vigorous movement which appealed to the conscience of the lower sections of society and started to spread and flourish in the entire province of pre-partition Punjab. In 1931 census, Ad-Dharam was recognized as a separate religion and led to many electoral alliances and victories in the legislative Assembly of Punjab making Babu Mangu Ram a house-hold name in Punjab.
In fact, the Ad-Dharam movement launched by Babu Mangu Ram had carved out such a deep impact on the minds of the people, especially in the Doaba region of Punjab, that some of our ancestors from Punjab who migrated and settled in Fiji Islands in the early 1930's, established their first Guru Ravidass temple outside India, under the name of Ad-Association of Punjab, in Nasino Suva, which still stands as a living example of its past history.
ROLE OF ARYA SAMAJ - Before the foundation of Ad-Dharm Mandal under the leadership of Babu Mangu Ram the other leaders in the Ad-Dharam movement were associated with the Arya Samaj which wanted to make some reforms in Hindu social order, but only by staying within the fold of their Vedic philosophy. There were conversions from untouchables to Islam and Christianity and it ultimately posed many difficulties for the Ad-Dharam movement in maintaining its distinct religious entity.
MANGU RAM 'S SUPPORT FOR BABA SAHEB: - Dr. B.R. Ambedkar who had assumed the dynamic leadership of the entire Dalit community at the national level, was strongly supported by Babu Mangu Ram at a very critical phase of Baba Sahib's leadership during the Round Table conferences and at the time when coercive pressures were used by Mahatma Gandhi and his supporters for signing the Poona Pact Agreement in 1932, to avoid separate electorates for untouchables awarded by the British Government. Baba Saheb 's approach to liberate the untouchables by building a egalitarian social order at the national level which he believed was not possible within the fold of Hinduism. In the words of Baba Saheb "The basis of my politics lies in the proposition that the untouchables are not a sub division or sub section of Hindus and they are separate and distinct element in the national life of India".
Internal dissensions between the Congress and Muslim league leadership in the wake of the division of India into two nations, appeared to have led to some distractions in the progressive and prolific growth of the Ad-Dharam movement, but its objective and spirit which were born out of the fundamental truth of ancient history of India, remained alive. The caravan, which halted for some time due to various factors of history will be moving forward with a renewed vigour and zeal.
My PERSONAL VIEWS AND COMMENTS: - In the year 1963 I visited village Mugowal to attend the marriage ceremony of my brother-in law in the family of Babu Mangu Ram Muggowalia and had a chance to meet him and talk to him for many hours on the historic role of his mission in the 1920's.Before that I had also met Baba Saheb many times in Delhi in 1955-56 and thus I had personal grasp and knowledge of their missions. Baba Sahib's mission as well as Babu Mangu Ram's for the emancipation of the suppressed humanity in India were the same, but variations in their approach and organizational structures, perhaps, became one the characteristic reasons why they could not be presented together from the same platform.
Babu Mangu Ram Muggowalia's life is an inspiring example of what a man can achieve by his indomitable courage, perseverance and great self-denial, even under the most depressing conditions. He was bestowed with the charisma for social transformation. Prof: Mark Juergensmeyer who has written a very exhaustive assessment of Babu Mangu Ram's mission in his book "Religious Rebels In the Punjab" and interviewed him many times at his village, states" He was a restless, ambitious man, socially sensitive and politically astute."
I also appreciate Ambedkartimes.com, its regular contributors and readers for the efforts to revive and reinvigorate the mission of Babu Mangu Ram Muggowalia in North America. Ambedkartimes.com's editor Mr. Prem Kumar Chumber is also appreciated for providing copies of Babu Mangu Ram's photos to Guru Ravidass Sabhas in the United States of America.
In the end I will not hesitate to say that a Nation can be united only by erasing all artificial barriers and divisions created by so called upper strata of society and the onus of responsibility to discard the very structure of this social malady of caste system, lies with them. I again congratulate you all on Babu Mangu Ram Muggowalia's 127th birth Anniversary on January 14th, 2013.
Thanks.
O. P. Balley
General Secretary Supreme Council, Shri Guru Ravidass Sabhas, USA
Posted on www.ambedkartimes.com on Babu Mangu Ram Muggowalia's 127th birth anniversary, January 14, 2013
INDESCRIBABLE TRAGEDY IN NEWTOWN DEEPLY MOURNED

O. P. BALLEY
General Secretary, Supreme Council Shri Guru Ravidass Sabhas, USA
We are writing this letter on behalf of Supreme Council, Shri Guru Ravidass Sabhas,USA conveying our deeply felt condolences to all those families who have lost their innocent children and their loved ones in the horrendous tragedy caused by senseless act of violence at SANDY HOOK ELEMENTARY SCHOOL Newtown, Connecticut. By no stretch of imagination such a gruesome tragedy, which has traumatized the very core of human conscience across the nation, and the world, can go without touching any soul..
We also admire president Obama's emotional and personal tribute to 20 innocent children and 6 adults who became the victims of assassin's bullets, with his presence in Newtown and for promising everything he can do within his power to avoid such reoccurrence.
This organization is a staunch believer in the teachings of Shri Guru Granth Sahib, which promote love, peace and harmony in human relationships all over the world.
Special prayers were also held at Sri Guru Ravidass Temple, Pittsburg (California) in the memory of the victims of this Inconsolable tragedy.

O. P. Balley
General Secretary,
Supreme Council, Shri Guru Ravidass Sabhas,USA (Posted on www.ambedkartimes.com (December 18, 2012)
O.P. BALLEY
General Secretary,
Supreme Council Shri Guru Ravidass Sabhas, USA
For the last 56 years of my life I have been holding like a holy relic, some fond memories closely associated with my personal glimpses and meetings with Bharat Rattan Baba Sahib Dr. B.R. Ambedkar, during the last 18 months of his journey of life. Ultimately, Mr. Prem K. Chumber, Editor-In-Chief "Ambedkar Times" and "Desh Doaba", who is a staunch supporter of Baba Sahib's mission and philosophy, persuaded and encouraged me to share this treasure with the new generation. I also appreciate the hard work and the adorable services rendered by Mr. Prem K. Chumber for his dedication and commitment towards the welfare of the community in North America.
I feel privileged and honored to share these memories as my humble tribute on the occasion of 56th "Prinirvan Divas" of the savior of the voiceless- Dr. B. R. Ambedkar.
Historic Moments with Baba Sahib:- The year 1955 was a significant milestone in my journey of life when I moved from Punjab to Delhi in search of employment. Shortly I had a job placement in a Govt. of India office in Old Secretariat, Delhi which happened to be right next to Baba Sahib's residence at 26, Alipur Road.
At that time I was living in Dev Nagar, Karl Bagh Area of New Delhi where I came to know Mr. Nanak Chand Rattu, the personal Secretary of Baba Sahib. Since Baba Sahib was a member of Rajya Sabha in those days, he used to leave his residence every morning with his driver to attend the parliament session which provided me the opportunity almost every day to have a close glimpse and waive to him in his car. Historic Day of my life:- On 26th January,1956 my uncle and some intimate relatives from Punjab visited Delhi to watch Republic Day parade celebrations. They were very eager to see Baba Sahib who happened to be in Delhi in those days. Through my intimate contacts with Mr. Nanak Chand Rattu, we were able to meet Baba Sahib in person in his study room at his residence at Ali Pur Road, and had a rare opportunity to exchange some conversation with him. Talking to him face to face for the first time in life was like a dream-come true for me. After this meeting I met Baba Sahib many times with Nanak Chand Rattu who wanted me sometimes to help organize books in the library.
On 14th April,1956, on the occasion of his 65th Birth day, Baba sahib was requested to attend a public function arranged in his honor at Ambedkar Bhavan,Pahar Gunj,New Delhi. Inspite of his ailing health Baba sahib agreed to attend that function where, I vividly remember, he addressed the gathering with his vibrating speech. It was in this meeting when he publicly told the gathering " Ask Jawahar Lal Nehru,how many times he offered me to become the president of India, but I declined." Baba-Sahib was right in that assertion, because the grace and honor, the history has showered on him for his crusade and contributions for social justice for the depressed, would have not been possible.
DECEMBER 6th, 1956 (Dark Day):- As usual while on my way to office on bike I saw a crowd of people gathered at every corner in the city, listening on All India Radio the heart- breaking news of Baba Sahib's sudden passing away. This sensational and stunning news sent shock waves to every nook and corner of the country. I, instead of going to my office, went straight to his residence where Mr. Nanak Chand Rattu and few other close people were already present.
As more and more people started to pour in, Mrs. Savita Ambedkar and Nanak Chand Rattu decided to move the body of Baba sahib from his bed room to the main lobby. I, along with five other persons, including Mr. Rattu lifted the mortal body of Baba Sahib to the main hall. Soon after we could see a sea of mourners arriving at the residence. The entire cabinet of the Prime Minister, Pt Jawahar Lal Nehru were there to pay their respects to the departed leader. Jawahar Lal Nehru who was out of town rushed back to Baba sahib's residence.
FUNERAL PROCESSION:- The mortal remains of Baba Sahib were flown to Bombay the same evening for cremation after a miles-long funeral procession from his home to Palam airport. Hundreds of thousands of people from Delhi and the adjoining states of Punjab, U.P and Rajasthan participated in the procession.
INSPIRING LEGACY:- Baba Sahib's life-long struggle and unrelenting efforts for emancipation of the suppressed sections of society, who were amputated from the main body organism of society, has no parallel in the history of mankind. It was his undaunted and fearless determination to expose the social disabilities and inadequacies, inherently built in the entire spectrum of Hindu social order.
EDUCATION:- In the philosophy of Dr. Ambedkar the place of self- respect and human pride was the greatest and most important. He emphasized that the importance of education to the development of human mind and personality is the same as the importance of eyes to a blind person. Good education, in his view, is the main weapon of defence against social evils and human exploitation. Empowerment and emancipation of Dalits, according to Dr. Ambedkar, is only possible through good education and self- exaltation. If the moon, sun, wind and water are meant for use of all, why should the education be limited only to the privileged classes?
ATTEMPTED REFORMS IN HISTORY:- Satguru Kabir Ji, Guru Ravidass Ji and Guru Nanak Dev Ji and many other social reformers like Joytiba Phule, Babu Mangu Ram Muggowalia and sahib Shri Kanshi Ram fought for equality and human rights but the caste prejudices, orthodox beliefs and ideologies, as legitimized by Manusmriti, are too deeply rooted in the system of Chaturvarnya to be eradicated in the foreseeable future. Based on his lifelong experimentation with no positive outcome Dr. Ambedkar was left with no alternative but to embrace Buddhism on October 14, 1956.
Manusmriti, which has divided the society in watertight compartments, has adversely affected the fabric of national unity. It defines the duties of several castes and also determines the penalties for any transgression of the limits assigned to each of them.
RESPONSIBILITY OF THE MODERN ELITE:- If there is any semblance of sincerity and purposefulness to eradicate caste system from the face of India is left ,the modern elite members of Hindu society itself, must recognize the damage the caste system has been doing to society for centuries and come out with some unbiased remedial measures including the condemnation of Manusmriti and blind beliefs in the infallibility of Vedas and other practices of social divisiveness.
GREATEST INDIAN AFTER INDEPENDENCE: - As we all know that Dr. Ambedkar has been chosen as the greatest Indian after independence in an international survey conducted by CNN/IBN media in 2012. This reinforces the fact that his greatness with unique honor, which will embellish the pages of human history, has been adjudged not only due to his academic accomplishments or as the architect of free India's constitution, but for his determined efforts for equality and social justice in face of the thorn -ridden path he had to walk through all his life.
In the end I must, therefore, emphasize that we should equip ourselves with the knowledge and power of education to break the centuries old hegemony and monopoly of so called privileged segments of society. There will be no better tribute to the memory and legacy of Baba Sahib.
Posted on www.ambedkartimes.com (December 06, 2012)
As we know Mrs. Latchmi Balley, wife of Mr.O.P. Balley, General Secretary, Supreme Council, Shri Guru Ravidass Sabhas, USA and regular contributor to Ambedkar Times passed away on December 23, 2011.In the loving memory of the late Mrs.Latchmi Balley the family will commemorate her 1st. death anniversary at Shri Guru Ravidass temple Pittsburg, on SUNDAY December, 23rd.2012 at 10:00 AM. Let us all join the family on the occasion and pay our tributes to the departed soul. Your presence on the occasion will be highly appreciated by the Balley family. Ambedkartimes.com pays its tribute to late Mrs. Latchmi Balley.

Editor: Ambedkartimes.com
Posted on December 2, 2012
The fund-raising event held in Namaste-Nepal Indian Cuisine Roseville, Sacramento on September 30th, 2012 in support of Dr. Harmesh Kumar's bid for election to city council of Concord, was a remarkable gesture on the part of the organizing hosts as well as the participants, providing a new fillip and momentum to the bold initiative taken by Dr. Harmesh Kumar. A sense of motivational environment, optimism and confidence permeated the proceedings of the event.

Because of my close association with Dr. Harmesh Kumar, I had the honor, pleasure and the privilege to introduce him to the audience. All the speakers at the event exhibited very candidly a sense of encouragement, goodwill and solidarity for Dr. Kumar's efforts to be crowned with success.
Many speakers lauded through their speeches and poetry, Babasahib Dr. B. R. Ambedkar's life-long struggle and contributions to safeguard human rights and welfare of the society as a whole.
Since Dr. Harmesh's election to the city council of Concord will embellish the image of the whole community, we should sincerely stand by him and help him in any way we can, through these crucial days of his campaign, before November 6th.2012.

We hope this will inspire and inculcate a spirit of renewed zeal and enthusiasm among the younger generation of Indian descent to be involved with the mainstream public life in America.

The services of Mr. Prem Kumar Chumber, Chief Editor, Ambedkar Times and Desh- Doaba for providing a professional coverage are also appreciated because it is only through our own media that we can succeed in carrying the real message to the hands of the community at large.

Dr. Harmesh Kumar, while thanking the audience at this event, spelt-out in details his personal trials and tribulations of life, ultimately connecting him to the welfare of the community and stimulating him to launch his campaign for public office.

I again wish Dr. Kumar a resounding success in his farsighted vision and incessant efforts to reach his cherished goal of victory in this election.
Posted on www.ambedkartimes.com , October 25, 2012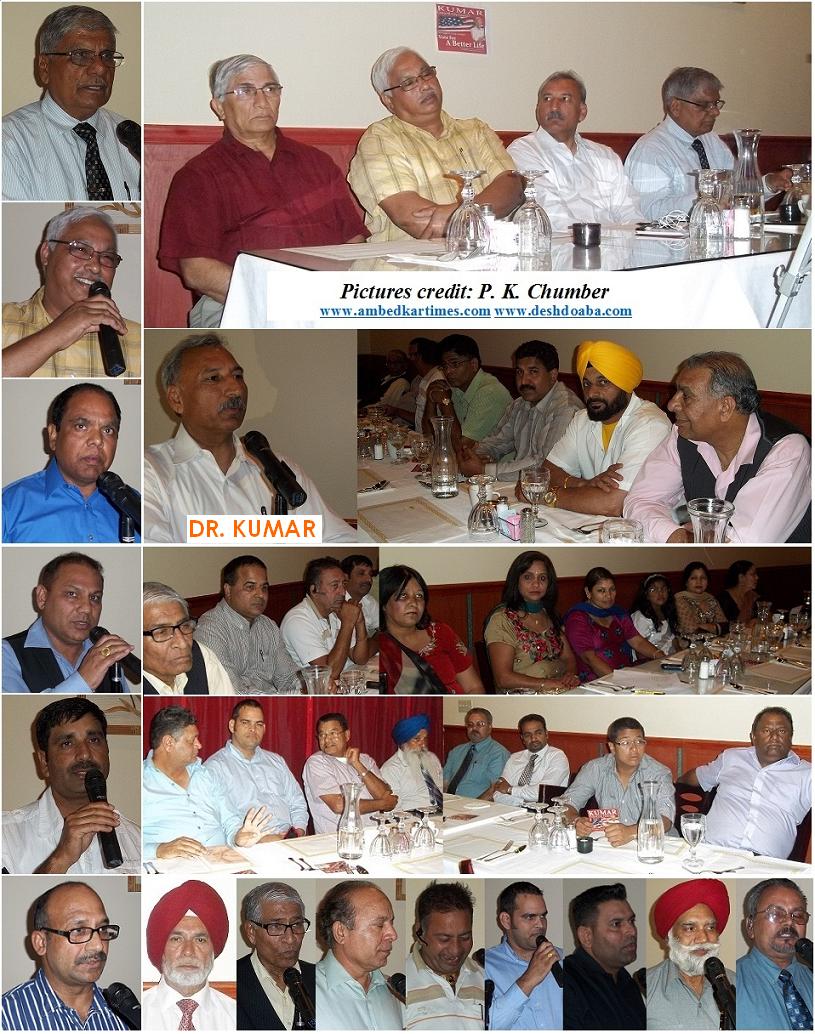 | | |
| --- | --- |
| BRITISH GOVERNMENT WAS AGAINST CHRISTIANITY IN INDIA | Freddi Joseph Khudai Khidmatgar |
Some miscreants often preach the lie that in order to consolidate its rule in India the British Government started conversion of Indians into Christianity with allurement whereas the truth is that East India Company was against preaching of Christianity in this country. The company felt that Indians were too sensitive towards their religions. If Christianity was preached in India the opponents of East India Company will get a big issue to oppose the company. The company wanted to consolidate its position in India with the co-operation of local people. At that time the Indian kings were inviting the East India Company in their respective provinces for business purpose. Co-operation from these kings suited the company's interests very much. The company did not want any bad effect on this co-operation with religion conversion.
(1) During British rule a big missionary Rev. William Carry came to India, but the British government did not allow him to enter her capital. He went to Sirampur which was situated in the area under French Government. The British Government sent police to arrest William Carry from there, but the French government did not hand over William Cary to them. William Carry had to start his missionary activities from there in India.
(2) Under the pressure of British common people in England, British Government framed a law to sent a priest with the ship carrying 500 tonnes of goods from Britain to India to pray for well being of all the people and goods in the ship and after reaching India he was supposed to stay in India to preach Gospel in India. To avoid carrying a priest with the ship East India Company carries only 499 tonnes of goods instead of 500 tonnes.
(3) As the England was a religion based Christian country, under public pressure in England some missionaries entered India this way and the other. But these missionaries had to work in India under very strict rules imposed by the British Government. For instance, they were not allowed to purchase any piece of land in India in their own name for their missionary activities. Under this compulsion some missionaries had to purchase some pieces of land in the name of unreliable newly converted Indians some of which dogged the missionaries and usurped the land and the missionary activities had to suffer serious jolts. This kind of strictness remained upto 15 August 1947.
(4) During British rule the Indians who adopted Christianity had to lose their share in their parental property. So the people who adopted Christianity during British rule had to suffer a lot. This law also remained up to 15 August 1947.
Due to this kind of strictness less than 11/2 percent Indians adopted Christianity during a long period of about 250 years British rule in India. We feel that atmosphere in secular India is more suitable after independence. After independence number of Christian population is touching the figure of 6-7 % though the local antichristian forces are also active in all over India against Christianity.
Posted on www.ambedkartimes.com , October 10, 2012
To: Editor Ambedkar Times,
British Government knew very well the senstivities of Hindu religion in India and thus purposely avoided any official intervention to promote christianity in India. Their main goal was to consolidate their political power to rule India for financial prosperity. They also avoided to initiate any serious measures against the caste system prevaling in India for centuries.
To approach this issue from the viewpoint of caste system in India we have to admit that its continued growth is undeniably attributed to the monopolistic trends built in Hindu society to maintain their superiority and supremacy in the entire spectrum of social life.
Babasahib Dr.B .R.Ambedkar, in spite of his life- long crusade against caste system, knew that caste system which is inextricably embeded in Indian pysche, will not vanish in the foreseeable future and this became the main reason of his conversion to Budhism.
The only way to make any headway to reform the complexities and intricacies of this religion depends on those who claim themselves as the protagonists of Hindu social order.
As long as the the system of chaturvarna ligitimized by Vedas and Manusimirti is not discarded by caste Hindus themselves, the system will remain rampant as a social menace and indelible stigma on Indian society.
O. P. Balley
(Posted on www.ambedkartimes.com, October 24, 2012
)
O. P. Balley (925) 822-6416

The untimely and unexpected death of Mrs. Sisso Jagur, wife of late Mr. Sansara Jagur on October 16th, 2012 in Sacramento,was a stunning shock to the whole community. The entire family is still reeling under the tragic impact of her sudden departure for her heavenly abode. An unending line of mourners, more than one thousand in number, attended her funeral services held in Sacramento on October 21st,2012.

Mrs. Sisso Jagur who was the only daughter of late Mr. and Mrs. Gulzara Singh Rattu of South San –Francisco, is survived by three sons, two daughters, four brothers, three daughters-in law, two sons-in-law and eight grand children. She was born in 1951 in India and lived in Fiji Islands till she was married to Mr. Sansara Jagur in 1967 and later moved to U.S.A to join her husband.
Her husband, late Mr. Sansara Jagur came to USA from Fiji Islands in 1962 and was one of the pioneers of our community to settle in USA and played a pivotal role in the foundation of Sri Guru Ravidass temple, Pittsburg, (California) and Sikh temple in West Sacramento. He was among the first who held the position of a Golf Superintendent for many years and was owner of a Landscaping business in Sacramento. Mrs. Sisso Jagur, being a dedicated housewife and homemaker, was the real strength behind Mr. Sansara's business endeavors. She was an embodiment of simplicity, innocence and compassion for helping others.
I had the opportunity to know the entire Jagur family very closely for the last 36 years and after my son Mahesh's marriage with Mr. Sansara's daughter, Jacqueline in 1988, we were tied in intimate family relationship.
It will be very difficult to fill the void created by her sudden passing away at the time when she was needed the most in her family engagements which were so dear to her heart and soul.
History will remember her with grace, dignity and respect for her multiple roles as a good daughter, wife, a loving mother, grand- mother, sister and a compassionate person.
I offer my floral tributes to the loving memory of the deceased with prayers to Almighty God to bless the departed soul with peace and tranquility and to provide solace and strength to the bereaved family to bear this irreparable loss.
Bhog ceremony of Sahej Path in the memory of the departed soul will be performed on October 28th 2012, (Sunday) at Shri Guru Ravidass temple, Rio Linda, Sacramento. Let us all participate in her Antim Ardas.
(Posted on www.ambedkartimes.com, October 23, 2012)
As we all know that after an extensive research and long debates among the most distinguished and elite members of the jury, Bharat Rattan Babasahib Dr. B.R.Ambedkar has been chosen by popular vote of the people of India to be the greatest Indian after independence. This unique honor unequivocally bears testimony to the fact that his greatness has been adjudged not only as the architect of free India's constitution and for completing his illustrious academic pursuits but for his unrelenting efforts and crusade for equality and social justice. This is all the more significant that he earned this honor in spite of other contemporary and great lndian leaders' like Jawahar Lal Nehru and Sardar Ballabh Bhai Patel.
The people of India and particularly the millions of those socially neglected segments of society are grateful to CNN / IBN media for taking the gigantic initiative for this unprecedentedand soul searching campaign providing them the opportunity to speak their mind to find the long-awaited truth to adorn the pages of the history of India in particular and that of the world in general with the greatness of Babasahib.
The most adorable and lasting impact of this distinct honor and recognition for Babasaheb ,transcending all political, social and religious barriers is that an enduring link between the present and the past has been created by reckoning him as a great political philosopher and genius of rare originality and versatility.
A glimpse of his rare contributions: - I have no words and thecapability to elucidate the penetrating intellect of Dr.Ambedkar in drafting the constitution of free India which haskept the nation welded together in spite of the diverse intricacies in Indian social order. He believed that political equality without social equality is meaningless and thus made him the spearhead and symbol of resurgence, the upheaval of social justice for the people of India who have venerated himfrom their heart and soul. He was able to see the in-built inadequacies in the entire social spectrum of India which kept him awake to fight like a giant till the last breath of his life.His intellect, vision, creativity and farsightedness reinforced thetruth that it is the worth and not the birth which is the right yardstick to measure one's contributions to society.
Education: - Babasahib firmly believed that importance of good education is the same as the importance of eyes to a blind person. If the moon, sun, wind and water are meant for the use of all the living human beings then why should the education be limited to the privileged classes only.
Guardian of women and human rights: - Dr. Ambedkar was one of great thinkers India has produced. But for his visionary ideas, perhaps India would not have a strong judiciary with powers to strike even the laws repugnant to the spirit of the constitution. It is its strong judicial system envisaged by Babasahib which always stood as a strong vanguard against violation of human rights. The Hindu code bill, considered as a Magna Carta of Women rights, was introduced by Dr.Ambedkar as the first law minister of free India which had to face heavy odds and opposition leading to Ambedkar'sresignation from the union cabinet of free India. The bill was subsequently passed in different phases.
Personal Meetings:- In the year 1956, I had the honor and the privilege to see and listen to Babasaheb in person many times at his residence in Delhi through Mr Nanak Chand Rattu, hisprivate secretary . In spite of his ongoing health concerns caused by overwork and heavy responsibilities of drafting the constitution within the limited span of time I saw him working hard day and night to pursue his vision to fight socialsuppression and inequality. I heard him loud and clear in a public meeting at Ambedkar Bhawan in 1956 saying, "Ask Jawahar Lal Nehru how many times he offered me to become the president of India but I declined" Babasahib was right in that assertion because the grace and honor he has achieved now would never have happened.
Vision still not fulfilled: - The foremost vision of his life was to rid the society of the monster of caste-system but it is still alive in the psyche of those who created it. Manusmiriti which gave legitimacy to Chaturvarnya and the caste system is the main contributor to this dehumanizing practice.
As suggested by Dr. Ambedkar in his treatise "Annihilation of Caste" inter-caste marriages as remedy to destroy caste need to be encouraged with a refined, sincere and dedicated conscience and not with words only.
Education and the financial clout gained by the depressed classes after the dawn of independence emanates directly from life- long struggle and sacrifices of Ambedkar which have put a little dent in the rigidity of the caste system in the urban areas but a lot needs to be done in rural India.
Own Media a Must: - The real and a honest change in the outlook of the people and establishment of a strong, unbiased and honest media among the suffering classes both in andoutside India will be a colossal step in the right direction to rid the society of caste system which has been eating into the very vitals of unity and strength of India for centuries. I admire the role played by "Ambedkar Times" and "Desh Doaba" Newspapers in USA for a crystalised portrayal of Sahib Shri Guru Ravidass Ji Maharaj, Babasaheb Dr. B. R. Ambedkar and Babu Mangu Ram Muggowalia who supported and stood by Babasaheb during Poona-Pact crisis.
In the end I again salute this jewel of India for his meritorious services and the most befitting homage to his acknowledged greatness is to keep his vision alive till it is realized.
O.P. Balley,
General Secretary, Supreme Council, Shri Guru Ravidass Sabhas, USA (E/Mail: omballey@yahoo.com)
GRUESOME TRAGEDY
AT SIKH TEMPLE IN WISCONSIN

O. P. Balley: General Secretary, Supreme Council Shri Guru Ravidass Sabhas USA
The Supreme Council Shri Guru Ravidass Sabhas, USA is deeply saddened to learn about the senseless act of violence where in six innocent lives were lost while worshipping with the recitation of Akhand Path (Uninterrupted Recitation) at the temple. This gruesome tragedy is beyond words to describe. On behalf the council and its affiliated sabhas we express our heart- felt condolences to the members of the bereaved families in particular for loss of their loved ones and the entire Sikh community in general at this difficult time. We also support and join hands with the entire Sikh fraternity and brotherhood while holding candle- light vigils throughout the nation to ventilate their silent and peaceful protests at this unprovoked and senseless killing of human lives. We also strongly support their efforts to ensure that such horrific tragedy does not repeat itself in future at the hands of some misguided elements of society. This council is a staunch believer in the teachings of Guru Granth Sahib as enshrined in its holy pages.
The Sikh religion founded by Guru Nanak Dev Ji more than 500 years ago is a spiritual home to those who desire and attain peace with respect. Guru Nanak dev Ji's philosophy brought about a social awakening in the entire spectrum of Indian society where centuries of social and religious discrimination had caused people to go into a "delusionary sleep". We, living in America and other foreign countries, must maintain our constant mtouch and communication with the mainstream society about our culture and religion to foster an environment of mutual respect, goodwill and harmony which will definitely help in avoiding any possible sectarian and racial violence.
(Posted on www.ambedkartimes.com August 11, 2012 )
It is saddening to learn about the passing away of your father-in-law,Mr Dharam Singh Bharti. On behalf of myself and the supreme council Shri Guru Ravidass Sabhas, USA, I convey deep condolences to the bereaved family with prayers for peace and tranquility of the departed soul. O.P. Balley

AMBEDKAR TIMES-DESH DOABA

WITH A VISION OF BABASAHEB DR. AMBEDKAR
Dear Prem Chumber Ji,
I have been reading "Ambedkartimes" ever since its inception and appreciate your ardent dedication inprojecting the image of the noble and lofty ideals of our pioneers. I also congratulate you for starting "DeshDoaba" recently and wish you continued success in your future endeavors towards community service.
Mr. Chumber is a very prolific writer and aprofessional journalist to handle the sensitive issues and concerns, pertaining to the interest of the community as a whole, in a very unbiased and objective manner. The formidable task performed by Babasaheb, Dr. B.R.Ambedkar as a distinguished scholar in the framing of India's constitution and for providing a pioneering leadership in the emancipation of the millions of the down –trodden is very well illustrated in your columns. You are also doing a good job in highlighting therevival of the movement of Ad-Dharm founded byBabu Mangu Ram Muggowalia in the 1925's, who also supported the mission of Babasaheb.
Since I had the privilege to meet Babasaheb and BabuMangu Ram Muggowalia in person in 1956 and 1963 respectively, this message also carries my humble tributes to the memory of these noble souls for their selfless services towards social justice. Mr. Chumber needs encouragement and help with a wider and robust readership of his News papers to build a healthy and enlightened public opinion on various issues confronting the community. Thanks
O.P.Balley
General Secretary,Supreme Council, Shri Guru Ravidass Sabhas, USA (Posted on www.ambedkartimes.com dated June 4, 2012)
AMBEDKAR –NEHRU
CARTOON CONTROVERSY

O.P. Balley
(General Secretary), Supreme Council,
Shri Guru Ravidass Sabhas, USA
We are writing this letter on behalf of the Supreme Council, Shri Guru Ravidass Sabhas, USA in regard to the situation arising out of the inclusion of "Ambedkar- Nehru" cartoon in Indian text-books wherein Dr. Ambedkar has been shown and likened to a slow -moving snail in the drafting of the constitution of India and Pt. Nehru, the then prime minister of India, whipping him to hurry up.
Undoubtedly It might have provided some kind of personal entertainment for those responsible for including this cartoon in the political science text- books for Grade XI, but they have ignored the fact that it has belittled and mocked the illustrious contributions and historically acclaimed image of Baba Sahib, Dr. B.R. Ambedkar, not only as the architect of the constitution of free India by doing the formidable task of drafting it single-handedly but also as the crusader and emancipator of the socially , economically and politically down-trodden sections of Indian society. They also perhaps failed to recognize a permanent imprint left on the minds of the young readers of text-books about the distorted image of "Bharat Rattan" Babasaheb. (The Jewel of India).
Why this situation has been allowed to linger on so long needs a thorough investigation and those responsible should be brought to justice.
We also support and appreciate the cross-section opinions in Indian parliament as well as the world and local media including "Ambedkar Times" for their vehement condemnation of the entire episode.
Let the condemnation of "Manusmriti" which has founded and deepened the roots of caste system in India become the curricula in the educational institutions in India so that the damage it has been doing to the society for centuries is exposed to the future guardians of the nation.

Posted on May 16, 2012

SUPREME COUNCIL SHRI GURU RAVIDASS SABHAS, USA
We are writing this letter in regard to the situation arising out of an advertisement associated with the celebration of 635th Birth Anniversary of Shri Guru Ravidass Ji Maharaj in a local news paper "Sadeloak"wherein Guru Ji 's picture has been shown with a Dastar on his head. Since the display of Ravidass ji'spicture in this form is a complete distortion of his centuries -old and historically acclaimed image, it hassent waves of shock and discontentment among theentire Ravidassia community.
With deepest regards and respects for Dastar, turbanand other religious codes and symbols, the Ravidassia community has the honor and full rights to protect our religious history as well.
In honor of the spirit of professional journalism and maintaining the harmonious relationship among different faiths and beliefs, we strongly urge the entire Indian media in USA not to publish any information in future related to Guru Ravidass Ji with a distorted anduntrue picture.
The following Sabhas of California functioning under the banner of Shri Guru Ravidass Ji join us and strongly support us in sending this communication.
1.Sri Guru Ravidass Sabha,Pittsburg,California 2.Shri Guru Ravidass Sabha,Bay area Fremont. 3.Shri Guru Ravidass Sabha Rio Linda,(Sacramento) 4.Shri Guru RavidassSabha, Fresno.5. Shri Guru Ravidass Sabha,YubaCity 6. Shri Guru Ravidass Sabha, Salma.
Thanking you.
Supreme Council Shri Guru Ravidass Sabhas,USA
TRANSFORMATION IN
RAVIDASSIA COMMUNITY

O.P.Balley, General Secretary,
Supreme Council, Shri Guru Ravidass Sabhas, USA.,
PO Box 1445 Martinez, CA 94553
The Ravidassia community has been passing through a lot ofsocial, religious and political strains and stresses for some timepast in regard to its religious identity and long relationship with the mainstream sikh community. We need to examine and analyze this tangled situation in its historical perspective toproject an unbiased picture.
HISTORICAL PERSPECTIVE :- Ever since the compilation of holy GURU GRANTH SAHEB Ji by GuruArjan Dev Ji in 1604 A.D most of the lower sections of Indiansociety, especially in Northern India have devotedly followedits teachings. The basic reason behind their faithful adherence to Guru Granth Saheb was that besides sikh gurus it alsoenshrines the sacred hymns of many other spiritual masters of the "BHAGTI MOVEMENT" who happened to belong to lower castes. Guru Ravidass JI who was one of the pioneers of the movement preached equality, love and universality of one God. The evils of social inequality based on caste and religious distinctions which had plagued the Hindu society for centuries became the main inspiration of Guru Nanak Dev Ji to found a classless religion which denounced all man -made social distinctions.
Despite the hazards of travel in those times Guru Nanak Dev Ji undertook five long and rigorous tours in India and abroad to enlighten the people about the true and realistic meaning of religion by exposing the hollowness and fruitlessness of ritualistic practices of that time.
With the passage of time and history standing as evidence theforces of caste prejudices and distinctions perpetrated by vested interests in Sikhism itself started to overshadow the preachingsof Guru Granth Saheb Ji. The result was that socialfragmentations which Guru Nanak Dev ji , Guru Ravidass Jiand other sikh gurus wanted to abolish, started to gatherstrength again and thus the noble teachings of GURU GRANTH SAHEB were confined to its sacred pages only.
Frequent changes in Sikh Maryadas , definitions of a real sikh and other differential treatments towards lower sections pushed the Ravidassia community to build their own temples and spiritual Deras .But the sanctity of Guru Granth Saheb and its teachings was always maintained with full respect and reverence.
Babasaheb Dr.B.R Ambedkar , a crusader against Hindu caste system being practiced from the era of Manu Simriti and a dynamic leader and conscience of the unprivileged and the suppressed sections of Indian society once seriously considered conversion to Sikhism as a viable means of liberation from the shackles of Hindu beliefs and practices of higher and lower castes but he soon found out that caste system supported by vested interests and monopolistic trends was very much alive among Sikhs too. Sikh leaders never wanted to share the management positions in SGPC with members of the lower castes. This led Babasaheb to change his mind and he embraced Budhism with hundreds of thousands of his followers in October, 1956. This definitely put a very heavy lid on the expansion of sikhism in India and abroad.
Empty Slogans:- Both Hindus and Sikhs have always been raising their empty slogans that they believe in social equality and that members of the lower castes are integral part of their social and religious hierarchy but history loudly speaks and points to the contrary.
INCIDENT IN VIENNA:- With the assassination of SantRamanand of Dera Suchkhand Ballan in Vienna, Austria last year the situation has been pulling through a very chaotic phase. It is needless to mention that Dera Ballan from its very inception has been very much devoted in its efforts to propagate the teachings of Guru Granth Saheb. Leaders in SGPC in particular and other sikh organizations in general should have taken very serious and farsighted steps to avoid and stem the tide of frustration and humiliation among theRavidassia community which led to the initiation of GuruRavidass Amrit Bani as its own religious entity.
ESTABLISHMENT OF SUPREME COUNCIL IN USA:-After the occurrence of this unfortunate incident inVienna the need for a central body was felt more imperatively to usher in an environment of awareness, understanding and homogeneity in our vision to start a process of reconciliation among divergent shades of public opinion all over the world.With this motive in mind the emergence of this Supreme council of all Shri Guru Ravidass sabhas USA became a reality.
After its establishment the Supreme council submitted a memorandum to Government of India through the consulate General of India , San Francisco in person, sent communications to Government of Austria ,Chief Minister of Punjab and SGPC to adopt all possible measures to calm down the explosive situation created by the tragic incident in Vienna. But unfortunately all our communications went unheeded with no response. A comprehensive dialogue should have been initiated by SGPC and other centers of sikh power andinfluence in a spirit of selflessness, compassion , respect and reconciliation but nothing happened and instead widened the gulf.
ANALYTICAL COMMENTARIES:- A wide range of analytical interpretations and public commentaries on this important subject are witnessed all over the world with seriouspotential and far- reaching implications on the initiation of Guru Ravidass Amrit Bani as its own religious entity.
There is no question about the truth that "in theory" both Sikhism and SGGS prohibit casteism in any form but thisassertion is limited only to the holy pages of Shri Guru GranthSahib.
2. How much has SGPC or other Sikh organizations have done for assimilation of lower castes into Sikhism and recognition of their historical rights.?
3. The representation of lower castes in Sikh Gurudwaras is mostly limited to kirtan and dhadi jathas and kitchen sewadarswhile the upper management never moves from the hands of higher caste Sikhs. That is not what Guru Granth Saheb teaches us.
ADHERENCE TO the Sanctity of SGGS:- In spite of thegrim situation created in context of the above facts SUPREME COUNCIL ,SHRI GURU RAVIDASS SABHAS,USA will continue its adherence to the sanctity of SHRI GURU GRANTH SAHEB JI and maintain the status-quo in itsaffiliated temples in USA till this vital issue is finally examined and settled by a galaxy of intellectuals and community scholars at an international forum .We should notdraw any hasty conclusions from the current state of affairswhich can end up in making confusions more confounded.
Uniformity of Names of Deras:-The supreme council USA also requests and urges all sant 108 Deras in Panjab or elsewhere to adopt uniformity of name to their Deras as ShriGuru Ravidass Temples with their existing names to continueas additional identity. This will bring a spirit of unity and homogeneity in their religious institutions.
SUGGESTED MEASURES FOR FUTURE:- It is never too late to mend the fences of mutual relationships damaged by lack of farsightedness and exploitation by anti-social elements and vested interests. To find some in-roads into the tangled situation of the day we strongly suggest and urge that SGPC ,the mainstream sikh organizations ,the spiritual Deras ofRavidassia community and well known communityintelligentsia should engage themselves into a very serious, healthy and honest dialogue based on equality and dignity torecognize the genuine and legitimate rights of Ravidassiacommunity which historically belong to them in themanagement of SGPC and other sikh shrines.
If we all follow the process with a sincere insight, truth and flexibility of vision it can be a clarion call to find a way out of current divisions and social discord.
INTERFAITH HARMONY AS ULTIMATE GOAL: - In conclusion of what we have stated above we would like to elaborate a little more in general that despite aprominent role any religion plays in people's lives, a fundamental misunderstanding and ignorance about its truemeaning and function starts to gain momentum to mislead the minds of the innocent people in various faiths today. They seem to have lost connection with their true source of divinity. Every religion or faith is trying to operate to maintain its own uniqueness, traditional culture but divisive sectarianism pulls itaway from its true path. We need to involve every faith to start on the path of mutual respect and understanding to live in peace and harmony. We have to accept the universality of one Godthough with different names.
"Let us release our grudges, anger, hatred and pains, because these are nothing but binding chains. Let us serve all who are in need, regardless of race, color and creed. Let us remember that we are all one , embracing all and discriminating none."
DR. B.R. AMBEDKAR- A HUMBLE TRIBUTE

O.P.Balley Martinez, (California)
This year we will commemorate 119th Birthday anniversary of the great leader of India, father of the Indian constitution, the very conscience of the socially oppressed, who dedicated his entire life for their emancipation and uplift, Bharat Rattan Dr.B.R.Ambedkar. Before paying my humble tributes to the memory of the most luminous stars in the galaxy of human intelligentsia I extend my hearty congratulations to millions of his followers all over the world on this auspicious occasion.

Some of the glimpses of his unrelenting struggle and sacrifices to fight against social injustice which speak for themselves are shared as under: Dr. Ambedkar, born on April 14, 1891 in a Mahar family hailing from the state of Maharashtra, grew up in the midst of harsh and severe social disabilities which the untouchables, also known as dalits and later as scheduled castes, suffered at that time. He acquired the first hand knowledge of the inequalities and in-built inadequacies in the entire social spectrum of Indian society. He created awareness among the exploited and derelicted members of society to raise their voice against the unjust social order.

EDUCATIONIST:- Baba Sahib as he was lovingly and affectionately known firmly believed that education is the light to the mind as eyes to the blind. His birth in a family of so called "untouchables" exploded the false myth that education is the birth right of only the selected segments of society. His intellect, vision, creativity and farsightedness reinforced the reality that it is the worth and not the birth which is the real source of one's recognition in any society. In the philosophy of Baba Sahib the place of self- respect and human pride was the greatest and most important. He, through education wanted to develop the qualities of justice, equality, freedom and fearlessness. After completing his academic pursuits in U.S.A and England he returned to India in 1920 to grapple with the problems of social degeneration and Hindu antagonism created by "Manuwad" based on inequality and injustice, which had been eating like a cancer for centuries into the very vitals of Indian society.
NATIONALIST :- Dr. Ambedkar was a fervent nationalist who transcended all political differences with other national leaders of the time with regard to his love and patriotism for his motherland. He supported the prosecution of war against the Nazis and fascists while appointed as labor member to Viceroy's executive council ,as witnessed by late Lord Mountbatten the then British Commander-In –Chief of Allied forces in South East Asia during world war II in his expositions on the personality of this illustrious Indian leader.

CONSTITUTIONALIST:- He was a seasoned statesman, politician and a nation builder who welded the entire nation into one unified entity through his charismatic skills and wisdom in drafting the constitution of free India. It was his exceptional knowledge of constitutional law which earned him the distinct honor to tackle justly and fairly the diverse and complex intricacies of Indian social order. As chairman of the drafting committee Dr. Ambedkar had to tackle almost single- handedly the gigantic task of drafting and presenting the constitution of free India within a very limited period of time. He stood like a tower of strength, guiding, explaining and clarifying the intricate provisions of the constitution. The man who publicly burnt Manusmiriti in 1927 presented another Smiriti or living law ( i.e. The Indian constitution) which granted the people of India ,justice, liberty, Equality and Fraternity instead of inequality, discrimination and social fragmentations.

According to Dr.Bannerjee, a profound scholar and an eminent author, " The speeches delivered by Dr.Ambedkar in the constituent assembly as the chairman of the drafting committee shows his profound scholarship, admirable capacity for lucid exposition, penetrating intellect and his courageous statesmanship. Indeed he may very rightly be regarded as the chief architect of the present constitutional structure."

WHY EMBRACED BUDHISM?:- After his personal experiences and carping humiliations of Hinduism plagued with caste discriminations Baba Saheb once seriously considered conversion to Sikhism as a viable means to escape from the shackles of Hinduism but he soon found out that caste system is very much alive among the Sikhs too. This made him change his mind and embraced Budhism.

While paying his tributes to Dr. Ambedkar, late Pt.Jawahar Lal Nehru,the first prime minister of India, in his speech in the Indian Parliament said, " Dr.Ambedkar will be remembered mostly as a symbol of revolt against all the oppressive features of Hindu society. His virulent opposition to those oppressive features had kept people's mind awake. Although he was a highly controversial figure he played a very constructive and important role in making of the constitution of India and Hindu Law Reforms. He revolted against something which everybody should revolt against."

STATUS OF WOMEN:-His painstaking and pioneering work as the first law minister of free India in the enactment of Hindu Code Bill for which he faced lot of opposition from many quarters was an outstanding piece of legislation and contribution in the uplift of the status of women in India.

PERSONAL MEETINGS:- It was the most thrilling and rewarding experience of my life when I was blessed to meet Baba Sahib in person for the first time at his residence on Alipore Road, Delhi in January,1956 with the help of Mr.Nanak Chand Rattu, private secretary of Baba Sahib. Thereafter , I had many opportunities to see, talk and listen to him in person which are deeply embedded in my memories and will carry them as a holy relic for the rest of my life.

FUNERAL PROCESSION ( Dec. 6,1956)-
On December 6,1956 while on way to my office located right in front of Baba Sahib's residence I heard on All India Radio the sad news of his sudden demise. I was among the very few who arrived first at his residence in the early morning where I had the rare opportunity along with five other persons to carry Baba Sahib's mortal body from his bed room to the main lobby for public view. A vast sea of mourners ,thereafter, gathered at his residence to participate in a miles-long funeral procession to the Palam airport before flying his body to Bombay for cremation. In the end I must mention that though the lamp which guided the destiny and showed the path to millions groping in darkness was suddenly extinguished by the cruel clutches of his untimely death but his contributions and sacrifices for the unprivileged in particular and the entire Indian society in general will live forever, adorning the pages of the history of India and the world like a precious jewel. His crusade for social justice will be cherished as a perpetual source of inspiration and encouragement to fight against the forces of tyranny and injustice for generations to come.
SOME FAMOUS QUOTATIONS OF BABA SAHIB:-
1. " Glory to those who would keep on their struggle for the liberation of the enslaved in spite of heavy odds, carping humiliations, storms and dangers till the down trodden secure their rights."
2. " Whatever I have done I have been able to do after passing through crushing miseries and endless troubles all my life in fighting with my opponents. With difficulties I have brought this caravan where it is seen today. Let the caravan march on despite the hurdles that may come in its way. If my lieutenants are not able to take the caravan ahead they should leave it there but in no circumstances should they allow the caravan to go back. This is the message to my people".
3. " Turn in any direction you like ,caste is the monster that crosses your path. You cannot have political reform, you cannot have economic reform unless you kill this monster".