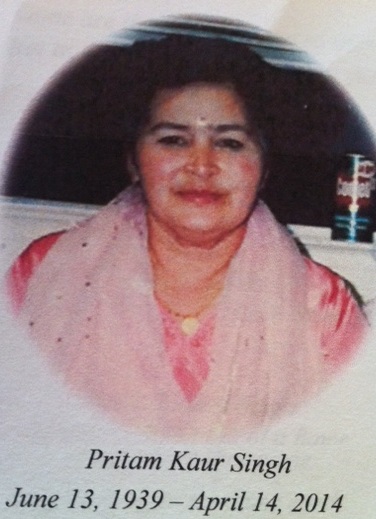 A Tribute to Late Mrs. Pritam Kaur Damria
It is very saddening to know that Mrs. Pritam Kaur Damria, wife of Mr. Sohan Singh Damria, founder member and EX-chairman, Sri Guru Ravidass Sabha, Pittsburg (CA), left for her heavenly abode on April 14th, 2014.
Mrs. Pritam Kaur, who was 74 years old, was a symbol of dedication and compassion in helping others. She is survived by her loving husband, Mr. Sohan Singh Damria, her only son Ajay Damria, a large family, friends, relatives, admirers and a long trail of her sweet memories.
Mrs. Pritam Kaur who was born in Fiji Islands in 1939, was married to Mr. Sohan Singh Damria in 1960 and migrated to USA in 1962 along with her husband. Because of her sweet and amiable nature she had formed a close affinity among her family which earned her a great deal of personal respect from all.
I had the opportunity to know the family very intimately for the last 37 years and always found Bibi Pritam Kaur as a shining symbol of good qualities of a good human being.
She was a dedicated housewife, homemaker and the real strength behind her husband's successful endeavors in life. History will remember her with grace, dignity and respect for her multiple roles as a dedicated wife, a loving mother, sister and a compassionate person.
Her funeral services will be performed at 10:00 A.M on Saturday, April 19th, 2014 at Pittsburg Chapel, 2295 Railroad Ave. Pittsburg. Following the cremation the last prayers for the departed soul will be held at Sri Guru Ravidass temple, Pittsburg. All are requested to participate.
I offer my floral tributes to the loving memory of the deceased with prayers to Almighty God to bless the departed soul with peace and tranquility and to provide solace and strength to the bereaved family to bear this irreparable loss.
O.P. Balley
Founder Member and Ex-Chairman,
Sri Guru Ravidass Sabha, Pittsburg (California)
Posted on www.ambedkartimes.com April 18, 2014