Dr. Ambedkar song written by Gurdass Ram Alam & Lyric Chandan Singh USA

(Special # www.ambedkartimes.com)
REMEMBERING
BABU MANGU RAM MUGOWALIA
ON HIS 36TH DEATH ANNIVERSARY

Prem Chumber Editor-in-Chief
Babu Mangu Ram Mugowalia was the founder of the glorious Ad Dharm movement in Punjab. The Ad Dharm movement was the only movement of its kind in the Northwestern region of the country that aimed at securing a respectable place for the scheduled castes through cultural transformation and political assertion rather than seeking patronage from above. Another important feature of this movement was that it intended to bring social transformation and spiritual regeneration in the lives of the downtrodden. Although, this movement ceased to exist in its vehement form after the first general election in independent India, its emphasis on social transformation and political assertion against structures of social inequality and oppression continues to attract the Ad-Dharmis and other scheduled castes of Punjab even today.
Babu Mangu Ram Mugowalia set a clear agenda for the emancipation of the Dalits and their upliftment. The agenda aimed at restoring their lost indigenous religion and provide them with a sense of self-respect and dignity. The method to achieve this agenda was based on cultural transformation and spiritual regeneration of the indigenous people contemptuously known as Ati-Shudras. Babu Mangu Ram Mugowalia was not in favour of embracing any other existing religion. He was in favour of strengthening the Adi (the original) religion of the indigenous people of this country. His views on Hindu religion were very clear. He was of the opinion that since Dalits were not born Hindu where is the need for them to leave that religion and to embrace some other one. Babu Mangu Ram Mugowalia thought it appropriate to empower Dalits by carving out a separate Dalit identity on the basis of their indigenous religious strength (Ad Dharm). In one of his interviews to Professor Mark Juergensmeyer, a reputed scholar of Ad Dharm movement, Babu Mangu Ram said proudly "we helped give them [Ad Dharmis] a better life and made them into a Qaum. We gave Gurus to believe in and something to hope for". Thus the real contribution of Babu Mangu Ram Mugowalia and the Ad Dharm movement was in forging a separate and independent Dalit identity in Punjab, which helped them reclaim their long lost original Adi religion and their forgotten heroes and gurus. All Ad Dharmis are indeed proud of for what Babu Mangu Ram Mugowalia did for them and are sincerely indebted to him. We all remember him reverently on his 36th death anniversary.
April 22, 2015
| | |
| --- | --- |
| | |
GREETINGS ON
DR. AMBEDKAR'S 124TH JAYANTI
Ambedkartimes Group congratulates all its worthy writers, readers and
well-wishers on Bharat Rattan Babasaheb Dr. Bhimrao Ramji Ambedkar's
124th Jayanti and wishes you all happy, healthy and peaceful life.


Prem Kumar Chumber
www.ambedkartimes.com
DR. AMBEDKAR'S
124TH BIRTHDAY CELEBRATIONS

Shri Guru Raviadss Sabha Sacramento (California) & The United Awarenes committee of Ravidassia Community (California) will celebrate Dr. Ambedkar's 124th birth anniversary on Sunday, April 19, 2015 at Shri Guru Ravidass Temple Rio Linda in Sacramento (California). Please join us with your families & friends.

For more information, please contact:
Gurughar 916-992-1710 OR
H. R. Kajla 916-479-0421 Rakesh Chander 916-698-3808
Tawinder Kazla 916-300-5398 Kewal Bolina 916-548-8902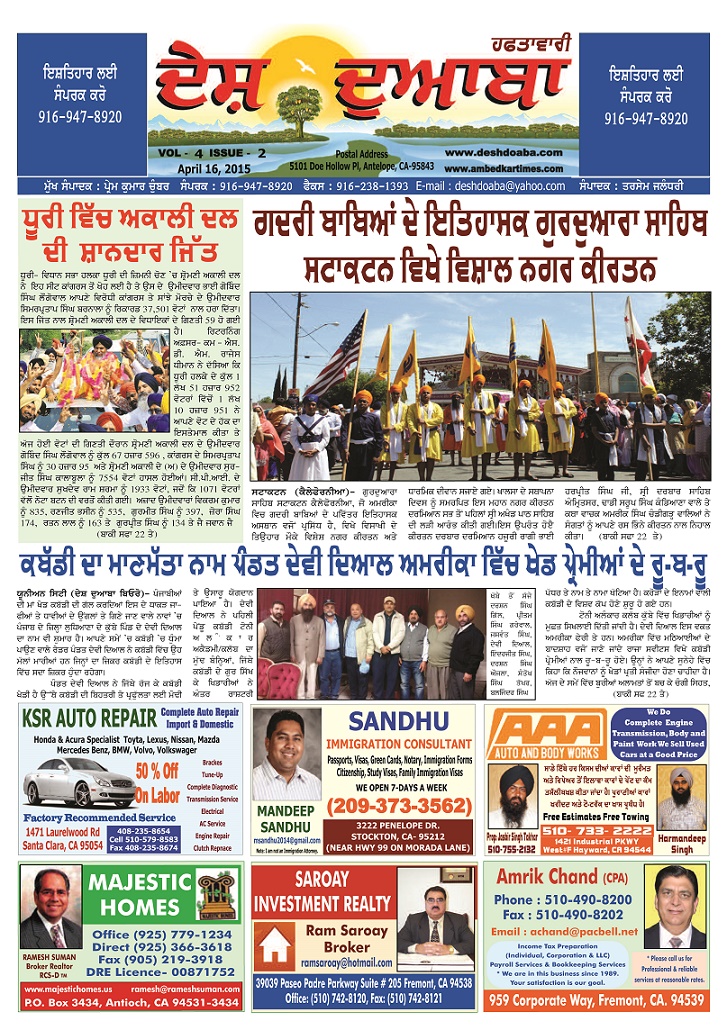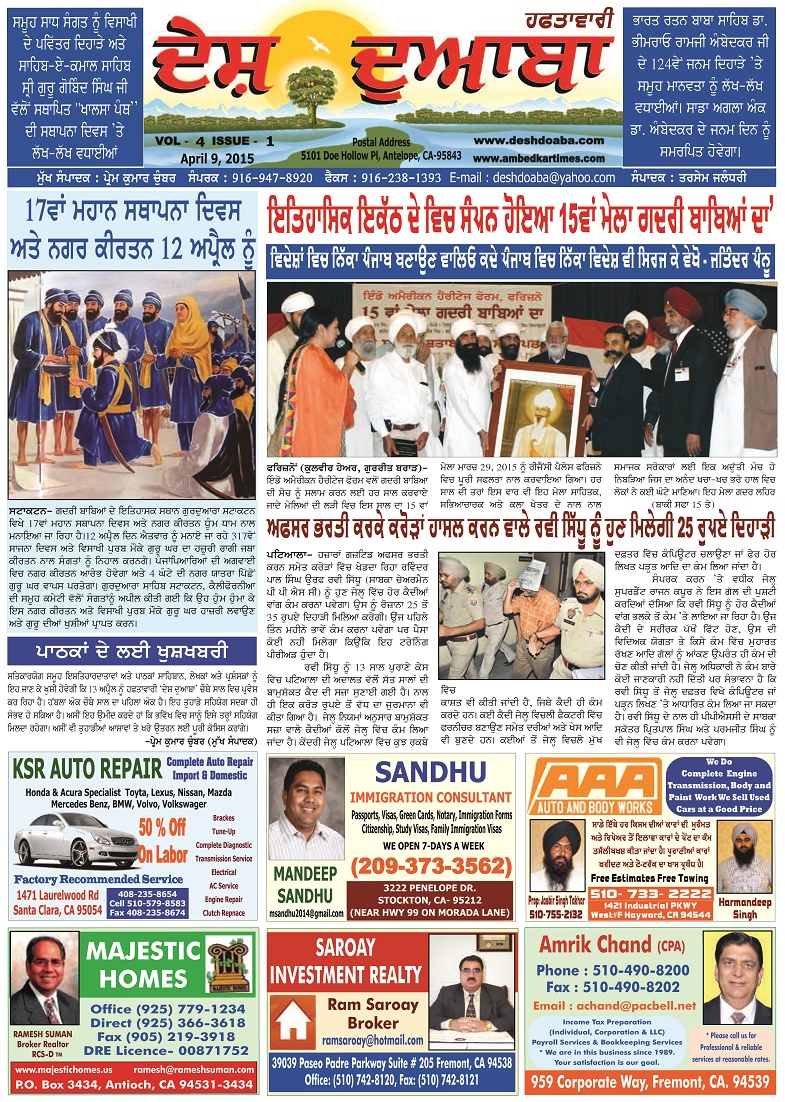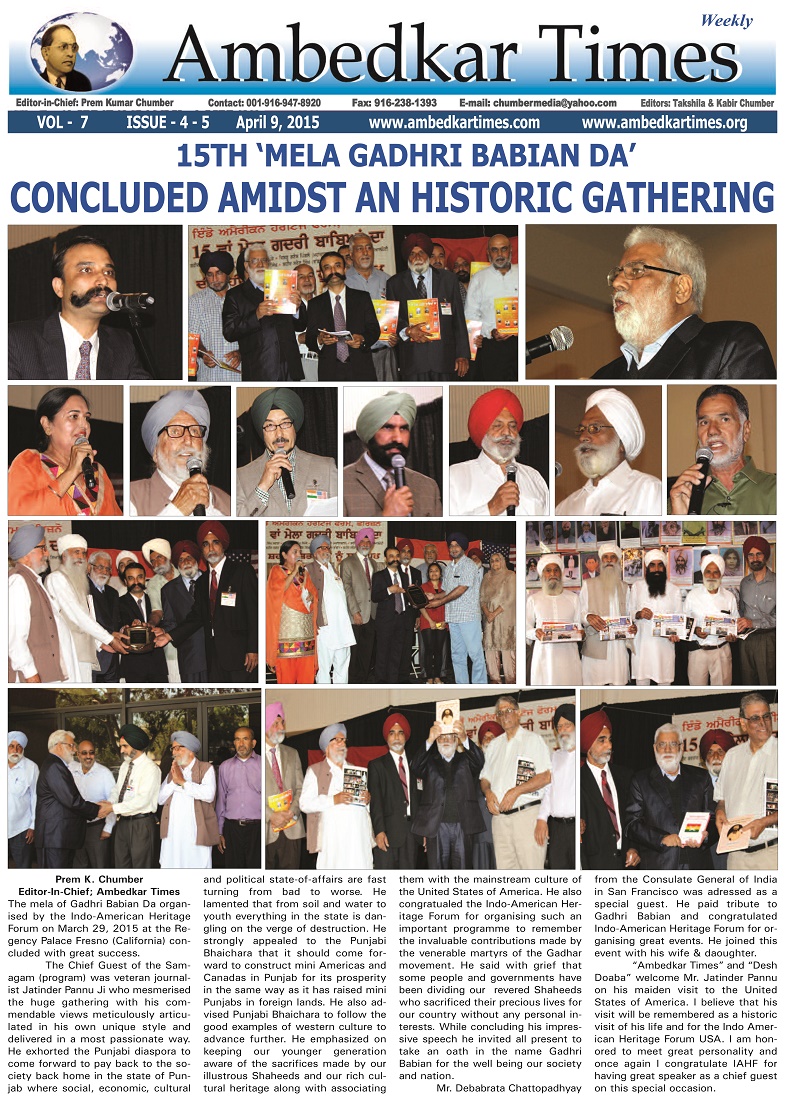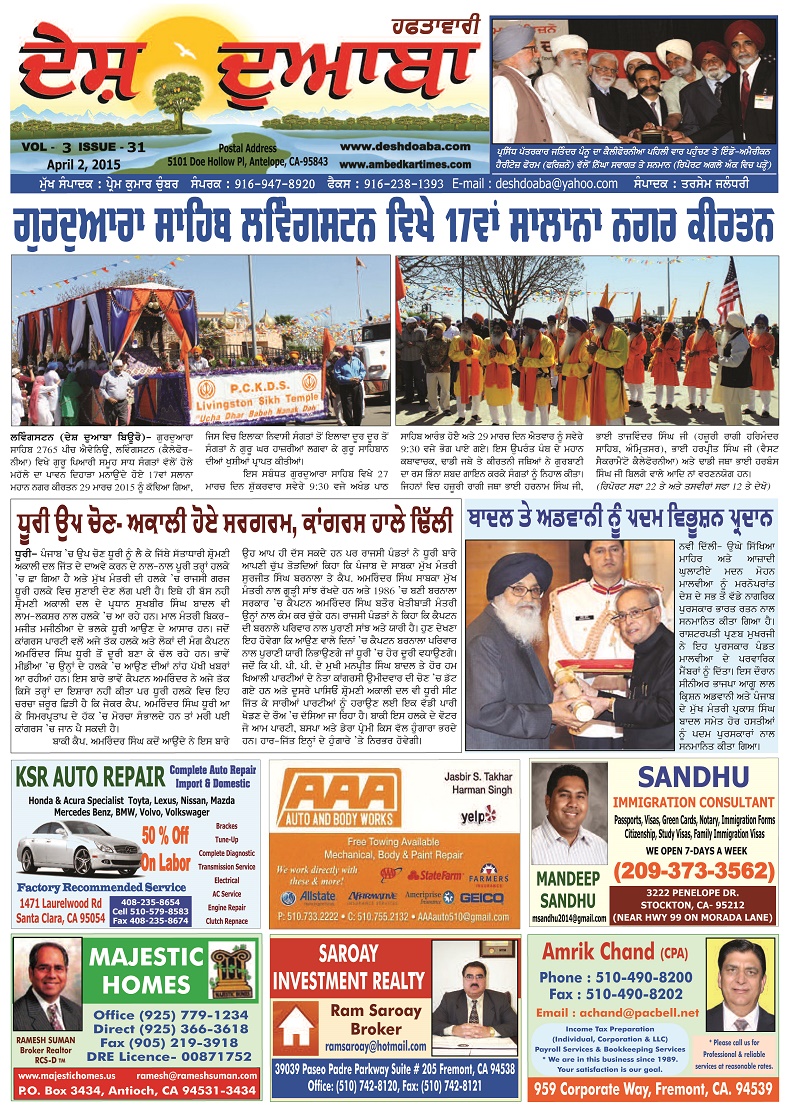 | | |
| --- | --- |
| | |
| | |
| --- | --- |
| | |
AMBEDKARTIMES GROUP REMEMBERS

SAHIB SHRI KANSHI RAM JI
ON HIS BIRTH ANNIVERSARY

Prem Kumar Chumber (Editor-In-Chief)

Please read special issue of Ambedkar Times
on Sahib Kanshi Ram Ji's birth anniversary
Please click here
Ambedkarties.com successfully enters into seventh year of it continuity. This humble initiative began on March 12, 2009 with the support of sympathizers of the Dalit cause. "Ambedkartimes" was formally released at Shri Guru Ravidass Temple, Fresno on March 15, 2009, and the birthday of Sahib Kanshi Ram Ji - founder President of BAMCEF, DS4 and Bahujan Samaj Party (BSP). It was also dedicated to him and his mission for the emancipation and empowerment of Dalits. While delivering a key-note address at the opening session of the 1st World Dalit Convention 'A new vision towards a casteless society' at the Kuala Lumpur Mines Resort city, Malaysia (October 10-11, 1998), Sahib Kanshi Ram Ji, reiterated that DALITS SHOULD BECOME RULERS INSTEAD OF BEING RULED. It is long we have been ruled. It is long we have been taking. Now it is time we change the destiny to rule and give. The 1st World Dalit Convention was well attended by more than 700 delegates throughout the world including famous politicians noted leaders from Dalit movement, champions of down-trodden, social reformers, renowned economists, famous educationists and great scholars.

The main source of strength behind the organization of this world Dalit Convention and preparing its extensive report was Senator and Chairman President IPF late Mr. M. G. Pandithan Kuala Lumpur, Malaysia. We also thank him on this occasion from the bottom of our hearts for this noble cause that he initiated valorously. During this historic convention Dr. Ambedkar International Award was also instituted by him and was given to the President of India, Mr. K. R. Narayanan. Dr. Ambedkar International Award was instituted to be given every three years to prominent leaders who work for the welfare of the downtrodden people. Since the 1st World Dalit Convention, many more World Dalit Conventions were held in different parts of the world.

Let me put on record, at this occasion of celebration of the successful journey of "Ambedkartimes", that we are grateful to all our supporters, sympathizers, contributors and esteemed readers for showing faith in us and our small and humble endeavor for serving our community through the pages of this paper. We hope to continuously receive your support liberally in future too. We also promise to do our best to serve the cause of equality, liberty and fraternity as envisioned by Bodhi Sativa Bharat Ratan Baba Saheb Dr. Bhimrao Ramji Ambedkar. It is also a great occasion to share with all our supporters, sympathizers, contributors and esteemed readers that this media forum for the promotion of the cause of the community has expanded into weekly vernacular and English papers of the already successful monthly endeavor!



Regards,
Prem K. Chumber
Editor-In-Chief:
AMBEDKAR TIMES
| | |
| --- | --- |
| | |
| | |
| --- | --- |
| | |
| | |
| --- | --- |
| | |
| | |
| --- | --- |
| | |
TRIBUTE TO PROFESSOR TULSI RAM JI I join Ambedkartimes.com in offering our sincere condolences to the bereaved family and wider circle of missionaries of Babasaheb mission of which Professor Tulsi Ram Ji remained an integral part. Professor Tulsiram Ji expired on February 13, 2015 at New Delhi. He obtained PhD degree from the School of International Studies, Jawaharlal Nehru University, New Delhi where he also served till date as a faculty in the Centre for Russian and Central Asian studies. He was a visiting Fellow at the Institute of Oriental Studies at Moscow and St. Petersburg. An eminent scholar of Buddhism and International Studies, he worked consistently towards spreading the ideas and principles of Babasaheb Dr. B.R. Ambedkar and travelled extensively to share his knowledge on the difficulties and social exclusion faced by Dalits in the country. He was a prominent critic on Indian literature and Buddhism, and wrote many books and articles in peer reviewed research journals.
Dr. Ronki Ram
Fellow & Syndic, Dean, Faculty of Arts, Hon. Director, ICSS (NWRC)
Shaheed Bhagat Singh Professor, Panjab University, Chandigarh Posted on www.ambedkartimes.com February 14, 2015
| | |
| --- | --- |
| | |

31ST INTERNATIONAL PUNJABI DEVELOPMENT
CONFERENCE PUNJABI UNIVERSITY, PATIALA
Patiala
(
Ambedkar Times News Bureau):
The Department of Punjabi Language Development, Punjabi University, Patiala organized three days 31st International Punjabi Development Conference from January 14 to 16, 2015. The inaugural function was held at the university's Science Auditorium on the morning of 14th January. Dr. A.S. Chwala, Dean Academic Affairs welcomed the dignitaries, eminent guests, participants, teachers, research scholars and students. Dr. Jasbir Kaur, Chairperson, Department of Punjabi Language Development briefed about the conference, Mr. Sukhdev Singh Dhindsa, MP, presented the inaugural address, Dr. Ravail Singh, Convener, Punjabi Advisory Board, Sahitya Academy, Delhi was the special Guest, Professor Ronki Ram, Dean, Faculty of Arts & Hon. Director ICSSR (NWRC), Panjab University presented the keynote address. Professor Jaspal Singh, Vice-Chancellor, Punjabi University, Patiala presided over the event and Dr. Satish K. Verma presented the vote of thanks.
READ MORE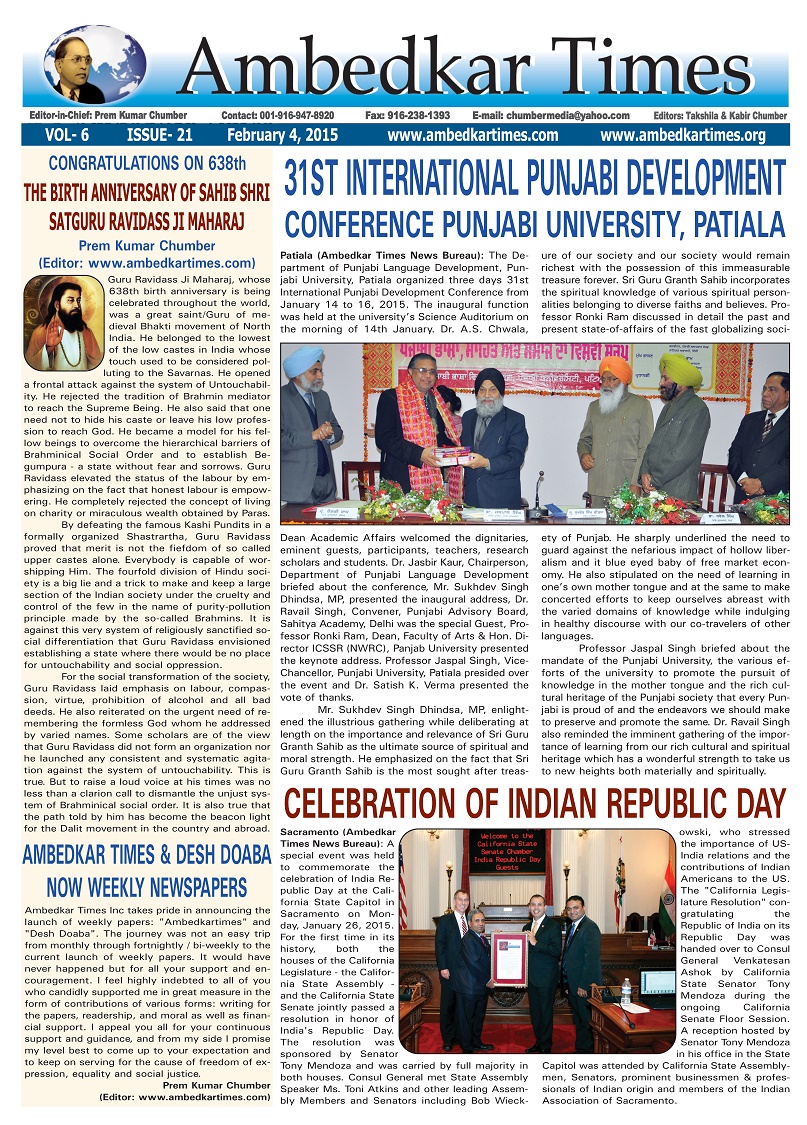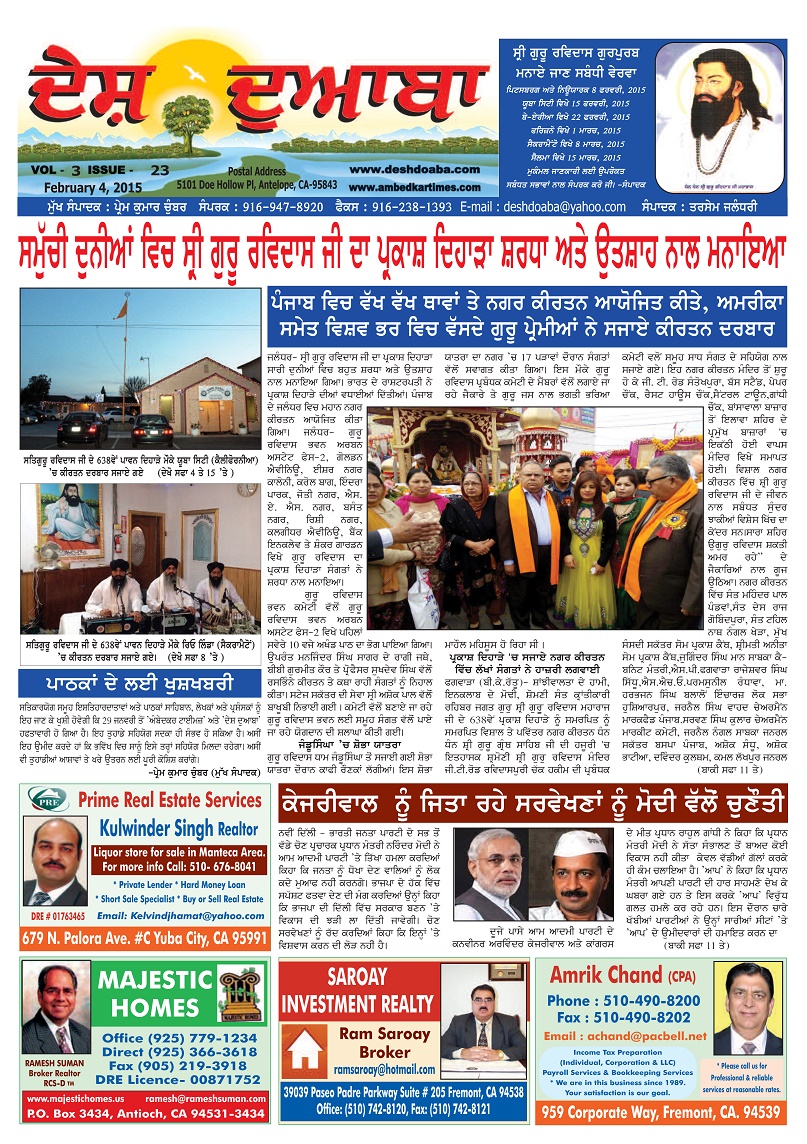 CONGRATULATIONS ON 638th
THE BIRTH ANNIVERSARY OF SAHIB
SHRI SATGURU RAVIDASS JI MAHARAJ



Prem Kumar Chumber


(Editor: www.ambedkartimes.com)

Guru Ravidass Ji Maharaj, whose 638th birth anniversary is being celebrated throughout the world, was a great saint/Guru of medieval Bhakti movement of North India. He belonged to the lowest of the low castes in India whose touch used to be considered polluting to the Savarnas. He opened a frontal attack against the system of Untouchability. He rejected the tradition of Brahmin mediator to reach the Supreme Being. He also said that one need not to hide his caste or leave his low profession to reach God. He became a model for his fellow beings to overcome the hierarchical barriers of Brahminical Social Order and to establish Begumpura - a state without fear and sorrows. Guru Ravidass elevated the status of the labour by emphasizing on the fact that honest labour is empowering. He completely rejected the concept of living on charity or miraculous wealth obtained by Paras.

By defeating the famous Kashi Pundits in a formally organized Shastrartha, Guru Ravidass proved that merit is not the fiefdom of so called upper castes alone. Every body is capable of worshipping Him. The fourfold division of Hindu society is a big lie and a trick to make and keep a large section of the Indian society under the cruelty and control of the few in the name of purity-pollution principle made by the so-called Brahmins. It is against this very system of religiously sanctified social differentiation that Guru Ravidass envisioned establishing a state where there would be no place for untouchability and social oppression.

For the social transformation of the society, Guru Ravidass laid emphasis on labour, compassion, virtue, prohibition of alcohol and all bad deeds. He also reiterated on the urgent need of remembering the formless God whom he addressed by varied names. Some scholars are of the view that Guru Ravidass did not form an organization nor he launched any consistent and systematic agitation against the system of untouchability. This is true. But to raise a loud voice at his times was no less than a clarion call to dismantle the unjust system of Brahminical social order. It is also true that the path told by him has become the beacon light for the Dalit movement in the country and abroad.
Bootan Mandi in Jalandhar, my native place, is a non-descript locality on Nakodar Road (Ambedkar Marg). The Mandi once was a thriving business centre for raw and tanned leather. Most of the residents belong to dalit community of Chamar (Ad-dharmi) extraction and as such are the followers of Guru Ravidass. The birthday anniversary of Guru Ravidass is celebrated at the Mandi with great devotion and gaiety traditionally for about a century. The celebrations culminate into the Shoba Yatra or Nagar Kirtan (previously called Jaloos) one day before the Prakash Utsav or Gurpurab (previously called Janam Din) and the religious Congregation in the day time and grand reverential song and poetic Darbar on the day of Gurupurab. With the increasing political and socio-economic profile of Bootan Mandi, the occasion became an important event in the socio-cultural life of Jalandhar over the years. Traditionally it was a sober and solemn occasion and was observed under spiritual norms. Later on, with the changing times, it has tended to become a common Mela type event with all fun and frolic around. The entire area, in and around Bootan Mandi, is cordoned off for the event. Each and every building and even the private houses are decked and illuminated for a week or so. The Prabhat Pheris (street recital and singing of Gurbani in the moorings) start about two weeks in advance. The community kitchens (langars) are set up and served on both the days at several places. The entire area becomes a gallery of large hoardings of congratulations on the Gurupurab of the great Guru. Read more
MR. R. C. PAUL PASSED AWAY

It is with sadness that Mr. R. C. Paul passed away on Friday morning January 30, 2015 (California), Funeral services will be held on Thursday January 5, 2015 at 10:00 am the Pittsburg Funeral Chapel, 2295 Railroad Avenue, Pittsburg (CA) and Cremation will be at 12:30 PM. at Oakview Memorial Park 2500 E. 18th St., Antioch (California) 94509. Mr. R. C. Paul was a great follower of Babasaheb Dr. Ambedkar & Shri Guru Ravidass Ji. He was a retired judge and father of Mr. Shashi Kant Paul (Advocate).
Ambedkartimes sends its condolence to the Paul family, relatives and friends on their biggest loss. For more information, please contact to Mr. Shashi Kant Paul: 1-707-372-5657 Editor: Ambedkartimes.com
(Posted on www.ambedkartimes.com January 31, 2015)
Remembering Mr. R.C. Paul

Prof (dr.) Ronki Ram
Dean, Faculty of Arts
Honorary Director, ICSSR, (NWRC)
Shaheed Bhagat Singh Professor of Political Science
Arts Block IV, Panjab University
Chandigarh 160 014 (India)
Mob: 0091-9779142308
E-mail: ronkiram@yahoo.co.in
Mr R.C. Paul lived a true life of a missionery meticulously dedicated to the emancipation and empowerment of the downtridden. He became involved in social welfare task of his fellow beings during his college years. During his F.Sc degree course at Doaba College Jalandhar, he took the responsibilty of the General Secretaryship of the Punjab Scheduled Castes Students' Federation. Late Mr. Suraj Bhan was its president who later on became the Governor of the states of Uttar Pradesh, Himachal Pradesh, and Bihar. It was Mr. R.C. Paul, the General Sectretay of the Punjab Scheduled Castes Students' Federation, who prsented the Welcome Address in English in the honour of Babasaheb Dr. B.R. Ambedkar at Ramdasspura (Bootan Mandi) where he addressed the first mammoth gatherting during his third and the last Punjab visit (27-29 October 1951). Seth Kishan Dass, President of the Punjab Scheduled Castes Federation presented the Welcome Address in Urdu.

In the Welcome Address, Mr. R.C Paul highlighted the sufferings of the Scheduled Castes students and the severe hardships they had to face to acquire education. That was the time when only the science Scheduled Castes students offered some scholarships by the central government and there was no state government help available to them. Mr. K.C. Sulekh, founder Editor of Ujala (the only paper brought out by the Scheduled Castes of Punjab) and Secretary of The Punjab Scheduled Castes Federation, Mr. Suraj Bhan and Mr. R.C. Paul met a number of time Sh. Prithvi Singh Azad, the then Cabinet Minister in the Punjab Legislative Assembly for the Punjab Government help for the students of the Scheduled Castes communities. Alongwith Sh. K.C. Sulekh, Paul Sahib also visited Babasaheb Dr. B.R. Ambedkar at his stay in the Rest House Bangalow in the Cant of Jalandhar. Both of them talked at length with the Messiah of downtrodden and made him relaxed while kneading his legs.

After the completion of F.Sc, Mr. Paul joined Govt. service in the department of Electricity. After three years, he did graduation and later on got enrollred in the evening classes for the LL.B. degree course at Panjab University, Chandigarh, which he completed successfully. In 1967 he qualified PCS and was appointed Sub-Judge. He retired in 1979 as a Judicial Megistrate. In the same year he started Law practice at local court Jalandhar. It was after his retirement that he became actively involved in the cause of the mission of Babasaheb Dr. B.R. Ambedkar. He offered his legal services free to his fellow brothern. In close collaboration with Mr. L.R. Balley, a veteran Ambedkarite of the region, Mr. R.C. Paul participated in many agitations for the restoration of the due rights of the Scheduled Castes people. He was always willing to come forward to work for the mission irrespective of when and where. He was the most familiar face at all the events at Ambedkar Bhawan (Jalandhar) highlighting the great mission of Babasaheb Dr. B.R. Ambedkar.
I share the irreparable loss with his family and innumerable fellow travellors on the mission.
(Posted on www.ambedkartimes.com February 2, 2015)
A LIFE DEDICATED TO AMBEDKAR MISSION-
MR. R.C. PAUL IS NO MORE!

Read more in "AMBEDKAR TIMES" weekly newspaper

K.C. Sulekh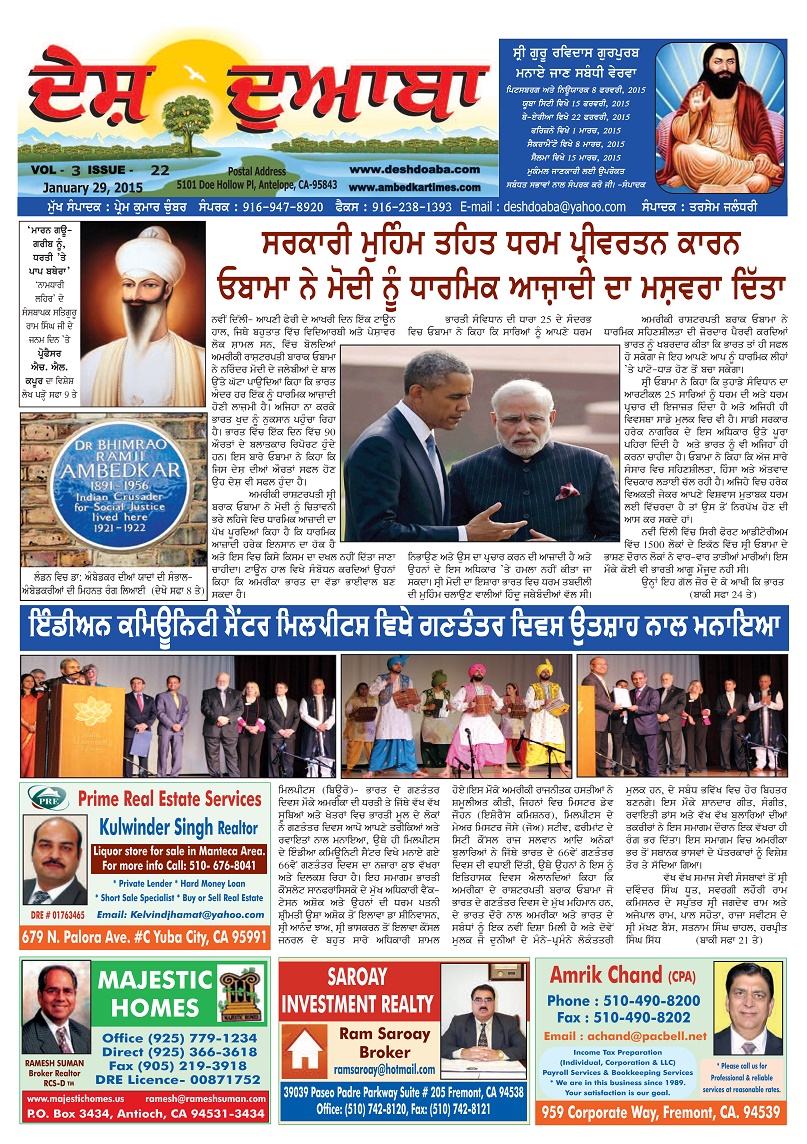 Happy Republic Day (January 26, 2015)
Freedom, Caste and Nation
Prem Kumar Chumber
Editor-In-Chief: Ambedkar Times & Desh Doaba
Babasaheb Dr. Ambedkar said that "He who is not a slave of circumstances and is always ready and striving to change them in his favour, I call him free. One who is not a slave of usage, customs, of meaningless rituals and ceremonies, of superstitions and traditions; whose flame of reason has not been extinguished, I call him a free man." On the freedom of India while expressing his joy he said "Independence is no doubt a matter of joy. But let us not forget that this independence has thrown on us greater responsibilities. By independence, we have lost the excuse of blaming the British for anything going wrong. If hereafter things go wrong, we will have nobody to blame except ourselves. There is a greater danger of things going wrong. Times are fast changing." The evil of caste system continues to stay with us even after sixty-eight years of India's Independence! We have to blame ourselves for this bad deed. But the first question is who are these 'ourselves'? Why they did not put the caste to an end? On the contrary, caste seems to be rather getting further strengthened given the distribution of tickets for elections to the state assemblies and the national legislature. Even grassroots electoral bodies are not spared. Babasaheb Dr. Ambedkar views that "There is no nation of Indians in the real sense of the world; it is yet to be created. In believing we are a nation, we are cherishing a great delusion. How can people divided into thousands of castes be a nation? The sooner we realize that we are not yet a nation, in a social and psychological sense of the world, the better for us", sound perfect with the current ground realities in India.
To tackle the menace of caste and to put an end to it, Babasaheb struggled with full determination and courage. He did whatever possible within his reach to root out the caste system from the social soils of India. One of his seminal contributions in that regard is the drafting of the constitution of Independent India. In his own words, "I feel that the constitution is workable, it is flexible and it is strong enough to hold the country together both in peacetime and in wartime. Indeed, if I may say so, if things go wrong under the new Constitution, the reason will not be that we had a bad Constitution. What we will have to say is that Man was vile." He further said "On 26th January 1950, we are going to enter into a life of contradictions. In politics, we will have equality and in social and economic structure, continue to deny the principle of one man one value. How long shall we continue to live this life of contradictions? How long shall we continue to deny equality in our social and economic life? If we continue to deny it for long, we will do so only by putting our political democracy in peril. We must remove this contradiction at the earliest possible moment else those who suffer from inequality will blow up the structure of democracy which this Constituent Assembly has so laboriously built up."
Let us take a lesson from the warning of Babasaheb and join our hand to annihilate caste from India and usher in a new era of social democracy which facilitates the fulfillment of his dreams India: free from the evil of caste and vibrant with social justice and peace all around.
Posted on www.ambedkartimes.com January 26, 2015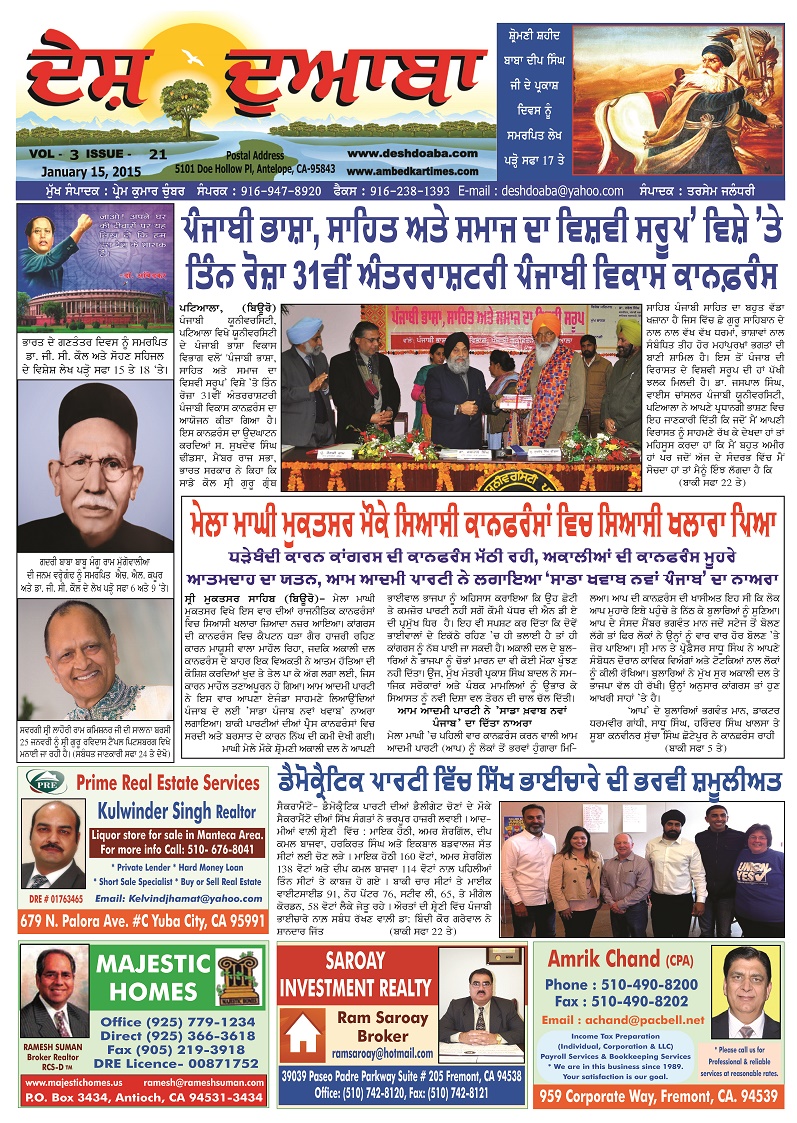 Dear Editor Prem Chumber,
I am writing this to wish you and the Ambedkar Times Group of Publications a Happy New Year and success and prosperity in the years to come.

I have observed, of late, that the Ambedkar Times and Desh Doaba have improved its presentation, content and schedule. It is gratifying to note that more and more people are benefitting from these papers. It was nice to meet and discuss with you matters of mutual and community interest during your visit to India in October/November last year. I take this opportunity to wish you personal good health.
With regards
(Ramesh Chander)
Ambassador-IFS (Retired)
Posted on www.ambedkartimes.com January 1, 2015
Ambedkartimes.com and the so-called Upper Castes
Read more
This site has been dedicated to Bharat Rattan Baba Sahib Dr. Bhimrao Ramji Ambedkar in the memory of Babu Mangu Ram Muggowalia, Gadharite and founder of Ad Dharm Movement in Punjab. The sole aim of this site is to highlight the plight of the Mulnivasis (Inhabitants) of India who have not only been deprived of their due share in the wealth of their own country, but had also been subjected to untold miseries over centuries. Atrocities against them are still rampant in almost all the parts of the country. Hardly a day passes when there is no news about the social boycott or physical repression of all sorts on them. Ambedkartimes.com is duty bound to highlight all such incidents as well as to seek and articulate some solid perspective for the amelioration of this age-old problem old social exclusion and blatant violation of the basic human rights of the Dalit brethren.
I once again thanks for your kind support and also expect the same in future too so that this modest attempt would continue in the service of our community. www.ambedkartimes.com deeply welcome your suggestions for its better functioning. This is your web site and it is you who have to make it successful. Kindly send your valuable articles, news reports, and opinions regularly, we would be pleased to carry them gratefully.
Prem K. Chumber (Editor: ambedkartimes.com)