11 QUARRIES TO BE
FULLY OPERATIONAL
BY COMING MONDAY


SUKHBIR BADAL
Chandigarh, January 7 – With a view to drastically reduce the prices of sand in the state, Punjab Deputy Chief Minister Mr. Sukhbir Singh Badal today said 5 quarries out of 11 had been commissioned earlier and now 6 more would become operational by Monday. Besides this, 29 more mines will be made functional by February 7 after getting environment clearances from Union Ministry of Environment and Forests (MoEF) in the next week.
While presiding over a high level meeting accompanied by Agricultural Minister Jathedar Tota Singh, Deputy CM reviewing the mining and provisioning of sand and gravel on subsidised rates, said Punjab had received clearances from MoEF for 11 quarries out of which 5 mines at Sangera (Moga), Pawat and Kumkalan (Ludhiana), Digana Khurd (Hoshiarpur) and Burj Tehal Das (SBS Nagar) were already functional. Giving clear and explicit directions he asked the PSIEC to operate 6 new quarries by coming Monday including Adranman and Bassian (Moga), Gujjarwal Bet, Mand Chaunta and Miana (Ludhiana) and Jhugian Maha Singh in Jalandhar district. He also directed the Mandi Board to install display boards carrying subsidised rates at quarry sites as well as delivery points in all the 130 market committees.
Reviewing the availability of mining material, the deputy CM said environment clearances for 29 quarries were in pipeline with MoEF and were likely to get green signal within week and be fully operational by February 7 for the facilitation of general public to purchase sand and gravel on subsidised rates. Mr Badal said quarrying of sand and bajri should be accelerated to increase the supply in the market and bring the price to a very reasonable level.
He also said Punjab government was committed to provide sand and gravel on reasonable rates to the people of state that's why the state has put an embargo on ferrying of sand and gravel out of state and it would be taxed as royalty. He asked the Industry Department to issue necessary instructions in this regard to all concerned authorities to implement the decision of State at ground level. Mr. Badal said the timing of mining will remain from 8 am to 8 pm only.
He asked the Punjab Small Industries and Export Corporation (PSIEC) to install CCTV cameras on all pitheads in two weeks so that transparency level in mining could be enhanced. Mr. Badal also directed that helpline numbers should also be given by Mandi Board from where people could get the necessary information besides registering complaints, if any. He also directed Mandi Board to launch a sustained advertisement and awareness campaign to dispense relevant information at grass root level.
Taking serious note of illegal mining and unauthorised ferrying of sand and gravel, Mr. Badal has also formed three mining zones in Punjab namely Doaba, Malwa and Majha which would be supervised and monitored by 3 retired officers of Indian Army in the rank of Generals. He said these officers would report to Punjab Government for further necessary action. He added that four police officials at each district and three DSPs with one SP at headquarters Chandigarh had already been deployed to assist the mining officers.
Extending relief to the rural population of Punjab Mr. Badal said people having tractor-trolleys could load their trolleys with sand/gravel from nearby quarries after getting a payment slip from Mandi Board. To check commercial practices tractor-trolleys would not cover the radius of more than 50 kilometers.
Focusing on canals and riverbed dredging to excavate sand, Deputy CM asked Chief Secretary to submit report within fortnight after identifying such spots where dredging of canals and river could be possible. He said Punjab had 800-km-long canal network and there was huge possibility of dredging sand scientifically from the riverbed. Deputy CM said he would personally monitor the availability of mining material to the general public and review the position after two weeks.
Prominent amongst present in the meeting included Chief Secretary Mr. Sarvesh Kaushal, Principal Secretary Industry Mr D.P. Reddy, Principal Secretary to Deputy Chief Minister P.S. Aujla, Special Principal Secretary to Chief Minister Mr Gaggandip Singh Brar, Secretary Mandi Board Mr. Deepinder Singh, Meida Advisor to CM Mr Harcharn Bains, Special Principal Secretaries to Deputy Chief Minister Manvesh Singh Sidhu, Ajay Mahajan and Rahul Tiwari.
Caption:
Punjab Deputy Chief Minister Mr. Sukhbir Singh Badal presiding over a high level review meeting regarding mining of sand and gravel at Chandigarh on 7-1-2015. Agriculture Minister Punjab Jathedar Tota Singh is also seen in the picture.
(Posted on www.ambedkartimes.com January 07, 2015)
UK DELEGATION MEETS SUKHBIR BADAL
Evinces interest to invest in Solid
Waste Management, Renewable Energy and other sectors in Punjab

Chandigarh, November 13: A seven member delegation headed by the Mrs. Baroness Verma, Parliamentary Under Secretary for United Kingdom met Punjab Deputy Chief Minister Mr. Sukhbir Singh Badal at his residence last evening and emphasised that they were focusing on 3 states namely Punjab, Haryana and Rajasthan to cooperate and improve initiatives in these states in the fields of renewable energy, solid waste management and creation of e-knowledge in the young population.
They apprised the Deputy CM that they were interested that officials of the Punjab Government tie up with the officials of the United Kingdom delegation and exchange details about procedures via which entrepreneurs of UK could come and study the investment scenario in Punjab for making investments in these sectors.
Deputy Chief Minister assured Mrs. Verma fullest cooperation from the side of state government and informed them about the first of its kind initiative taken by the Punjab government by creating Invest Punjab where under one CEO all clearances of all departments were made and handed over to the entrepreneurs interested in making investments in the state. The Deputy CM requested the delegation that he would be extremely glad if the companies of United Kingdom could come and share their technology and make investments in the field of solid waste management in major urban centres of Punjab. He also requested the Deputy Secretary to the government of UK that another area of mutual cooperation and benefit for both United Kingdom and the state of Punjab was the area of creation of machinery/infrastructure to harness solar energy. He said requisite skill transfer was needed in this regard and this sector would greatly benefit if companies from UK share their expertise on this subject with Punjab and invest in this sector. The UK delegation was very impressed with the initiatives taken by Punjab Government in the area of making the state surplus in power generating capacity from a deficit state in just 7 years under the leadership of Deputy CM. They promised of some concrete initiative to take the decisions made in the meeting to logical end.
The meeting was attended by Principal Secretary Investment Mr. Karan Avtar Singh , CEO Invest Punjab Mr. Anirudh Tewari, Principal Secretary to Deputy CM Mr. P.S. Aujla and Special Principal Secretary to Deputy CM Mr. Rahul Tewari.
(Posted on www.ambedkartimes.com November 16, 2014)
DEPUTY CM CONSTITUTES HIGH POWERED COMMITTEE
FOR DEVELOPMENT OF UPCOMING SECTORS IN MOHALI

(Zirakpur and Dera Bassi urban areas to be developed as satellite towns)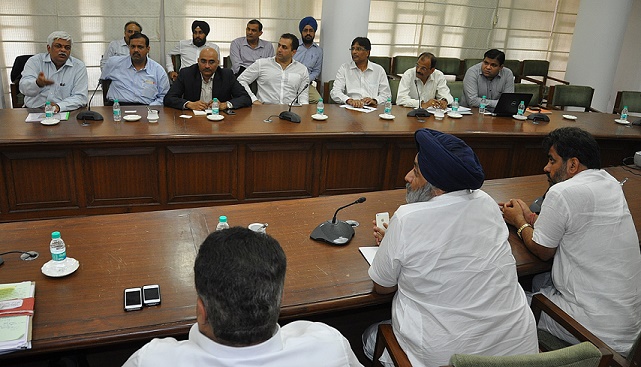 Punjab Deputy CM Mr Sukhbir Singh Badal presiding over a review meeting
on expansion plan of New Sectors of SAS Nagar (Mohali) on 25-08-2014 at Chandigarh.
Chandigarh August 25: Punjab Deputy Chief Minister Mr. Sukhbir Singh Badal has constituted a high powered committee under the chairmanship of the state Chief Secretary to develop upcoming sectors in SAS Nagar with the ultra modern civic amenities and world class infra structure.
Presiding over a meeting especially convened to study the development plan along with the senior officers of the concerned departments Mr. Badal said that the Principal Secretaries of the departments of Urban Housing Development, Local Bodies, heads of PUDA, GAMADA, PIDB and one representatives from consultant company IF&LS would be the members of the newly constituted committee. The committee has been asked to submit its report after a thorough study of the blue print prepared to develop these new sectors strictly in accordance with the laid down norms of the Punjab government by October 1.
Mr. Badal also said that these sectors would be developed under design-built-operate (DBO) basis and the project could be handed over to IF&LS under Swiss challenge system after scrutinizing the suggestions of the high powered committee. The Deputy Chief Minister has asked that the company responsible for the development of these new sectors would ensure the scientific technique of the disposal of solid waste material, uninterrupted water supply system, power backup structure, road network, transport facilities, adequate street lighting facilities and clean and green environs to the populace.
The Deputy CM added that entire expansion of SAS Nagar city including its lay out, landscaping and development would be developed as the world class town with the ultra modern civic amenities and infra structure. He also directed the housing department to develop and ensure efficient planning of Zirakpur and Dera Bassi urban areas as satellite towns of SAS Nagar in a phased manner. Deputy CM also said that the housing company would be responsible for providing the basic amenities to the residents and would also be responsible for any lapse in this regard.
Prominent amongst others present in the meeting included Chief Parliamentary Secretary Mr NK Sharma, Chief Secretary Mr. Sarvesh Kaushal, Principal Secretary Housing A. Venu Prasad, Principal Secretary to Deputy Chief Minister Mr. P.S. Aujla, Secretary Transport Mr Anurag Aggarwal, Secretary Local Bodies Mr Ashok Gupta, Mr. Rahul Tiwari, Manvesh Singh Sidhu and Ajay Mahajan (all Special Principal Secretaries to Deputy CM), Chief Administrator GAMADA, Mr. A.K. Sinha and representatives of IF&LC group.
Posted on www.ambedkartimes.com August 25, 2014
LUDHIANA GATKEBAAZ DRUBS FORMER CHAMPION
PATIALA PLAYERS CLINCHES STATE GATKA CHAMPIONSHIP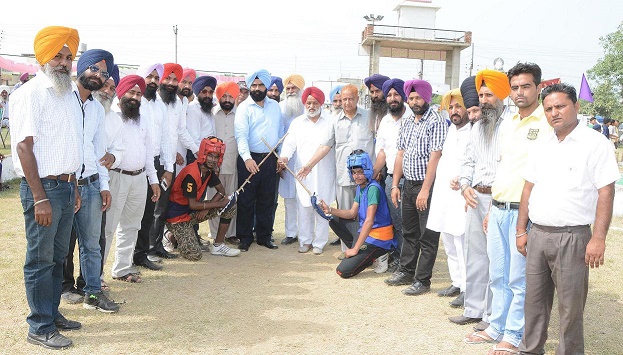 Photo Caption--MLA Amrik Singh Dhillon and Gatka Federation of India President Harcharn Singh Bhullar
inagurating Gatka match at Machhiwara during Punjab state Gatka Championship.
Machhiwara August 18: Gatkebaaz from Ludhiana district bagged first position on the concluding day of Punjab state Gatka Championship (men & women) at Machhiwara (Ludhiana) by winning 73 gold, 26 silver and 2 bonze medals during the mega event. Former champion Patiala district have to console with second place with 43 gold, 24 silver and 17 silver medals while Gurdaspur got third position with 8 gold, 26 silver and 15 bronze medals.
Divulging details Punjab Gatka Association coordinators Baljinder Singh Toor and Dr Deep Singh Chandigarh said that in this two days martial art tournament about 900 Gatka players from 15 districts participated in under 14, 17, 19, 22 and 25 years events in single soti, farri-soti and weapons demonstration.
Speaking on the occasion MLA Amrik Singh Dhillon facilitated the Gatka players and assured all help to the Gatka Association. Gatka Federation of India President Harcharn Singh Bhullar IPS asked the participants to refrain from bazigiri acts and stunts during the performance of martial art skills. Adding further he said that adopting Gatka as an amateur sport enables youth to stay healthy and agile and keeps them away from the menace of drug abuse and other intoxicants to lead a disciplined life.
General Secretary Harjeet Singh Grewal said that Gatka Federation has taken major initiatives to revive and promote this rare art as a sport in India and abroad by organising "Virsa Sambhal" Gatka competitions to perpetuate the rich legacy of age-old martial art Gatka amongst the future generations on one hand and to revive this dying art on the other. He solicited that the Punjab Government must award due gradation to Gatka sport at par with other games at the earliest.
Among others Sabans Singh Manki member SGPC, Jarnail Singh Bajwa Sunny Enclave and Avtar Singh Patiala also spoke on the occasion.
It is informed that the martial art Gatka is a style of fighting with sticks between two Gatka or more players, intended to simulate the sword and focuses on infusing physical, spiritual and mental fitness.
Posted www.ambedkartimes.com on August 18, 2014
BHULLAR AMONGST THE 14 RECIPIENTS
OF STATE POLICE MEDAL AWARD

CM TO BESTOW THIS COVETED HONOR ON BHULLAR AT STATE LEVEL INDEPENDENCE DAY FUNCTION

Chandigarh August 14: Punjab Chief Minister Mr. Parkash Singh Badal would honour Mr. Harcharan Singh Bhullar Commandant 4th Commando Battalion Mohali, with Police Medal, in the state level Independence Day function at Patiala.

Disclosing this here today a spokesman of the Punjab Government said that Mr. Bhullar has a distinguished career as Police Officer in the state. Apart from having served as the Senior Superintendent of Police in Jagroan, Sangrur, Khanna and Patiala, Mr. Bhullar has been proactively engaged in several social and philanthropic organizations besides being the President of Punjab Gatka Association & Gatka Federation of India.

Mr. Bhullar has made enormous contribution in the promotion of Gatka-the traditional martial art of Sikhs.

Posted www.ambedkartimes.com on August 18, 2014

2ND PUNJAB STATE GATKA
CHAMPIONSHIP COMMENCES AT MACHHIWARA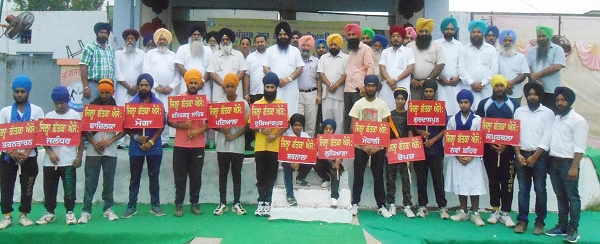 Machhiwara August 16: Two days Punjab state Gatka Championship (men & women) at Machhiwara (Ludhiana) inaugurated here today by ex-MLA Jagjivan Singh Khirnia and Gatka Federation of India General Secretary Harjeet Singh Grewal. About 500 Gatka players from 17 districts' teams are participating in this tournament under 14, 17, 19, 22 and 25 years events in single soti, farri-soti and weapons demonstration.
Speaking on the occasion Mr Khirnia advised the participants to update their martial techniques so that they could excel at national and international events. He assured all help to the Punjab Gatka Association for the promotion of traditional martial art so that this ancient art could flourish at overseas and enter into Olympics.
Mr Grewal said that World Gatka Federation and Asian Gatka Federation has already constituted more than three dozen federations in different countries and organised national level gatka events in Nepal, UK, Canada, USA etc. He added that Asian Gatka Cup would be organised at Malaysia in the next February. "Dates for this event will be announced shortly after a meeting with Malaysian Gatka Federation", he said.
Divulging details for the promotion of Gatka, Punjab Gatka Association coordinators Mr Baljinder Singh Toor and Dr Deep Singh Chandigarh said that the Federation has chalked out various activities and had organised 48 gatka training camps and 53 gatka tournaments at state and national level. Mr Avtar Singh Patiala said that second National Gatka Championship will be hosted at Mastuana Sahib (Sangrur) in October this year. Posted www.ambedkartimes.com on August 18, 2014